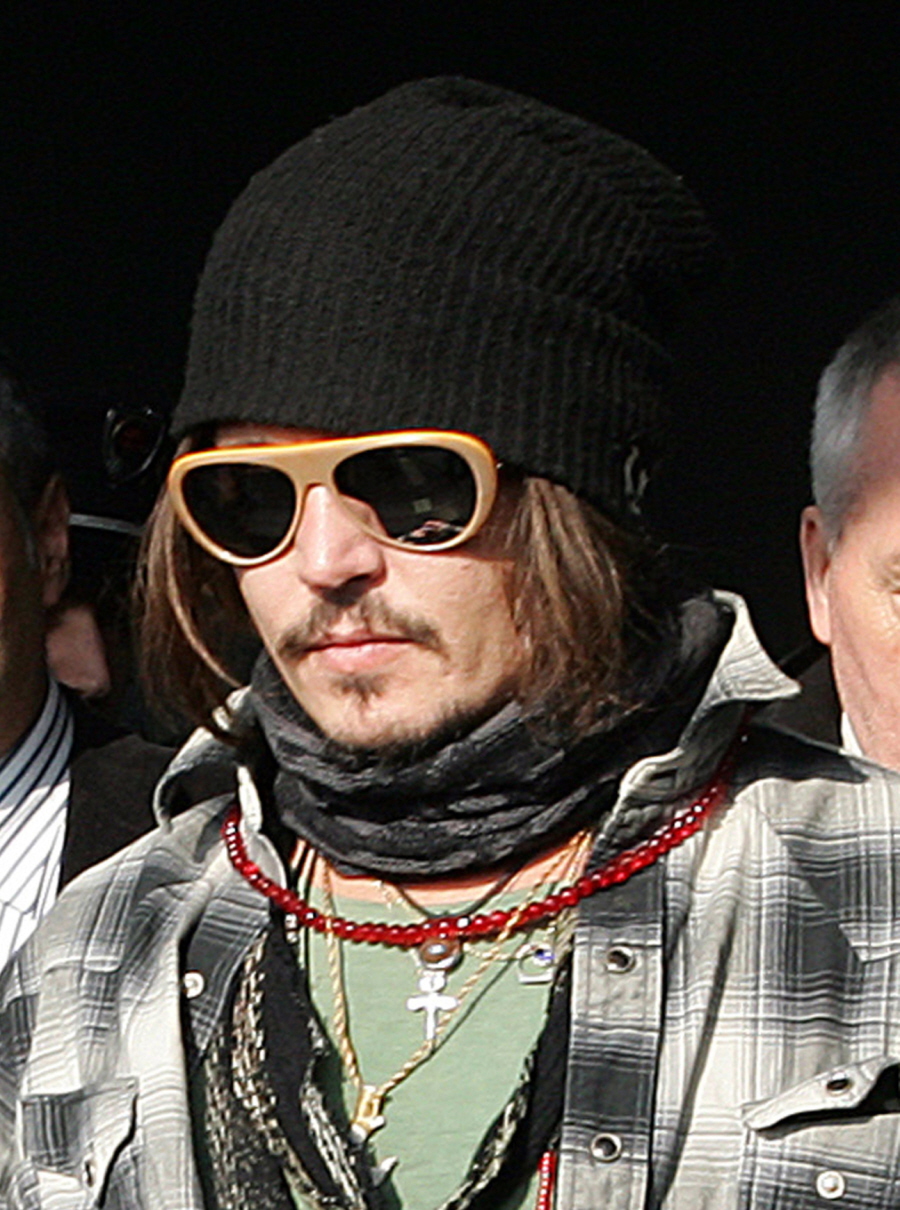 E! Online has the photos we are referring to here
Dreamboat Johnny Depp unveiled a lifesize statue of himself at the International Küstendorf Film & Music Festival on Wednesday in southwestern Serbia yesterday. He was smirking and you could tell he got a huge kick out of it. The statue of the 46 year-old didn't look much like him, even in his 21 Jump Street days, and he found some humor in the situation. Johnny was at the festival on the invitation of Serbian director Emir Kusturica, who said that he plans to cast him as Mexican revolutionary Pancho Villa in an upcoming film.
Hollywood heartthrob Johnny Depp was honoured Wednesday with a life-size statue in Serbia.

"The Pirates of the Caribbean" star had a statue in his image unveiled to him by renowned Serbian director Emir Kusturica during an annual film festival – called Kustendorf – held in a mountain village in southwestern Serbia.

Depp met with Serbian President Boris Tadic upon his arrival on Tuesday.

He was then flown by helicopter to the mountaintop village constructed by Kusturica for one of his movies.

Kusturica, a two-time Cannes Film Festival winner, said he plans to make a movie with Depp.

Depp would play legendary Mexican revolutionary Pancho Villa.

"Depp will be my guest for three days," Kusturica said.

"He will lead several workshops for participants of the festival, drink wine, watch films and visit some locations where he will shoot a film about Pancho Villa."
[From AP]
Johnny has gained some weight, probably for the recently filmed role as a down on his luck journalist in The Rum Diary. He still looks great to me, but he has more of an adorable quality now.
I would love to see Johnny play a Mexican revolutionary! I quickly read over Pancho Villa's biography and it's extraordinary. Villa was a leader in the Mexican Revolution around 1911 and was known for his bold, Robin Hood type tactics. Here are two of his memorable campaigns, as detailed in Wikipedia. "In one notable escapade, he held 122 bars of silver ingot from a train robbery (and a Wells Fargo employee) hostage and forced Wells Fargo to help him sell the bars for cash." He also printed his own money and "decreed his paper money to be traded and accepted at par with gold Mexican pesos, then forced the wealthy to give forced loans that would allow to pay salaries to the army as well as food and clothes." The US sent General John J. Pershing and 10,000 troops to pursue Villa, but the mission was abandoned after a year. Johnny will play the hell out of that role.
Johnny Depp arrives in Serbia on January 12, 2010, Credit: INFphoto.com. Also, a photo of Depp at MoMA on November 17, 2009. Credit: WENN.