Heidi Montag and her mangled face are making the talk show rounds to promote her new excuse for an album. The 23 year-old "Hills" actress underwent a whopping 10 elective plastic surgery procedures at once in November, and told Good Morning America yesterday that she's mostly pleased with the results but that she doesn't think her comic triple D boobs are big enough. Montag's plastic surgeon was interviewed on Good Morning America, and he claimed that there wasn't much risk associated with such a long surgery because Heidi was young and healthy. Another plastic surgeon told GMA that performing so many operations at once was "irresponsible," not to mention the ethical issues involved with unnecessary operations on an already lovely young woman.
One thing that Heidi and her doctor failed to mention on GMA is that there were serious complications from her surgery. Heidi's breath slowed down markedly during her recovery period due to an overdose of Demerol and she almost died. She had a security guard with her at an aftercare center and he noticed that she was barely breathing and called the nurses. Heidi told this to Access Hollywood, and the details are below. You can see her video on their website. The video above is from Extra! and it isn't consistent with what she told Access Hollywood. She told Extra! that she wanted even bigger boobs.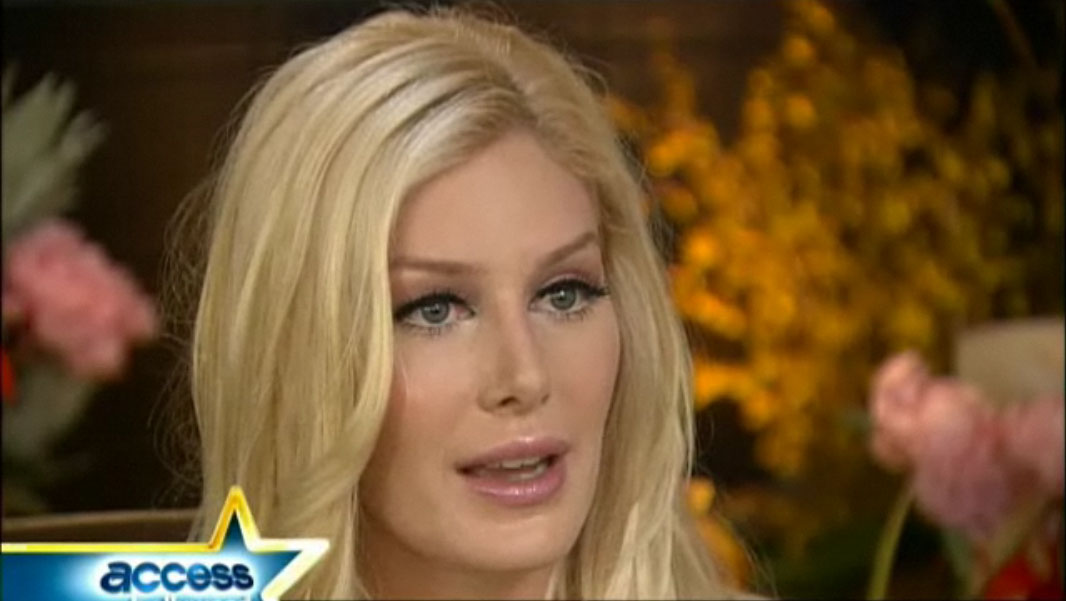 Heidi Montag says her decision to undergo 10 plastic surgery procedures in one day almost killed her. And despite her alleged brush with death, Heidi says she's ready to bare her new body in the pages of Playboy again – as soon as she gets all of her normal movement back.

"I almost died after my procedure," Heidi told Access Hollywood's Billy Bush on Monday. "I had too much Demerol like Michael Jackson did and my breathing was five breaths per minute which is like almost dead. [I was] in an aftercare center, there were nurses that were supposed to be tending to me at all times.

"So thank God, Charles, one of my security guys used to be an EMT, and he was timing my breath on his watch and he called the nurses and they had to put oxygen on my face and called my plastic surgeon to come in for an emergency. So, it was a very traumatic experience for me," she continued.

Two months after the surgery, Heidi said she is now starting to regain all of the movement in her face.

"I'm starting to move my face more and more," Heidi said. '[But,] I feel very plastic… especially when I first came out, it was so hard for me even to smile and it's still hard for me to chew sometimes. But it's feeling more and more natural everyday because the swelling is going down."

On November 20, Heidi underwent 10 procedures that included a mini brow lift, Botox in the forehead, nose job revision, fat injections in cheeks and lips, chin reduction, neck liposuction, ears pinned back, breast augmentation revision, liposuction on her waist and thighs and a buttocks augmentation. But, she told Billy she's not addicted to plastic surgery.

"I do love it and I appreciate it and I appreciate the science behind it," she explained. "How incredible… we [are] blessed to even have this surgery that we have. We're so advanced. If Cleopatra were alive now, I'm sure she'd have triple D's… there's always been a struggle between pain and beauty. I feel like since the beginning of time."

Heidi revealed that she initially wanted breasts in the largest size possible, but is now happy with what she's got.

"At first I kept saying my boobs aren't big enough. I wanted 800 cc's and I ended up getting about 650 cc's. 800 is the largest size that they make," she explained. "I wanted them to be larger originally, but this is all that could fit into my body. So, I kept saying like a crazy person for eight weeks, saying I want them bigger I want them bigger. I think I'm good with them now… They're triple D's or F's pretty much, I wanted 'H' for Heidi but that didn't really happen that way."

As far as her revealing People magazine cover, Heidi told Billy she was not paid by the mag and that People did not pay for her procedures. She explained that she paid for all of her work herself, which is estimated to have cost around $30,000.

And after two months of staying out of the public eye, Heidi reveled that she's ready to have all eyes on her again in the pages of Playboy.

"I'm beyond ready to do it again," Heidi said when asked she would pose for the men's magazine a second time.
[From Access Hollywood, link has automatic video]
I don't see anything wrong with getting a little plastic surgery if you want a specific result like a smaller nose, larger breasts or a tighter, younger face. I'm not against plastic surgery, if it's done well, and I've said before that my mother had a face lift and let it settle and it looks natural. I haven't had anything done yet but it's likely that I will.
In Heidi's case she didn't like how she looked overall, though, and wants some abstract result like being an entirely different person. She told Billy Bush that she didn't like her first round of procedures, a breast job and a nose job and said that her motivation for having surgery was people making fun of her "I wasn't happy with the way that I looked. My breasts were smaller than I originally intended them to be. My nose was broken from [being] a backup dancer and I had to get that reset. On blogs and on after shows people would circle my chin and say I had Jay Leno chin so I wouldn't smile on red carpets because it would elongate my chin." That's really sad! She had so much work done because she had such low self esteem that she took criticism to heart and thought she wasn't worthy. Heidi was a beautiful woman, both before and after her first round of surgery, but now she looks like that Barbie she wants to have made in her image. I have a feeling she'll be returning for another round of procedures well before she turns 30.