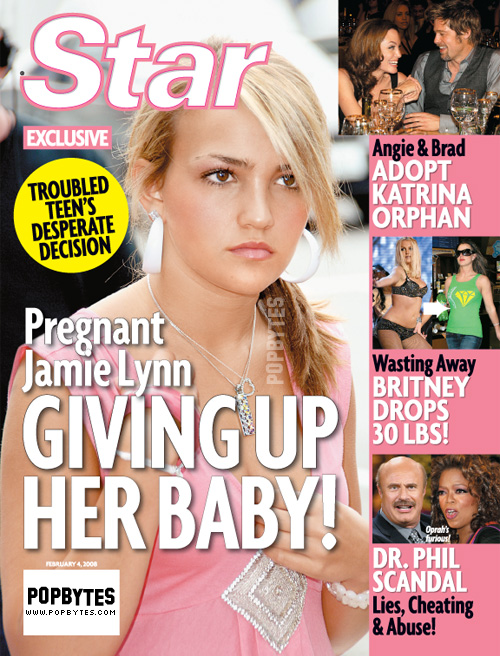 This week's Star Magazine leads with the headline "Pregnant Jamie Lynn Giving Up Her Baby!" in all caps with a yellow bubble that reads "Troubled Teen's Desperate Decision." (They also claim that Angelina and Brad are adopting a Katrina orphan so we'll have to see if that has anything to do with Jamie Lynn.)
Inside the magazine the news is a little less sensational, because it's not as if Jamie Lynn is giving the baby up for adoption – she supposedly decided to let her mother raise her child so that she can continue with her career. The baby will live in Jaime Lynn's hometown of Kentwood, LA and be cared for by its grandmother while Jamie Lynn does what she has to do for her career. Another reason that's given for why she is letting her mom raise the baby is so that she can continue with some semblance of a teenage lifestyle, but it seems like the money she brings in is more of a motivating factor in this decision:
"Lynne says Jamie doesn't understand the life long consequences of having a baby.

"She still wants her daughter to be able to be a teenager, go to parties, hang out with friends and have a career.

"So she'll take the front seat of caring for the baby and take the pressure off her daughter…"

Since the news broke Jamie Lynn has left Los Angeles and headed back to Kentwood where she has been attending high school equivalency and parenting classes.

She has been staying at the family's $3 million estate but once the baby is born she is planning to return to LA.

But despite the news she is pregnant at 16, residents in the tiny town, whose population is just 2,200, are supporting the teen.

Kentwood local Pam Wright said: "How many 16 year-old girls get pregnant every week?

"It doesn't mean that she's a bad person. I don't think this will end her career, life will go on."

And that is exactly the same attitude mum Lynne is taking with her daughter.

The insider added: "She wants Jamie Lynn to continue her show business career after the baby is born and Jamie Lynn also realizes she wants to enjoy her teenage years without the responsibilities of caring for a baby.

"Lynne is convinced that having a baby on her hip will not help Jamie Lynn's future in the business and she's expecting her daughter to pick up where she left off as soon as the baby is born."

According to the source, Jamie Lynn's managers also agree and have advised Lynne that the best thing to do is have Jamie photographed with the baby as soon as it is born, sell the pictures and then take over raising her own grandchild.
[From Showbizspy.com]
Doesn't that sound so calculated "Jamie Lynn's managers also agree and have advised Lynne that the best thing to do is have Jamie photographed with the baby as soon as it is born." This is Star Magazine we're talking about though, so it's not like any of this is necessarily true. It's also not out of the ordinary. A lot of grandmothers raise their grandchildren when the mother is too young or otherwise unable to care for them.
Unlike Britney, we've had hardly any glimpse of Jamie Lynn since her pregnancy announcement apart from a single outing in which she was seen picking up materials for her GED while wearing a hooded sweatshirt.
The shocking news about 16 year-old Zoey 101 star Jamie Lynn's pregnancy was quickly eclipsed by her older and more famous sister's standoff with police in which she held her youngest son hostage for several hours, refusing to turn him over for his scheduled visit with his father. Britney has since taken up with a married paparazzo and pulled so many other stunts that it's hard to remember the brief time that another one of her family members dominated the press.
Thanks to Popbytes for the header image.