Are Simon Cowell and Ellen Degeneres not speaking?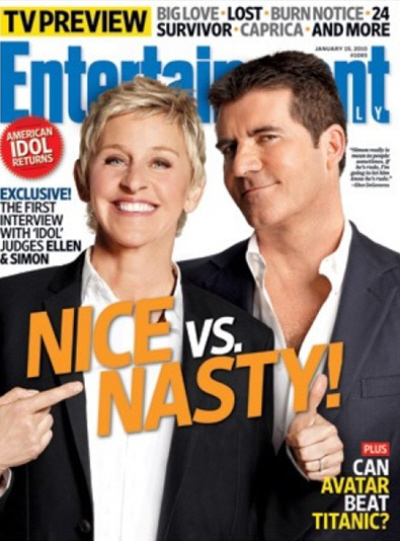 We told you earlier this week about how "American Idol" judge Simon Cowell is acting like a diva in his final year on the show, much to the irritation of new judge Ellen Degeneres. Now, new reports say that it's gotten so bad on set, Ellen and Simon aren't speaking.
While the singers have provided enough entertainment this season, the real show is behind the scenes where Simon Cowell and Ellen DeGeneres are no longer speaking to each other, RadarOnline.com is reporting exclusively.

"Their relationship started poorly but now the situation has escalated," a source familiar with the situation told RadarOnline.com

Widespread reports said that Simon arrived an hour and a half later for Idol's first taping with Ellen, which has not aired yet. Those same reports claimed that Ellen was greatly annoyed and things were off to a very bad start with Simon.

But a source who was at the taping says the reports of Simon's late arrival are greatly exaggerated. "He showed up exactly 14 minutes late," said one person who was there.

The show started taping without Simon, a move that immediately polarized Ellen and Simon. "People were surprised the show started without Simon," said one observer.

The tension between Simon and Ellen escalated instantly due to the situation and quickly it became apparent that when the cameras stopped recording they were not speaking to each other.

"There's two camps on the show this season," said an Idol insider. "It's a lot more tense than previous seasons. It seems as if Ellen has decided to try to take control since Simon is on his way out and that's created problems."
So far, the judges' table this season has been the least interesting thing about the show, and I hope it stays that way. Why does this show even need judges? What do they offer? In these early stages of the show, it's all manipulated by the show's producers anyway. I think this is a sign that the show is on life support- but of course, we'll have to see the ratings numbers before that conversation happens, right?
Meanwhile, Neil Patrick Harris seemed to fit right in as a guest judge in last night's episode. Harris didn't have any problem disagreeing with Simon on a few occasions, but he also didn't hesitate to tell any of the contestants when they sucked.
At one point Patrick Harris said, with seeming sincerity, "I'm scared to disagree with him" – "him" being Simon, of course – before the camera cut to Simon rolling his eyes.

In fact, we'd just seen NPH disagree with Simon half a dozen times.

In response to one contestant, whose audition we don't get to see, NPH says "I thought you were just great."

Simon's reaction? "I get absolutely nothing out of that audition, I'm afraid."

NPH's vote? "Yes!"

Simon's vote? "No."

In one instance this devolved into what Simon called "Mutiny on the panel!" but was in fact just the other three disagreeing with him about Kimberly Carver, a strong singer who performed a jazzy number she'd written herself.

Over Simon's objections that this was not "Jazz TV," which he said with a derogatory sneer (sorry, Miles Davis and John Coltrane!), the other three passed Carver through.

And she wasn't the first contestant to gush over NPH when she ran out and told her family, "Thank god for Neil Patrick Harris! I'm going to have to go back and watch 'Doogie Howser' again."

The guest also was assertive about getting his say. At one point we saw Simon ask Randy for his verdict on an auditioner, apparently before Patrick Harris had weighed in. "Don't I get to say anything?" he cut in. "Jeez Louise, you invite a guest judge on . . . ."

And he had good reason to demand his say: His critiques were spot-on.
Personally, I wouldn't mind seeing him as a permanent fixture on the show!
Written by MSat

Posted in American Idol, Ellen DeGeneres, Feuds, Photos, Simon Cowell

- Who butchered the National Anthem? [D-Listed]
- Rob Lowe never ages [Lainey Gossip]
- What is Vanessa Hudgens wearing? [Go Fug Yourself]
- Summer guide to reality TV [Reality Tea]
- Game of Thrones recap [Pajiba]
- Tan Mom's music video [Buzzfeed]
- Amanda Knox is broke [Starcasm]
- Backstage at the Billboard Awards [Popsugar]
- Miley is still stuck in the 90s [Popoholic]
- Blind Items revealed: Adam Levine [CDAN]
- Hugh Hefner bought Crystal Harris a house [Celebslam]
- What happened to Aimee Teegarden? [The Blemish]
16 Responses to "Are Simon Cowell and Ellen Degeneres not speaking?"