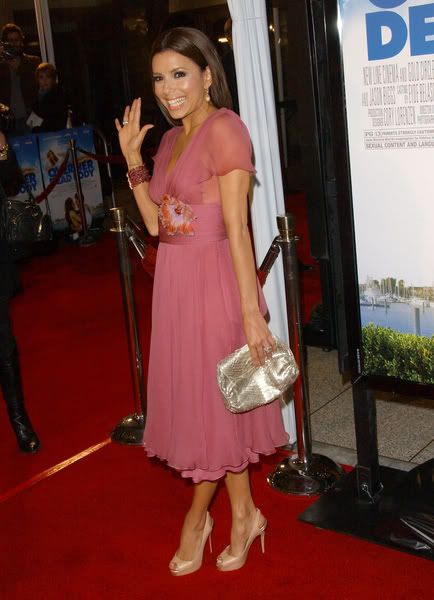 Eva Longoria wants us to feel badly for her. Really, really badly. While she may be stunning now (at least by some people's estimation) Eva says she was an ugly duckling growing up, and was picked on for her unbecoming looks. Though she certainly didn't look like present-day Eva Longoria, she looks no worse than most other pictures of celebrities in their teen years. But Eva wants us to feel badly, so we must. She says she had to get by just on her stellar personality, since she didn't have physical beauty to fall back on. Cry me a river.
Desperate Housewives star Eva Longoria, who has made her face her fortune in recent years, has revealed she was teased about her appearance as a child. The star, who has emerged as a red carpet darling with a string of lucrative deals with cosmetic companies, says her nickname growing up was "ugly duckling".
Longoria, who is in the midst of a promotional blitz for her new film Over My Dead Body, said: "I was the darkest one of my family. I was the only one with black hair and the only one with dark skin. All my sisters were light blondes with hazel eyes. They used to call me ugly duckling.

The 32-year-old told Channel 4′s Richard and Judy: "I grew up without being beautiful so I kind of relied on my personality and my character. "I kind of developed a skill not to depend on anything superficial because I didn't have anything superficial to depend on."
[From the Daily Mail]
My God. By relying on her "personality and character" I hope Eva didn't mean intellect, because clearly she doesn't have any. As though I could dislike this woman any more. We don't have access to the Daily Mail's photos of a young Eva, but you can see them by clicking the link above. She's very beautiful. And a cheerleader. A few of those pictures are unattractive, but that's because it was 1993 and terrible, big curly hair was in vogue. You can still see Longoria is gorgeous. And not being beautiful because you're not blond? That's ridiculous. It sounds like her sisters were picking on the only thing they could. Or perhaps they were teasing her for the one way she was different. But she's still a knockout. It's lucky for her she's got her looks, because I would wonder how far she'd get in life if she were really left to work with only her personality and character.
Picture note by Jaybird: Here's Eva at the "Over Her Dead Body" Los Angeles Premiere yesterday. Images thanks to PR Photos.