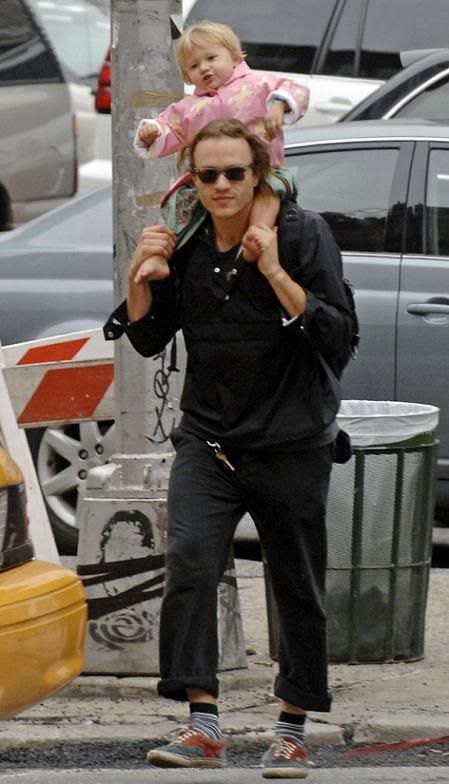 Michelle Williams has done her best to stay away from the press since ex-boyfriend Heath Ledger passed away ten days ago. Michelle released a statement today through Ledger's rep, asking that the press respect her privacy. It was a really touching and sad statement, in which Michelle said that her "heart is broken."
Michelle Williams is speaking out for the first time since ex Heath Ledger's untimely death January 22.

"Please respect our need to grieve privately. My heart is broken," Williams, 27, said in a statement released on Friday by Ledger's rep, Reuters reports.

"I am the mother of the most tender-hearted, high-spirited, beautiful little girl who is the spitting image of her father," Williams continued in her statement.

"All that I can cling to is his presence inside her that reveals itself every day.

"His family and I watch Matilda as she whispers to trees, hugs animals, and takes steps two at a time, and we know that he is with us still.

"She will be brought up with the best memories of him," Williams' statement concluded.
[From Us Weekly]
I think that – for the most part – the press has shown a good amount of restraint towards Heath's family. I wasn't really thrilled with the magazines that chose to print photos of Michelle Williams arriving back in the states from Sweden after Heath died. And there have certainly been some unscrupulous news outlets that have reported on every little rumor that flew their way. But it seems like that majority of websites have waited on confirmations before publishing news related to Ledger's death investigation. While it was sad that Entertainment Tonight bought the video of Heath supposedly doing drugs two years ago, I think it says a lot that so many people came out and requested them not to air it – and they listened. Hopefully everyone will continue to be respectful and give Heath Ledger's family their space.