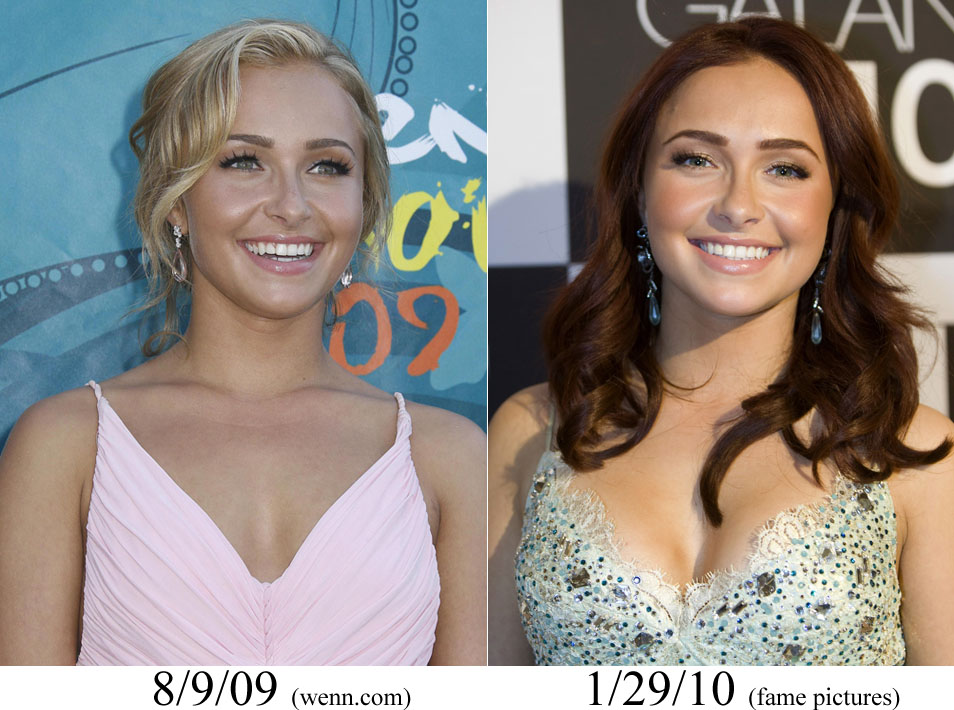 Hayden Panettiere is looking much more stacked lately, and this week's National Enquirer claims that she's had some surgical intervention. Looking at the difference, I don't think she's just wearing a pushup bra, but it's possible she's using external bra inserts. Maybe she did get some implants to go along with that new haircolor and the hot boyfriend she doesn't deserve. She looks more busty in some pictures than others, but there's definitely something enhanced about her. The Enquirer says she did it to get roles, and they quote a surgeon who hilariously guesses that she dyed her hair to distract from her boob job:
The sexy 20-year-old "Heroes" star recently had her breasts enlarged, the Enquirer has learned.

"Hayden went from an A cup to a C cup and she couldn't be happier," a close pal revealed. "She's wanted bigger boobs since she was 17, but the timing and scheduling were just never right. She finally decided to do it right after the holidays.

The 5-foot-1 starlet, who is now dating 33-year-old, 6-foot-6 boxer Wladimir Klitschko, has publicly admitted to being dissatisfied with her body.

"There are parts of my body I don't mind and parts I absolutely can't stand," Hayden told an interviewer. "I don't need somebody pointing them out to me. Trust me, I know they're there."

Hayden recently changed her hair from blonde to red – and it may be she's trying to take the focus off her newly enhanced figure, says Dr. Anthony Youn, director of YOUN plastic surgery in Troy, MI.

"It appears she may have had her hair dyed as a way to attract attention away from a possible breast augmentation," Dr. Youn, who has not treated the star, told The Enquirer.

"Her breasts appear to have gone from an A to a C, judging from photos."
[From The National Enquirer, print edition, February 22, 2010]
For all the fools like Hayden Panettiere and Heidi Montag that get boob jobs there are always beautiful, fit, small-chested women that opt out, like Kate Hudson and Kelly Ripa. I was not blessed with bountiful assets, but I console myself that implants usually look super fake and that there are plenty of women with naturally large tatas who have back pain and trouble exercising. Hayden probably thinks her fake boobs look ok because they're not enormous, and maybe she's right. I think she looked better before, and that the dark hair ages her. I really don't like her, though. She's such an entitled brat.
Hayden is shown with Wladimir Klitschko on 1/30/10. She's shown in the black sequin jacket on 11/2/09. Other photos are as dated above. Credit: WENN.com