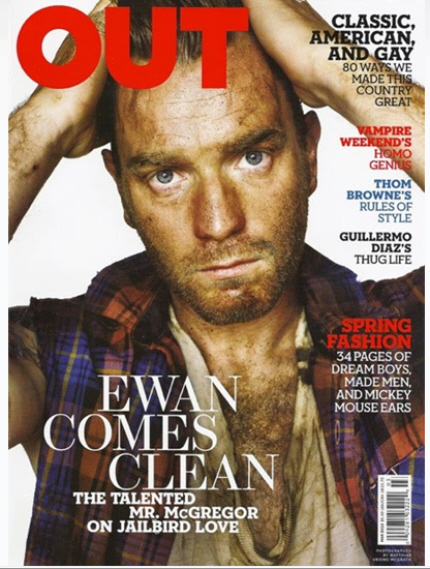 My love affair with Ewan McGregor has been going on for years and years. Of course, I always based my love of Ewan on the idea that he was different from other men – the naughty-boy vibe combined with the genuinely evolved feminist. The guy who adores women, who treats you with respect, but still wants to spank you. Ewan is so that guy. But things changed for me a little when I saw the photos of a very married Ewan walking hand-in-hand, arm-in-arm with Melanie Laurent. Maybe it's none of my business (it's not), maybe his wife Eve knows (maybe), or maybe Ewan was never the guy I thought he was.
Here's the thing though – this new interview with Ewan in the March issue of Out Magazine has made me love him all over again! Ewan is not just doing the lip-service "I'm a friend to the ghey" boilerplate political speech. He's promoting I Love You Phillip Morris, and Ewan is giving Out readers what they really want – he's talks about how much he likes to get naked, what it's like getting naked all the time, and what it was like to kiss Jonathan Rhys Meyers. Swoon! The article starts off with a charming anecdote about Ewan's "sand-colored poodle mutt" named Sydney. Who knew? The full Out piece is here, and here are some highlights:
On getting naked: "I always try not to limit myself in all respects. Sexuality is just one of them. I could understand saying 'I would never do gratuitous nudity.' Wait. No. I probably would. I'd probably be quite happy to."

On I Love You Phillip Morris: "At Sundance everyone assumed it would be snapped up," says McGregor, "but it wasn't." Perhaps one reason is that the central character is an unlovable (or uneasily loved) sociopathic scammer. But a more likely reason is that in cells, on bunks, on boats, before sunsets, after sunsets, on divans, over ottomans, without panning away or dissolving to white, the two men kiss, fondle, f-ck, blow, suck, hold hands, dance, murmur, and eye. In short, they act like lovers do, and, because both Morris and Russell are openly gay men and their gayness seems not to trouble them in the slightest, this is a dicey commercial proposition. "There was talk," says McGregor, "that Disney fended off the release until after A Christmas Carol came out. They didn't want kids thinking [Carrey's] Ebenezer Scrooge was a bender."

About that fellatio scene: When it appears on American screens, I Love You Phillip Morris will be, to some extent, down-gayed. (Or perhaps it's ungayed, degayed, or less-gayed.) As part of a bid to find U.S. distribution, the film has been recut, leaving out some of the gayest moments. After a rather touching episode of Florida Key fellatio, for example, Morris spits over the side of the boat into the Atlantic Ocean. "There were two alternatives," explains McGregor. "There was the spit, and there was a really nice slow swallow, where I look at him and just do a loud swallow. I really like that one, but I guess they went for the more obvious spit over the side."

Seriously, it's a gay movie: "I'm very keen that it's a gay movie," McGregor insists. "There was quite a lot of talk at Sundance that 'Well, it's not a gay movie. It's a film about guys who happen to be gay.' And I was thinking, it's nothing but a gay movie. It's about a gay couple, about a man's sexuality, and he comes out. It's not the point of the film, but let's not pretend it's not a gay film."

Ewan on his first bisexual character: "The first bisexual character I played was in [1996's] The Pillow Book. There's tons of sex in that film. We didn't even bother putting clothes on between scenes. I had quite a full-on sex scene with a 75-year-old Japanese guy," he recalls. "We're kissing, and I remember going, He's got a mustache and that's kind of weird. Oh! That's definitely a scrotum. That's odd."

What Out Mag deems "the most satisfying gay kiss ever committed to film" between Ewan and Jonathan Rhys Meyers in Velvet Goldmine: "I remember when I kissed Johnny," says McGregor. "It was just a rush at the end of the day. It was just an electrical moment, because you look around and some of the British electrician guys — who are all mainly closeted homosexuals, I think — were sitting around going 'F-ck, no.' But I like kissing boys on screen. As a straight guy, it's quite an interesting proposition. Anything on a film set that takes you by surprise like that, that gets your blood up, is good."

Ewan prefers his artsy films: "When it gets to the top end, they're really reluctant to step out of any box, which is why the movies become very bland. When people come up to talk about a movie like Velvet Goldmine, it's much more interesting than talking about, for instance, Angels & Demons."

Ewan doesn't judge: "I'm always interested in playing different people, in different situations. It doesn't matter to me whether someone is in love with a man or a woman. I find the idea of love and romance interesting. I'm a sucker for it. I like playing someone who's falling in love because I like the sensation of it." He pauses to give Syd an affectionate pat. "People do extraordinary things when they're falling in love."
[From Out Magazine]
Sigh… yes, I love him. He's dirty and Scottish and sexy and crazy and lovely. At this point, I can't even care that he's screwing around on his wife. I just wish it was with me. By the way, whose gay fantasy was this photo shoot? "Hey, let's get Ewan McGregor and… we'll put some mud on him and…oh…God…" Which sums up how I feel about it too. I like him dirty. It makes me think about what he'd look like in the shower…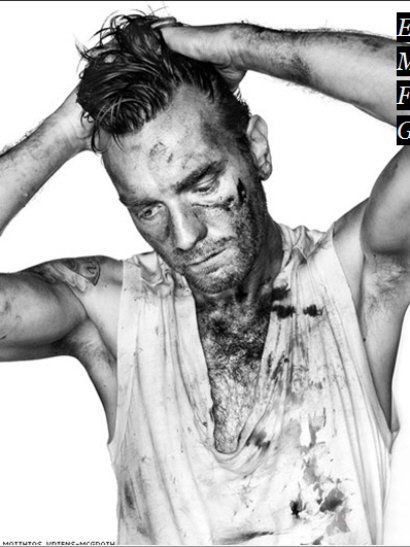 Out Magazine photos courtesy of Out online. Cover courtesy of CoverAwards.