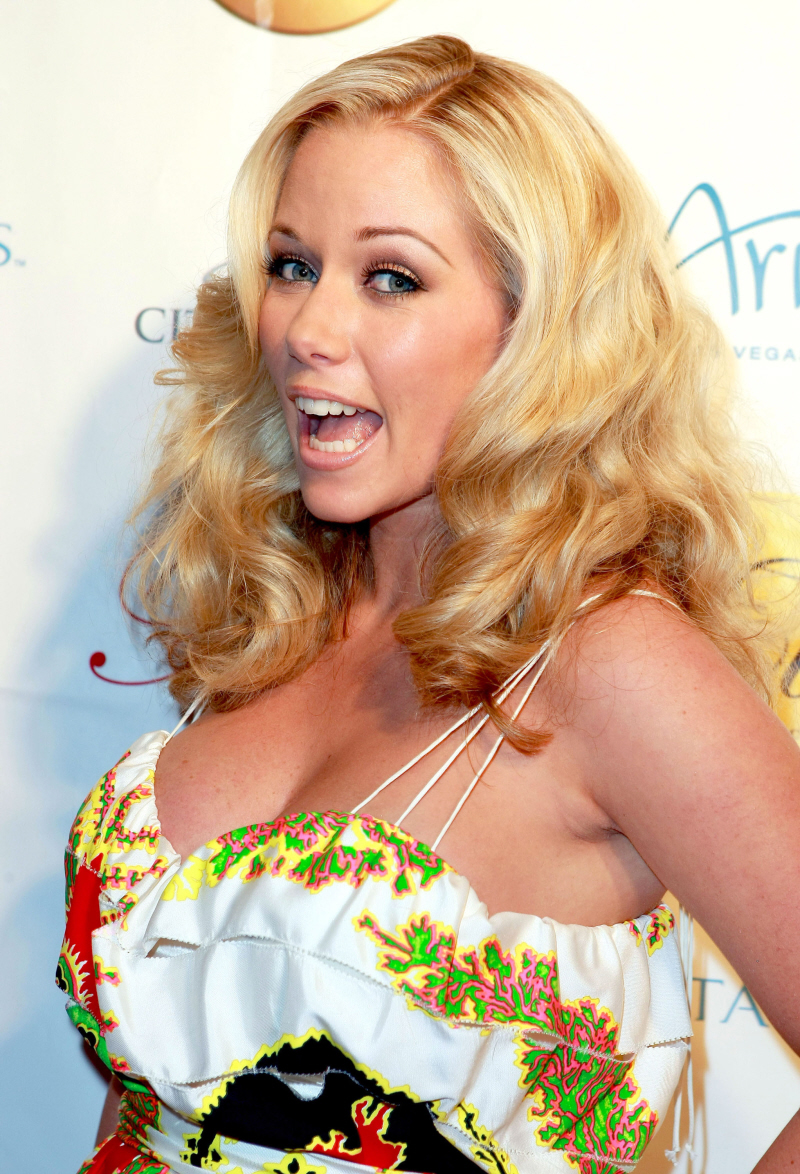 Kendra Wilkinson can't go one week without giving an "exclusive" interview to OK! Magazine or Life & Style or In Touch Weekly. The weird thing is that where Kendra used to annoy the hell out of me, now I kind of root for her. She's done well for herself in her post-Hef life – she's happily married, she's got a cute baby, she seems happy. Meanwhile, Holly Madison is calling the paparazzi to pose for ridiculous photos in Las Vegas, and the paps aren't returning her calls. So compared to Holly, Kendra's got her act together. However, even though I'm kind of liking Kendra these days, the girl is still dumb as a rock. In her two latest interviews, she complains about how big her boobs are after she gave birth (because she's breastfeeding) and she says she's considering breast reduction.
It should be the happiest time of new mom Kendra Wilkinson's life — and in many ways, it is. The 24-year-old former Girls Next Door star has her own hit reality show, is still smitten with her football star husband, Hank Baskett, and is totally in love with their 2-month-old son Hank Jr. But Kendra has also been going through a secret sadness — dealing with insecurities over her post-baby body — and she shared the story of her emotional experience exclusively with In Touch.

What's been the toughest part of motherhood for you?
I went through some depression after having the baby, which you'll get to see on the show. Usually, I don't let the cameras film a lot of personal stuff, but it's real, and I want people who've gone through it to see that I'm going through it, too.

What made you feel so sad?
It wasn't complete postpartum depression. I was just going through some things that every woman deals with afterward — like the way my body looked.

What didn't you like about how you looked?
I love my son, and I always think, "Thank you for my new booty!" because I've always wanted a booty. But I've been breast-feeding a lot, and even though I love it, it just sucks because your boobs get so much bigger — and I liked my boobs the way they were.

Would you consider breast reduction?
"I'd definitely consider getting my boobs redone after breast-feeding," she tells Life & Style. "They're a little too big now. I've considered getting a breast reduction. That's a subject I bring up all the time… Hank says, 'If you want to do that, that's cool with me."

How much bigger did your breasts get?
I went from a 34C to an E. I had never even heard of that in my life. I'm on the E! Network, and I'm an E cup!
[From In Touch Weekly and Life & Style]
I just saw an ad for the new episode of Kendra and Hank's show on E!, and I was surprised to see in the ad that Kendra was complaining about how she and Hank didn't really know each other. Well, yeah. But I applaud her for acknowledging it.
Somebody also asked Kendra recently if she would pose for Playboy again, now that she's no longer Hef's girlfriend and she's had a baby. Kendra was remarkably conservative and low-key about the prospect, saying: "If I were asked, it'd be a hard decision, but I'd lean toward no. The Playboy chapter of my life is now closed. I would definitely model, but I don't think I would pose nude. I'm on to the next chapter of being a mom and a wife." Aw… that's kind of sweet. Considering she was the girl who got naked and soaped herself up in a Las Vegas hotel suite for the cameras, I think this might be progress.
Kendra in Las Vegas on February 13 and 14, with husband Hank. Credit: WENN.