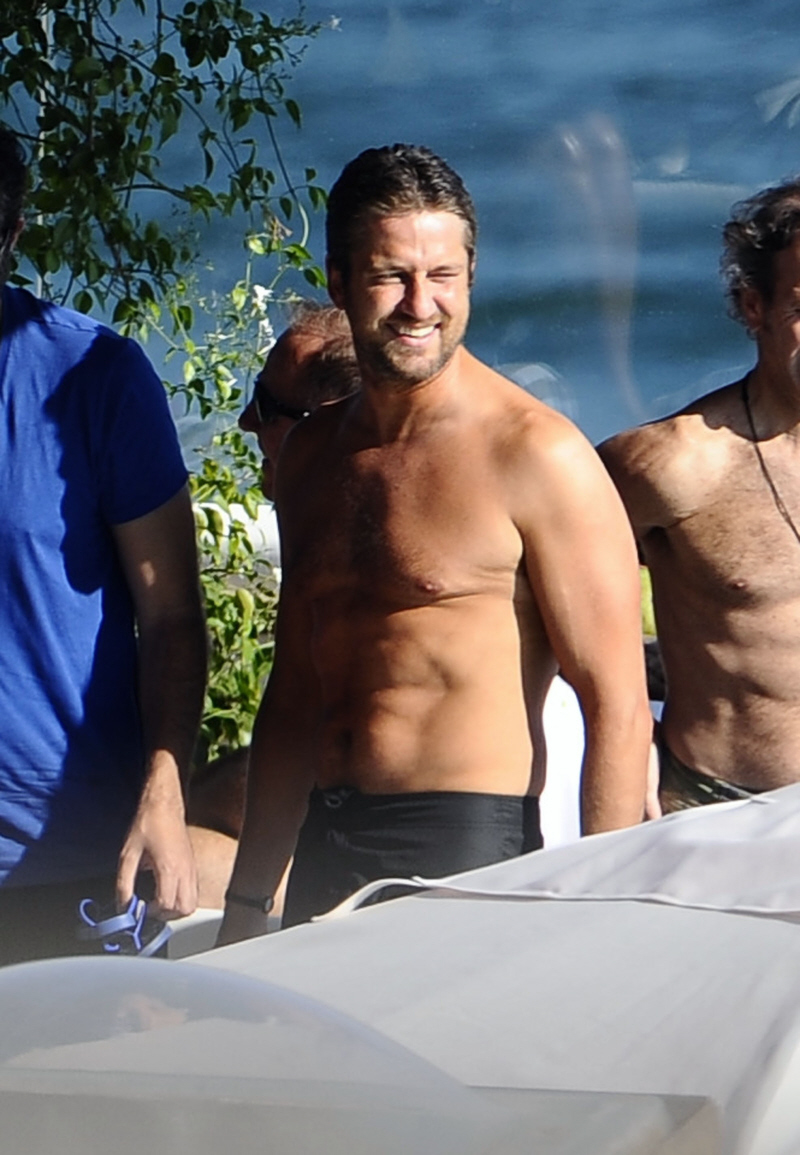 The National Enquirer has an interesting story up about the alleged romantic relationship between Jennifer Aniston and Gerard Butler. After a whirlwind month and half which included everything from an alleged makeout session in the kitchen during the Golden Globes, to Gerard's appearance in Mexico with Jennifer and her friends, many people are in disagreement as to the exact nature of their relationship – are they dating? Are they just friends? Are they friends with benefits? I have no idea. That's not really the point of this Enquirer story. The point seems to be that no matter what Jennifer thinks her relationship is with Gerard, she should know that he will literally f-ck anything and anyone. Random street performer? Done her. Jessica Simpson? Hit that. Hookers? Probably. Honeydew melon? Yes, and it was good for her too. Corn dog? With mustard, bitches.
Jennifer Aniston has caught Gerard Butler cheating already – and she's ready to give him the old heave-ho!

Just a month after rekindling her romance with the brawny 300 star – and only a WEEK after a romantic Mexican vacation together – the sexy Scot was back to his skirt-chasing ways.

On Feb. 9, the day after returning from Cabo San Lucas, where he celebrated Jen's 41st birthday with the Friends beauty and pals, Gerard was spotted chatting flirtatiously with a gorgeous brunette outside Beverly Hills' Chris McMillan Salon. Making matters worse, the salon is owned by Jen's hairdresser and close friend.

Just two days later – on Jen's birthday – Gerard was escorted to a physical therapy appointment in Santa Monica by another dark-haired beauty.

"Jen is outraged that Gerard is so blatantly betraying her," a source told The ENQUIRER. "His womanizing ways have fractured their relationship as lovers and friends.

"She's no stranger to getting burned in the romance department, but what really bugs her is that Gerard is making a fool out of her publicly."

Jen and Gerard split last September after a brief summer romance, but rekindled their sparkage in January after reuniting to promo new film, The Bounty Hunter.

The next thing we knew Jen had asked Gerard to move in with her. But sadly, all that may soon change.

Butler was a no-show for Jennifer's birthday dinner at Cecconi's restaurant. He had jetted off to Rio de Janeiro for the annual Carnival celebration – leaving Jen alone on Valentine's Day.

His nonstop playboy partying included flirting with Brazilian soap star Rita Guedes, Pussycat Doll Nicole Scherzinger, Brazilian sex bomb Paola Oliveira and stunner Beatriz Coelho, a model.

"Gerard seems to be on the prowl whenever he's out of Jen's sight," the source said.
[From The National Enquirer]
Look, I know my guy is a wh-re. That's one of the reasons I love him – he's accessible, and I know he would do me, unlike those other dudes with higher standards. I don't know what Jennifer was thinking, if she did get romantically involved with him, because Gerard pretty much has a tattoo on his forehead saying "Wanna f-ck?" Meanwhile, Life & Style is also reporting that Gerard "went partying in Rio" less than a week after their Mexican getaway, saying: "Single Jen had chosen not to join Gerard on his on-the-prowl vacation — leaving her to start her 41st year without a man in her life."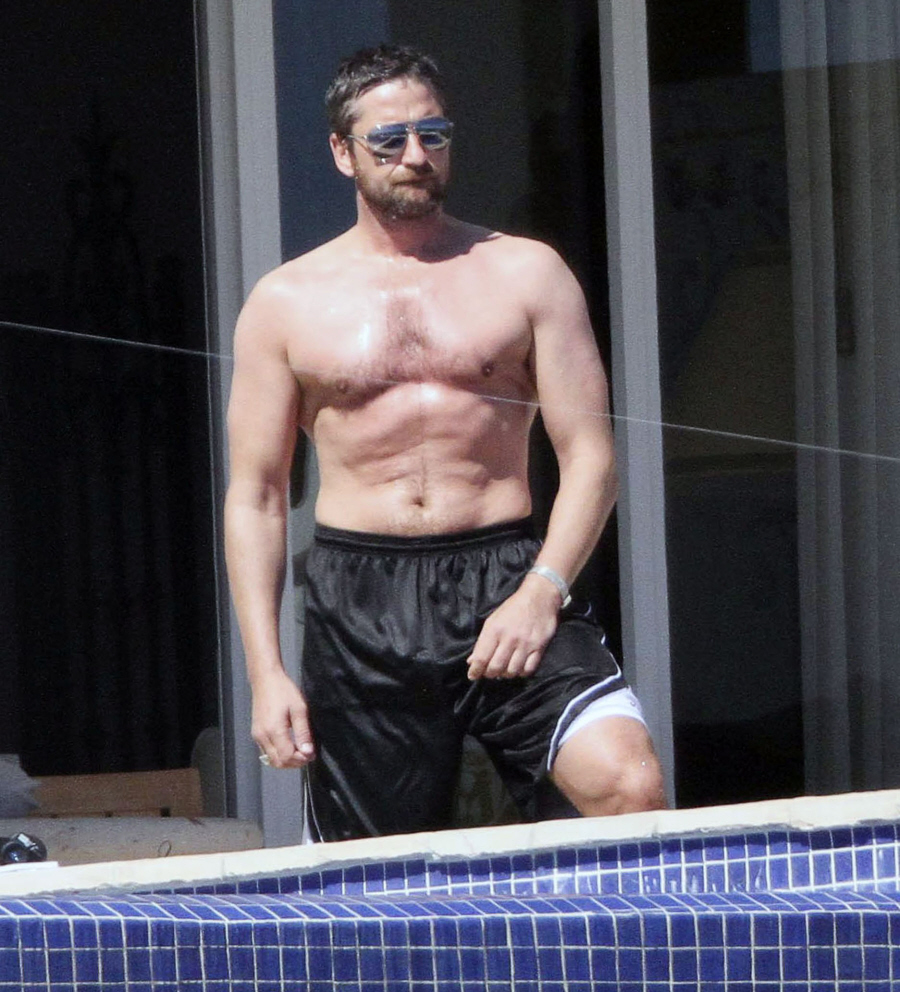 Gerard Butler in Rio on February 15, 2010 and in Mexico on February 7, 2010. Credit: Bauer-Griffin.