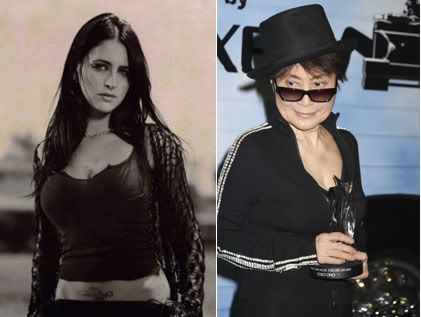 A legal battle between John Lennon's widow, Yoko Ono, and a young, unknown female musician whose birth name is Lennon is starting to get noticed by media outlets and even John's oldest son, Julian. According to her MySpace blog, Lennon Murphy, a heavy metal musician who was named after the iconic singer/songwriter, has been contacted by Yoko Ono's attorneys and ordered to stop using the name or face legal ramifications. Ono claims that the rock singer is using her husband's name in an exploitative manner to intentionally confuse people and boost sales of her CD. Lennon says she dropped her surname, Murphy, eight years ago because it is her father's name and means nothing to her– leaving her to go by her birth name, Lennon. Both her band and her debut CD, which until recently was on the Arista record label, were named "Lennon."
Yoko Ono filed what is for the most part a law suit with the Trademark and Trial Board of the US Patent & Trademark office this past week… Yoko waited 8 years until 2 days before the statue of limitations ran out to file this complaint. 5 lawyers including 2 trademark experts we have spoken with agree that Yoko has no grounds for these claims and is just trying to push Lennon around and make her spend money she doesn't have. Yoko seeks to gain the rights to the Trademark "LENNON" which Lennon Murphy has owned since 2003.
[From Lennon's MySpace blog]
Lennon claims that her record label ran concerns about the trademark infringement past Ono and her attorneys eight years ago, when the singer first dropped her surname. At that time, she claims, Yoko had no problems with it. However, eight years later, the statute of limitations for Yoko to file an infringement claim is about to run out, and now she is deciding to file suit.
In a bizarre turn of events, John Lennon's oldest son, Julian, has spoken out in support of Lennon on his own MySpace blog. He has had a longstanding feud with his stepmother that only got worse after his father's death in 1980. In a blog entry titled "Sad but True & interesting ……….. I feel for her & know the situation well," Julian Lennon posts a message from Lennon, the female rock singer, and says that the girl has his "full support." In an earlier version of the blog entry, which Julian has since edited, he prefaced Lennon's statement by saying that he's had his own legal run-ins with Yoko over the years and that if "she could have stopped me from working using my own legal name, she would have." Ouch.
Yoko has certainly worked hard in the years since John's death to protect the Lennon estate. However, I find it hard to believe that people who heard this girl's music would be confused between John Lennon and Lennon Murphy. Further, I find it interesting that Yoko doesn't seem to have a problem selling Beatles' songs to companies such as Target to be used in commercials. It's not like this girl is raking in the dough or anything– she is a struggling musician whose mother really, really liked John Lennon. Yoko had eight years to make up her mind about this. Why file suit now?
Picture note by Celebitchy: Yoko Ono is shown at the John Lennon Education Bus Dedication at the 2008 Consumer Electronics Show in Las Vegas on 1/7/08, thanks to PRPhotos. Musician Lennon Murphy is shown in promotional photos.