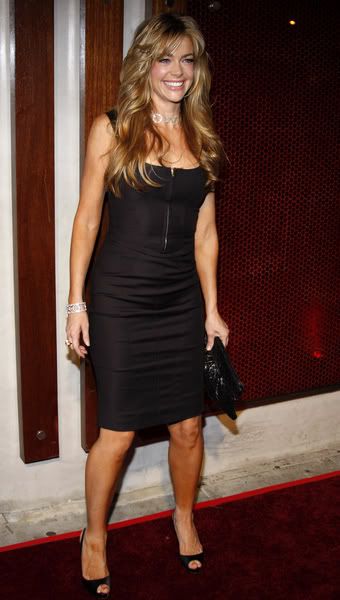 Well it's official: now that Denise Richards has legally established that she can put her daughters on television, E! has announced that she will be starring in her own reality show. Which, if it's anything like Richards herself, will be elegant, understated, and totally non-crazy. It's obviously not a big surprise that she's getting a show, since Denise had to do battle with ex-husband Charlie Sheen to get the court's permission to show daughters Sam and Lola. The two girls have never once been photographed looking anything less than totally miserable, so I'm guessing it's going to be pretty sad to watch them in half hour stretches. Denise's fabulous new show will focus on what a great single mom she is, and profile a famous woman's struggle to get her life back on track after a nasty divorce. [Read all those lines in a bitchy/snarky/sarcastic tone].
The actress has signed with E! Entertainment Television and Ryan Seacreast Productions to star in a new unscripted series, "The Untitled Denise Richards Show" debuting this summer.

"I've been approached before [about a reality show] and the timing wasn't right," Richards told Seacrest on his early-morning radio show Tuesday. "It's time for people to see what I'm really like." Seacrest said he had to "beg" and "grovel" to persuade the actress to do the show, though Richards says she's eager to team up with the "American Idol" host. Both Seacrest and Richards will serve as executive producers. "That girl has led an interesting life," said Seacrest. " 'Interesting' being the operative word."

"There's been so many negative things about me in the press, most of it not true," said Richards. "I thought that, at the time, it was the right thing to do. Take the high road and keep quiet and keep things private … but it was very hard. I want the opportunity for people to see what I'm really like and judge for themselves."
[From the Daily News]
Something tells me people are going to judge her boring, crazy, and/or empty, just based on the couple of times I've seen Denise Richards interviewed for about 38 seconds. She is super good at playing vapid pretty girls because she's not a good actress, so it works. It was really hard to figure out who was the crazy one in her divorce from Charlie Sheen. Someone was clearly telling lies because they could not agree on a single point, no matter how insignificant. I think when all was said and done, it turned out they were both crazy, with Richards having the edge at slightly psychopathic. It sounds like Denise has found her true calling: I can think of no personality traits more suited to reality television.
Here's Denise at the launch of Dr. Rey's Shapewear on October 25th. Talk about going to the opening of an envelope. Images thanks to PR Photos.