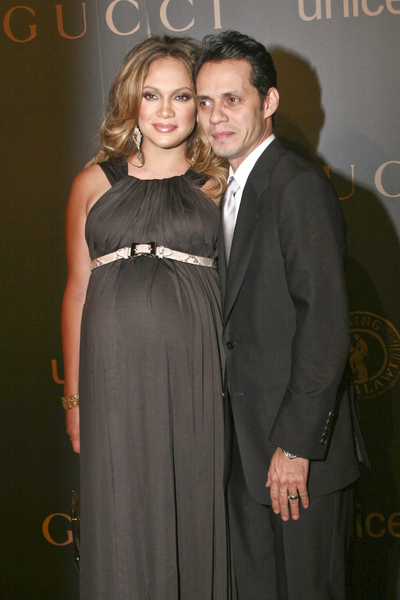 Jennifer Lopez is as big as a house right now. I guess she kind of is a house for babies right now. Anyway, the very-soon-to-be-mommy is doing what many of us do when we're feeling less than fab about our figure – we shop. And not for clothes!
J.Lo has apparently splashed out on a $120,000 nursery for the twins.
Sources tell PageSix.com that the nursery awaiting the forthcoming fraternal twins is an ocean-themed room stocked in English furniture and French-made cribs decked out in hand-embroidered bedding.

The tiny pair will also gaze upon 18-karat gilded trim and chandeliers in Jennifer and Marc Anthony's Long Island home, as well as in the nurseries in their Bel Air and Fisher Island homes. The total cost of digs for two adorable babes? Over $120,000.
For other parents an 'ocean theme' means that you put up a couple of Finding Nemo posters.
I say, why not splurge on a gorgeous nursery for your babies if you cannot afford it. Jennifer has long wanted babies, and now they're finally coming, and she's understandably excited. Sure, non-celeb parents would probably use that money to, er, buy a mini van, or make house payments, or educate their children, but a glam nursery is what a successful music career can buy you, as well as a Mercedes mini van, mansion, and private school education.
You know, if I had unlimited funds for a nursery, I think the first thing I'd put in it (besides a nanny) would be some cradles that rock electronically. And the Wiggles, as in, the band themselves. Maybe they could be my nannies? And something that changes the kids diapers for me. Oh, I guess that would be a nanny. Hmmn, I'm getting a little Jennifer Lopez envy here! I'd probably get the kid some cool toys that I could play with too, like really elaborate Lego, and a slide.
Anyway, now that we know J.Lo will be having twins, we are basically just waiting for her to pop them out. And some people suggest Valentine's Day would be a nice day to have a baby.
The very pregnant actress has been out on the town of late showing off a very sizable baby bump. She and hubby and dad to be Marc Anthony just this week attended a reception to benefit UNICEF hosted by Gucci during Mercedes-Benz Fashion Week Fall 2008 at The Salon at Bryant Park on February 6th in New York City.

So how did she know she wasn't headed to the hospital that night? She is scheduled to give birth on Valentine's Day! J Lo has reportedly scheduled a C-section for next Thursday at New York North Shore University Medical Center.
Here's another reason for the J.Lo envy – scheduled delivery. I begged, almost on my knees but it was too hard to get down on the floor, for a c-section when I was pregnant with my last child. I simply could not stand to be pregnant a second longer, but I got told no way. How do people get these scheduled sections when they're not pregnant with twins like J.Lo? Do you bribe the hospital staff? I was never offered the opportunity to have an elective cesarean, but people keep talking about them. What secret do they know that I don't? Maybe she has to have the babies on a certain day because of the kidnap protection plan in place.
Note by Celebitchy: This week's Enquirer has details of the baby items Lopez registered for at elite boutique Petit Tresor, and they include a bassinet at $800, an Enchanted Forest highchair to the tune of $485, Simplicity crib linen at $535, a Monogram crib bedding set at $950, and a black Baby Jogger stroller at $560.
The Enquirer also states that Lopez will hire a nanny that costs $100,000 a year and "several" baby nurses at $150 an hour, who will work in 12 hour shifts.
Lopez and Anthony are shown at Madonna's Kabbalah fundraiser last week, thanks to PRPhotos.