Gisele Bundchen still thinks Jack Moynahan is hers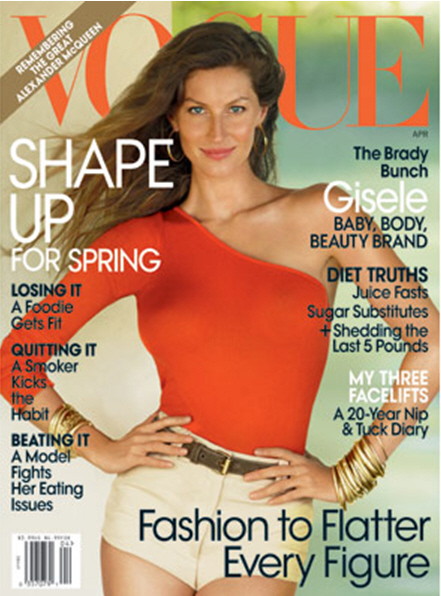 Gisele Bundchen is the April cover girl for Vogue, and it's her first big English-language interview in a long time. Gisele looks lovely in the Patrick Demarchelier photos, I think, but I've always liked her as a model. As far as the interview… it's actually very nice (full piece here). She sounds very grounded and, for lack of a better phrase, like she has a purpose-driven life. One of the biggest soundbytes, just a guess, will be when Gisele refers to Bridget Moynahan's son as hers, yet again. Gisele already talked up her relationship to John in last year's Vanity Fair spread, and in this one, Gisele says: "I'm so lucky to have my little munchkin, and I have two because I also have John." Oh, Gisele. Bridget is going to shank you one of these days. Here are the highlights:
Gisele on her baby's name, Benjamin Rein: "I wanted him to be called River because I wanted something always flowing, immortal. My husband said, 'There's no way we're going to call him River.' But my father's name is Reinoldo, so it's a homage to him. And it's like water."

On her home birth: "I wanted to experience the transformation," says Gisele. A midwife friend of hers came in from Brazil as did her mother; her husband was there too. Gisele meditated through the birth. "It was the most amazing experience of my life, feeling him come through my body. And once he was born, I never felt so empowered as looking at him and thinking, Oh, my God, we did it together!"

On getting her figure back: She's regained her figure, apparently instantly and with no more exercise than some yoga on a mat in the living room. "I think it's muscle memory," she says. Gisele has always been in shape: Born one of six girls in the German-speaking hamlet of Horizontina in southern Brazil, she spent her childhood outdoors, "like a little monkey, jumping from tree to tree in bare feet." An athlete, she was captain of her volleyball team and hasn't stopped. "I did kung fu up until two weeks before Benjamin was born, and yoga three days a week. I think a lot of people get pregnant and decide they can turn into garbage disposals. I was mindful about what I ate, and I gained only 30 pounds."

Gisele wants a big family: "I'm so lucky to have my little munchkin, and I have two because I also have John." John, a.k.a. Jack, is her stepson, now two and a half, born to Bridget Moynahan after Moynahan's breakup with Tom Brady. The press went wild last year when Gisele said she loved Jack as her own. He spent the end of the Christmas holiday with them. "We don't see him all the time, unfortunately, but we're building a place in Los Angeles to be closer to him."

On moving from New York to Boston: "I'm really a Bostonian now," she says, with all the sober, studious implications of that move: "I get to work on all my projects and have time to immerse myself in all the things I'm so passionate about."

On her low-key pregnancy: "I felt like my pregnancy was a sacred moment for me. I stayed in Boston and I didn't work apart from the contracts I have, and then I only let them use my face."

On getting back to modeling: Today she left the apartment and the baby for the first time to pose for one of her advertising clients, which explains the chignon. "I got to the studio and I felt like I was E.T.—whoa, what's going on? Hair and makeup? I hadn't looked at myself in a mirror for a month and a half. I'd been in my house, in a cocoon with my kids, my husband, my dogs. Usually, as I walk through the door into that atmosphere, I already feel different. There's a button that goes On and I'm On. And when I go On, there is almost no me; there is just a character who is doing all this. This time it wasn't like that. I've been really inside with my husband and my baby, and everything is changed. But the client still deserves respect and professionalism, and I got a little bit concerned because I wasn't feeling it. Makeup was done, hair was done, and I looked in the mirror and I still wasn't seeing the person who's a model. For the first time, I think I actually saw me—the inside—instead of the persona."

On the Gisele persona: "I was in the fashion shows in Milan, I was seventeen, I was doing like 100 shows. People were asking, 'How does it feel to be the model of the moment?' It was hard for me to answer as myself. I barely spoke English. I thought, I have to give my best because they trust me with that. I invented this other person, and she could do everything. She wasn't afraid; she was able to be ballsy and risky and sexy or androgynous. She was bold. I had to believe in myself as this person that was strong, up-front, invincible, and positive, who knew what she was doing, even though I really didn't. I've worked for fourteen years, but I don't think anybody in the business really knows me, because there is that other person."

On becoming a motivational speaker: "I'm a person who normally works 300 days a year, and here I am in Boston in this apartment and Tom's playing, and what do I do here? On my Web site, a lot of girls were asking me questions about feeling awkward. I wanted to work with girls who were fourteen to sixteen." She wanted to be heard and chose the Massachusetts Alliance of Portuguese Speakers—"They take care of girls from shelters, girls who have been abused. I came up with a nine-week program and went to talk to them about empowerment and self-esteem. I thought I was going to be able to save them, guide them. When I got there they were like, 'Who are you?' There were a lot of Latina and black girls. In Brazil, everyone is a mixture, and no one thinks about it. In America, maybe you have more problems with that. It took me a week or two just to get them to sit down with me and talk. I had my yoga teacher come up from New York to teach them yoga. I wanted to share something, but I ended up realizing that you cannot save anybody. I forced it, and it didn't quite go through."

On her skin care line (that she's developed herself): "I wanted to teach girls to love themselves and take care of their bodies. What is the first thing you see every morning? Your face! What do you put every day on your face? Cream! I have made the simplest, purest cream—an everyday cream—but it comes with an affirmation." Her manufacturers, she says, "were ready to kill me. I wanted the cream to be organic—they explained that if it's organic, it's alive, and that means it can't survive for a long time." The products are now called "natural," the ingredients are held to a high standard of purity, and the preservative is coconut oil. She also wanted a mud mask. A real mud mask. "When I was a teenager, I had pimples—oh, God, every time someone looked at my face I thought they were looking at my pimples. I put mud on my face to dry them out, and it worked. "I can do all this because I'm financing it on my own terms, and if I want to give away 5 percent of everything I make, no one can tell me not to."

Gisele's life-lessons: "The first is wake up in the morning and be grateful you are here, alive and healthy. And the second is: Give."
[From Vogue Magazine]
She sounds nice, doesn't she? Like she's not about judging people, and she's really trying to genuinely connect and be a productive person, beyond her modeling contracts. Vogue also noted that she calls Tom Brady "my hub-EE!" and that her mom is the only (other) person she trusts with Benjamin. And that's about it. HUB-EE!!!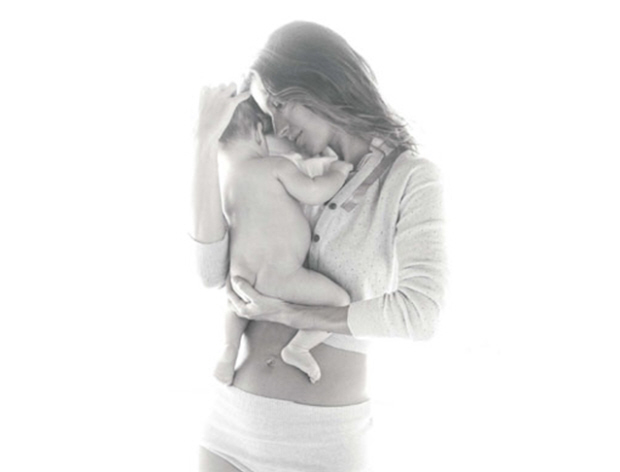 Photos courtesy of Vogue online.

Written by Kaiser

Posted in Gisele Bundchen

- Mariah Carey lip synced on American Idol [CDAN]
- Colin Firth is looking good [Lainey Gossip]
- Internet celebrity charged with murder! [D-Listed]
- What is Paz Vega wearing? [Go Fug Yourself]
- New bachelors on The Bachelorette [Reality Tea]
- Goodbye to The Office [Pajiba]
- Bachelor Sean's fiance cheats on him [Evil Beet]
- Britney Spears out with her man [Popsugar]
- Nina Dobrev works it [Popoholic]
- Cindy Crawford needs to lay off the 'tox [Celebslam]
- Who said it: Carrie Bradshaw or The Dalai Lama? [Buzzfeed]
73 Responses to "Gisele Bundchen still thinks Jack Moynahan is hers"