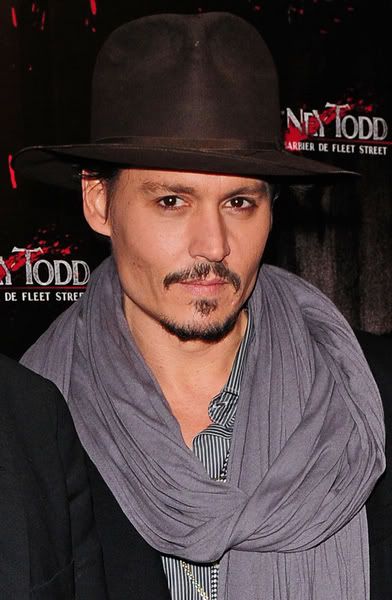 Johnny Depp always manages to expertly skirt that fine line between keeping his private life close to his manly chest while remaining a massive star beloved by the public. Depp recently said that after he gave some sort-of revealing interviews about his family a few years ago he was schooled by Marlon Brando to not reveal much about his private life, whose advice he took to heart.
There were two sets of photos of Depp and his family that came out from the same agency recently that made me shake my head. One was of Johnny's partner, Vanessa Paradis, at Disney Land with their two children, Lilly Rose, 8, and Jack, 5. Paradis looked mighty annoyed that photographers were taking pictures of her children, and Johnny has made it clear that his children are off limits and that he will confront any photographer that takes photos of them. It's a good thing he wasn't there. Another set was of Johnny confronting paparazzi after they followed him around LA while he was scouting locations for a film.
If Johnny Depp says he doesn't want his children's photos taken, we will not publish them. If he's pissed at the paparazzi and thinks they're out of line, we won't publish those photos either. Other stars can make demands, but nothing quite elicits a response like a request from moderately-humble and almost always gracious Depp.
Depp gave a general but very glowing interview in the latest In Touch about his family. He just sounds like a great dad and protective of his children and family:
Q: You're such a famous actor — how important is your family in keeping you grounded?
A: My family is my sanctuary. I live for them. I finally found a reason to exist in this world. There's nothing like it. I would give away everything if I could only keep my family. They have given me life, and they're the greatest gift in the world. "

Q: How do you keep your romance with Vanessa so strong?
A: I think trust is the most important thing in a relationship, along with the ability to communicate honestly with each other. Once communication stops, that waylays danger.

Q: You and Vanessa never married — do you think you will at some point?
A: We have considered ourselves husband and wife since the day we moved in together. We just haven't gone through the formality.

Q: How do you feel about having to raise your children in today's uncertain world?
A: As a parent, my job, besides giving them love and education, is to protect them by not allowing the harsh realities and difficulties of our world into theirs. You've got these pure, innocent little things, and all they want is love and happiness.

Q: You move around with your family a lot, having lived in LA and France. Have you always been such a free spirit?
A: Yes. It has to do with my upbringing. I don't like to be stuck in one place for too long. We were total nomads when I was growing up. We traveled around all the time. It's ingrained in my being. I think it's good for kids to get out there and see the world.

Q: You've been working a lot lately. What would be your dream vacation?
A: Running around on the beach with the kids and taking them out on the boat. I want to take them swimming with dolphins, though hopefully not with sharks!
[From In Touch, print edition, via Taylors' Entertainment News]
So somehow Johnny always confirms what people think about him, and reveals just enough to let us into his world without ruining the mystery. Unlike other celebrities, we rarely know when and where he goes on vacation and especially not his daily whereabouts. Matt Damon is another A-list actor who has managed to keep his family life under wraps in this era of digital and instantaneous news. Damon has said that we didn't get every last detail on the Hollywood greats of decades past, and we don't need that kind of news about his generation, either.
We wouldn't have much to talk about if we weren't privy to all this private and often-fabricated information about the celebrities, but there's also a gender bias in the news, as Helen covered a couple of days ago. Male celebrities who have non-famous partners seem to have an advantage in that the tabloids don't pick them apart like they do female celebrities.
Johnny Depp is seen at the Sweeney Todd premiere in Paris on 1/16/08, thanks to PRPhotos.