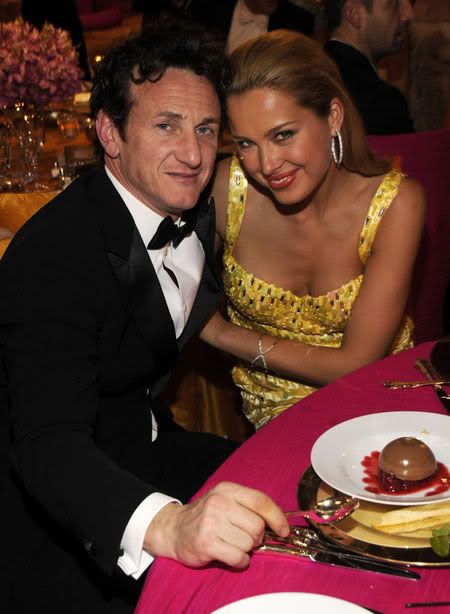 Let's be honest: the best part of awards shows are all the little bits of gossip you hear afterwards. Like Jon Stewart was actually drunk as a skunk during the whole ceremony last night. Or Jack Nicholson and Javier Bardem got in a fistfight, and Javier sat on Jack's head. Okay none of those things actually happened, but how much would it rock if they did? Well a little bit of juicy gossip that does appear to be true: it seems Sean Penn and Petra Nemcova are hooking up.
Newly single Sean Penn and supermodel Petra Nemcova slipped out of LA's Villa nightclub at 3:10 a.m. this morning–clearly Hollywood's hottest new item.

The pair followed up an appearance at a CAA event two days ago with a full-on assault of coupledom tonight at Elton John's Oscar Party (above). Sean, 47, and Petra, 28, posed on the red carpet at the singer's AIDS Foundation fete and danced to his many hits before heading to Villa.
[From Page Six]
Further confirmation comes from People. While they say there was no "clear cut PDA" when Petra was asked about Penn, she noted, "Yes, we are friends. He is on the advisory board of my charity."
I can't really explain why, but somehow this pairing strikes me as odd. Penn is nineteen years old than Nemcova, but I don't think that's what really seems odd. He just looks like he should be out living in a tree somewhere, while she looks like her image should be chiseled in marble or something. He's very rustic and asymmetrical. And she is highly symmetrical. And since I can't think of any other way to explain why I don't think these two go together, I'm going to rely on symmetry (and a lack thereof) to be my main argument.
Sean Penn split from wife Robin Wright Penn right after Christmas; with both parties citing the traditional "irreconcilable differences" as the reason for their divorce. The San Francisco Gate reports that Robin is now dating her ex-boyfriend from the 90s, Jason Patric. It seems fast, but they're both moving on with their lives and that's probably for the best. And Jason Patric is much more symmetrical than Sean Penn.