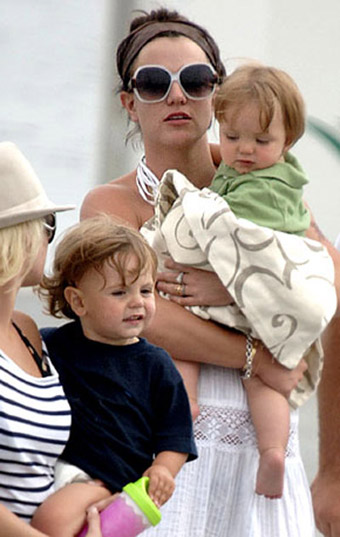 An older image of Britney and her boys
After more than a month of no contact, Britney Spears was allowed to spend a few hours with little Sean Preston and Jayden James on Saturday. After much back-and-forth between the lawyers for Spears and K-Fed, a deal was worked out in which the boys could see their mother in her home under the supervision of her psychiatrist and her father/conservator, Jamie Spears.
Britney Spears was reunited with her sons for three hours on Saturday.

After lawyers for Spears and Kevin Federline reached a visitation agreement Friday, the pop star saw her children Preston, 2, and Jayden, 1, for the first time since Jan. 3.

The boys left Federline's Tarzana house Saturday morning – put in their car seats by their father, according to photographers – and were driven by Federline's bodyguard to Spears's Studio City home.

A source involved in the case says, "The real hero was [Spears's father] Jamie. He has taken charge, and she has visitation again."

Sources confirm to PEOPLE that Jamie and Britney's psychiatrist were present for the visit.

After a three-hour stay, Spears's sons left again in the back of Federline's grey Dodge truck driven by his bodyguard.
This just further proves how good it is for Britney to have her father back in her life. Less then three weeks after Papa Spears took over, Britney has access to her children. I doubt this agreement would have happened if Sam Lutfi was still controlling her life. Many sources close to Spears are now saying that it was Sam who encouraged Britney to blow off numerous court appearances, and interfered with her home phone and cell phones when she was supposed to be contacted about taking random drug tests. It was these behaviors that contributed to her losing the kids in the first place.
It was probably a lot easier for the boys to be re-introduced to their mother, after such a long absence, with their grandfather in the room. Both Jamie and Lynne Spears spend a lot of time with the boys at K-Fed's home, most recently taking care of them while K-Fed attended Fashion Week.
I'm going to keep my opinion on whether Britney really should be allowed to see the kids just yet to myself. For now, this could be a good thing for all concerned, but this is Britney we're talking about.