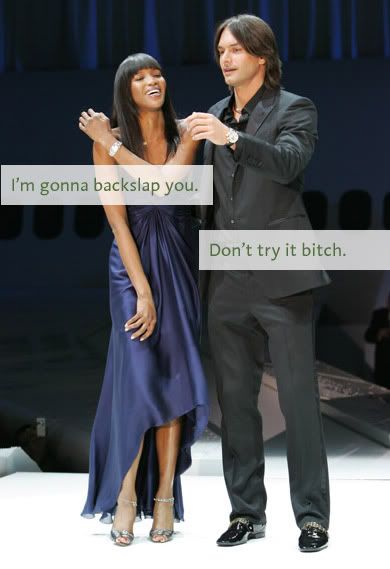 The NY Post is embroiled in a scandal involving a senior editor of Page Six, Jared Paul Stern, asking for huge bribes in exchange for positive reporting. The news on Page Six seems to be going downhill fast. Although it is Monday and gossip is harder to find, we can't help looking at the NY rag with an overly-critical eye. It seems like they could make up anything at this point.
Of course that's true about most newspapers lately. Scandals involving plaguarizing journalists rocked USA Today, The New York Times, and The New Republic in the last few years.
Page Six is seriously lame today, and leads with a story of "dueling dwarf bands." They did have this gem, though: evil bitch Naomi Campbell may appear on Oprah to cleanse her soul. She's also said to be fighting with Diddy after she pulled out of his cooking show. Now why would he still want her to come? She must be fabulous at tenderizing:
We hear
Campbell will sit down with Oprah Winfrey to talk about her anger-management issues…
Embattled supermodel Naomi Campbell is feuding with her old pal, Sean "Puffy" Combs. The two – who until recently would travel the world together and party till dawn – are not talking after Campbell unexpectedly pulled out of the new NBC show Combs is producing, "Cooking Showdown," which pairs celebrities with superchefs. "Naomi found out Puff was the producer and dropped out," said our spy. Combs, who will have to do with just Ja Rule on his show, is mystified as to why she's so mad at him.
You know Oprah is not going to be as hard on Naomi as she was on James Fry. Maybe Jared Paul Stern should go on Oprah to redeem himself too. He can sit there looking at his hands and act as if he's sorry that Page Six made up all those stories to try to embezzle money out of innocent billionaries and socialites.
The NY Daily News says that Page Six's positive coverage of "Girls Gone Wild" mogul Joe Francis was totally influenced by Francis' star treatment of another Daily News coumnist, Richard Johnson. Francis held a lavish bachelor party for Johnson at his resort in Mexico and flew in all of Johnson's friends on his private jet. Page Six had a glowing report on Francis that ran afterwards, saying that he wanted to get into publishing to become "the next Hugh Hefner."
Page Six is also said to have a chummy relationship with richie Ron Perelman, who recently jilted his wife Ellen Barkin.
Buh-bye to that shitty rag.