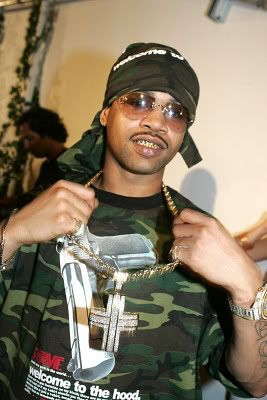 Rapper Juvenile, 32, (real name Terius Gray), singer of hits like "Back That Azz Up," "Ha," and "Gone Ride With Me," got some terrible news: his four-year-old daughter Jelani was murdered by her half brother, Anthony Tyrone Terrell Jr, 17. Terrell also murdered his other half sister Micaiah, 11, along with the children's mother Joy Deleston, 39. Deleston was a Gwinnett County Sheriff's Deputy who worked in the sex offender unit. She sued Juvenile for paternity in 2004, and the case was eventually settled after both parties acknowledged that he was the father.
Anthony Tyrone Terrell Jr. was charged Friday in the deaths at the family home near Lawrenceville, where the bodies were found the night before, said police spokeswoman Illana Spellman. Police had gone to the subdivision because a caller reported shots fired, Officer David Schiralli said earlier. They found a bullet hole in a house, then checked next door because they knew a deputy lived there.

They opened the door to announce themselves and discovered the bodies, Schiralli said. The 17-year-old son arrived at the house about 35 minutes later, he said. Spellman said the boy was arrested after talking to investigators but didn't elaborate. Because of his age, prosecutors cannot seek the death penalty against Terrell. A preliminary hearing will be set next week in Gwinnett County Superior Court, said prosecutor Danny Porter.
[From the Associated Press]
It's not known how close Juvenile was to his daughter, but he is understandably distraught.
…according to Juvenile's manager, Aubrey Francis, the rapper and father of little Jelani is 'shocked and devastated' over the death of his daughter.

"It really shocked him and devastated him to the point where I've never seen him before," Francis said of the rapper. "Right now he is relaxing and trying to grasp everything of what has happened."
[From Memphis Rap]
No motive has yet been released by the police. According to the Atlanta Journal-Constitution, friends say Terrell loved his sisters. Several of Terrell's friends who were interviewed said he always spoke positively and lovingly about his mom and sisters. Along with being a police officer and single mother, Joy Deleston was also an aspiring actress who had appeared in several local Atlanta-based films, including "The Effect," "Riff" and "Dark Secrets." It's not known if Terrell had a criminal record – since he is a minor, everything would be sealed. We offer our sincerest condolences to Juvenile and the Deleston family.
Here is Joy Deleston with her son, Anthony Tyrone Terrell and daughters Micaiah and Jelani. Header of Juvenile at the MTV VMA 2004 Vote Or Die Pre-Party on 8/27/2004. Image thanks to PR Photos.