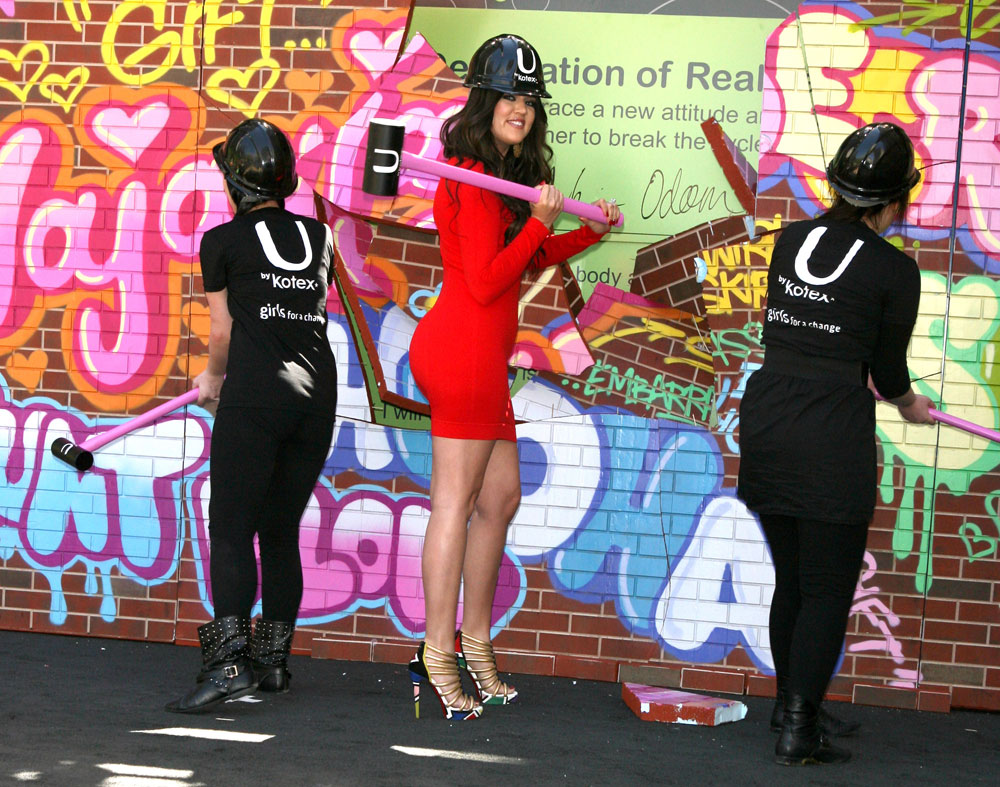 The Kardashian sisters – is there anything they won't share in order to promote themselves or some product they're hawking? We've heard the blow-by-blow details of Kourteney's pregnancy, and learned all about Khloe's sex life. As each of them has gained and lost weight, we've been subjected to the minutia of that, too. Kim is on the cover of In Touch this week bragging about a whole five pounds she lost. Well now the Kardashians are talking about their first periods. They're not oversharing to get publicity as usual, they're doing it as part of their job promoting a new Kotex line which hopes to brand itself as the go-to period product for materialistic, fame-seeking women who openly talk about their Aunt Flo.
To be fair to these way overexposed women, though, it's a decent ad campaign by Kotex and one that may help girls feel less embarrassed about something we all go through. Who better to use as spokespeople for giving personal information than the Kardashians? I really hate saying that, and I hate helping promote anything for the Kardashians. I watched the video and my opinion of the ads softened a little before I got annoyed by the blatant marketing ploys that would never faze mom Kris. I still can't stand these people and it's not going to get me to buy Kotex. They should have named the line "Kardashian Kotex" with tampons named Kim, pads named Kourteney and those diaper-type night pads – Khloe. Speaking of Khloe – who we know is still getting her period because we'd hear about it in about a minute if she ever got pregnant – she has a post on her blog enthusing about the ads:
We all know that I'm not one that's afraid to speak my mind, nor do I get embarrassed very easily, so I have no problem screaming at the top of my lungs about periods and vaginas. Getting your period is natural, so as a woman, why should I have to keep my mouth shut about it? But not all girls are as comfortable discussing these sorts of topics as freely as I am, and that's the issue that I want to address here.

I grew up in a house with almost all girls so talking about these things happened pretty much every single day. Haha and Rob being the only male had to put up with it. Kim and I were both with Rob when we first got our periods…it probably scarred him for life! He can pretty much handle anything now — he's totally going to be that husband buying tampons for his wife LOL.

It shouldn't take a primarily female environment to make girls feel at ease talking about their period! Personally, I like talking about these things LOL, which was why I so excited to participate with Kim and my mom in a series of videos called "Getting Real" with U by Kotex. We answered girls' questions about their periods, and shared some fun personal experiences of our own.
[From Khloe Kardashian's Blog]
Ok, I'll quit letting my intense dislike of the Kardashian Klan infect my opinion of their Kotex Kommercials. You can watch all the ads on Celebuzz. No one contacted or encouraged us to promote this product or we would have kissed ass instead of being snotty about it.
Here's Khloe promoting Kotex U products by posing in a bright red skintight dress and construction hat while breaking down a faux wall with graffiti that reads "Vajayjay," "HooHa," and "Aunt Flow." Yes, this is all about empowering young girls.
Credit: WENN.com