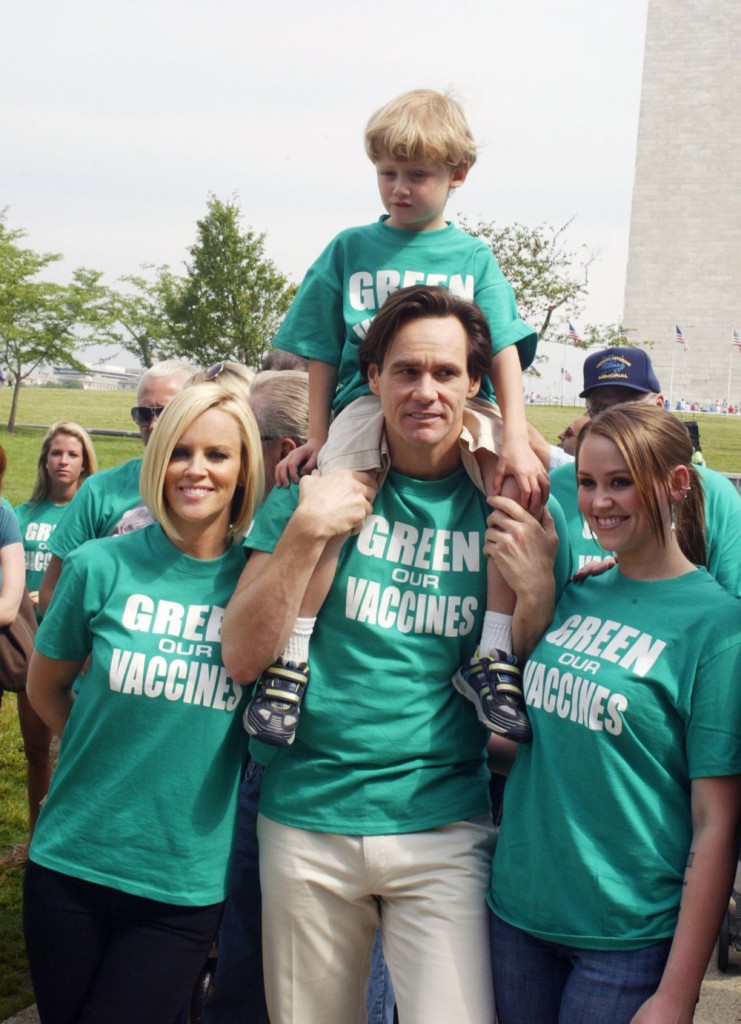 Back in January, 2009, there was a story that Jim Carrey had given then-girlfriend Jenny McCarthy a whopping $50 million trust for her son, Evan. That story was never confirmed by either Jenny or Jim from what I can find and what I remember. According to Jenny, Evan has autism, which she claims was brought on by the MMR vaccine and which she also claims she's been able to largely alleviate through diet changes and other non traditional treatments. An article in Time Magazine speculated that Evan had another, milder related disorder called Landau-Kleffner syndrome. I'm mentioning all of that because many people were up in arms over the fact that Jenny now had a lot of money as ammunition for her "Green Our Vaccines" campaign. It's a very lighting rod topic – whether vaccinations are related to autism, whether Jenny's son actually had autism, etc. I saw Jenny on CNN and found her very impassioned and believable, but I also feel like I understand the other side of the issue. Some think Jenny is advocating against vaccines, although she claims she's just trying to hold vaccine makers accountable and to ensure that vaccines are safe for children. Anyway, if that trust story is accurate, Jenny's son Evan will have a ton of money for his future while Jenny will have the means to further a cause that's personal for her, and which Carrey supports.
According to Star, Jim and Jenny had a $25 million dollar "no-nup," or $5 million a year for each year that Jenny stayed with Jim. They don't mention "this $50 million trust" story, so whether this is that same pot of money, or whether Jim had a separate trust for Jenny along with this "no-nup," we'll probably never know. Star broke the story of Jim and Jenny's breakup, blaming Jim's manic depression as putting a strain on the relationship. He's since been tweeting incessantly and not making much sense, including sending random strings of numbers to different people, which tends to suggest that Star might be right.
"Jenny came to the realization that Jim would never marry her just a few months after they started dating," a source tells Star. "So she told him she needed an arrangement that would insure she wouldn't have to worry about her future or the future of Evan, her now 7-year-old autistic son from a previous marriage."

Jim, 48, came to an agreement with Jenny: he'd pay Jenny $5 million for every year they were together. But the cash came with one condition, says an insider. Jenny, 37, had to promise never to publicly reveal personal stuff about Jim or his strange habits – of which there are many!

"If Jim doesn't like you, he won't even be civil toward you," the insider tells Star. "He'll ignore you and refuse to shake your hand – and stare at you like you're from outer space! He also locks himself in a room with a statue of Buddha and obsessively prays for hours on end. And sometimes, he treated Jenny like a servant, barking at her to get him a drink or turn down the music. It was embarrassing to watch…

[Jim]… would also stay in bed for days, says the source, "not changing his clothes, eating or answering his phone. Still, Jenny would open the curtains, get him to shower and cheer him up. I don't know how she did it."

Now, with her big payday, the source says, "Jenny will always have nothing but positive things to say about him."
[From Star Magazine, print edition, April 26, 2010]
I remember seeing Carrey on 60 minutes in 2004 (I didn't remember the year and just looked that up). He was talking about his spirituality and he came across as really spacey to me. He also spoke candidly about his depression and said he was on Prozac for a while but needed to get off of it. It really sounded like he admitted to manic depression, if you read between the lines. "I was on Prozac for a long time. It may have helped me out of a jam for a little bit, but people stay on it forever. I had to get off at a certain point because I realized that, you know, everything's just OK… There are peaks, there are valleys. But they're all kind of carved and smoothed out, and it feels like a low level of despair you live in. Where you're not getting any answers, but you're living OK. And you can smile at the office. You know? But it's a low level of despair. You know?" So is he saying that it's a low level of despair on Prozac and that's why he went off it?
Getting back to the "no-nup"/trust fund, I do believe that Carrey provided for McCarthy and her son, and that he genuinely cares about them. From what I can tell, neither Jim or Jenny has confirmed the story, but I wouldn't doubt it. Jim has said that Jenny taught him how to love while Jenny has spoken about Jim and Evan's connection. If Jenny says only positive things about Jim, it probably has more to do with the great memories they shared than any money that he gave her.
In related news, Jenny has closed her school for autistic children due to differences with her partner in the school. Jim was about to buy out Jenny's partner when they broke up instead. Maybe she doesn't have access to all this money after all. So far all we have are rumors about it.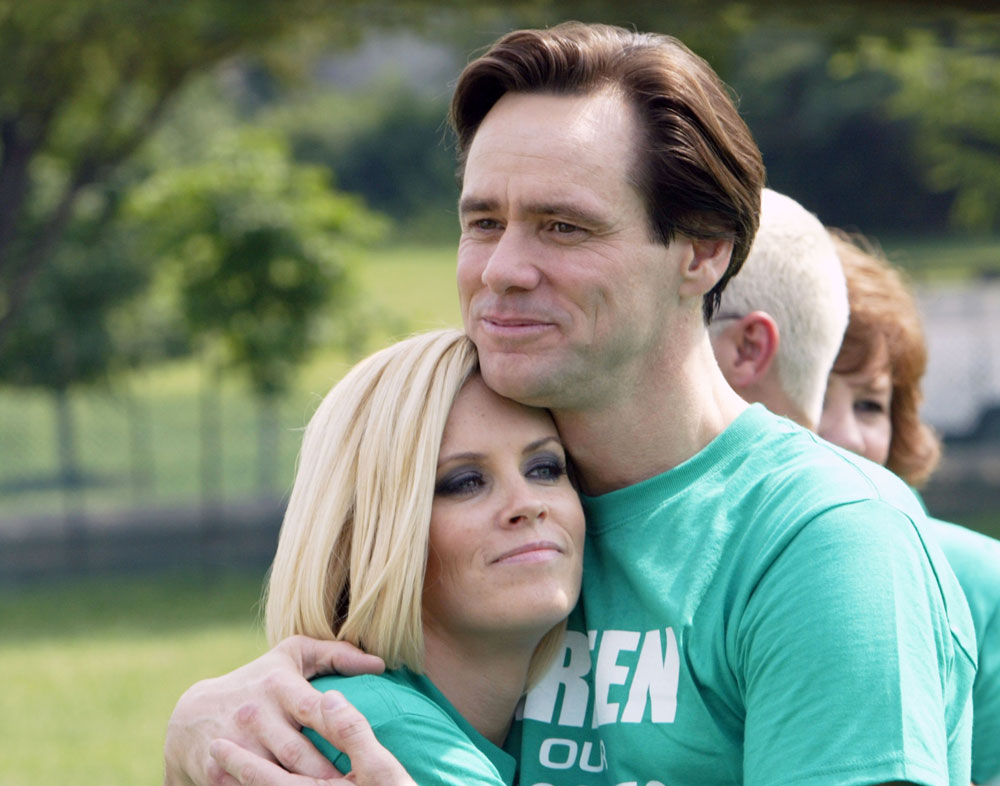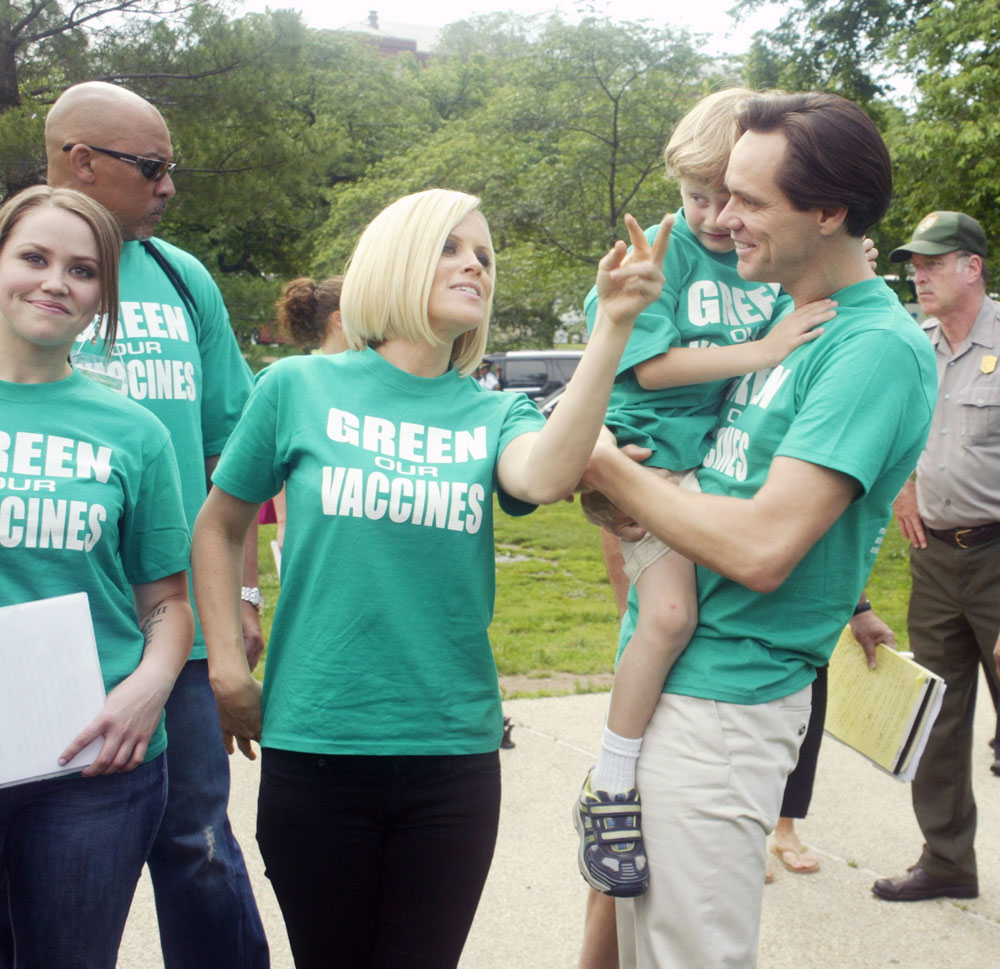 Photo credit: WENN.com