Excuse me for a second… hahahahaha! Oh my GOD. I swear, Katherine Heigl must have a damn screw loose in that "brain" of hers. This is Katherine at the ASPCA Ball in New York last, posing at times with designer Isaac Mizrahi. God, I hope Isaac didn't design this dress. It doesn't look like his style, but it could be. How do you even describe the style of this pinstriped, high-necked monstrosity? LaineyGossip calls it "Polygamy Couture. She's wife #4." Can we finally call this one guys? Katherine Heigl has no style. On a good day, she dresses too old (and like her mother dressed her) and on a bad day, we get this. While on the red carpet, Dame Heigl deigned to speak to Entertainment Tonight (via HuffPo):
Katherine Heigl was in New York Thursday night to be honored by the ASPCA and was talking about new daughter Naleigh, whom she and husband Josh adopted from Korea in September.

Heigl recently left 'Grey's Anatomy' to focus on motherhood, and told ET that daughter Naleigh is blooming.

"Life is great, it's really family oriented right now which feels fantastic, and feels as it should be. She's still so new, Naleigh's still so new in our lives… They change every month so monumentally that every month she's a new kid. She just started walking this weekend, she started talking more last month, and if I were missing that right now, I would just be devastated."

Heigl, along with her mother, founded Heigl's Hounds of Hope to honor her brother Jason and help save dogs from kill shelters. Jason died when he was 15 and loved animals.

Here's Heigl Thursday night, who attended without her hubby.
[From Huffington Post]
Sure, great cause. And maybe she's not as terrible as she once was. But the styling! It's like no one can win with her. If it's not her attitude, it's her crappy fashion sense. New theory: she's probably horrible to her stylist, and that why he/she dressed her in this. Why that theory doesn't pan out: because you know she thinks she looks awesome. This is her real fashion sense!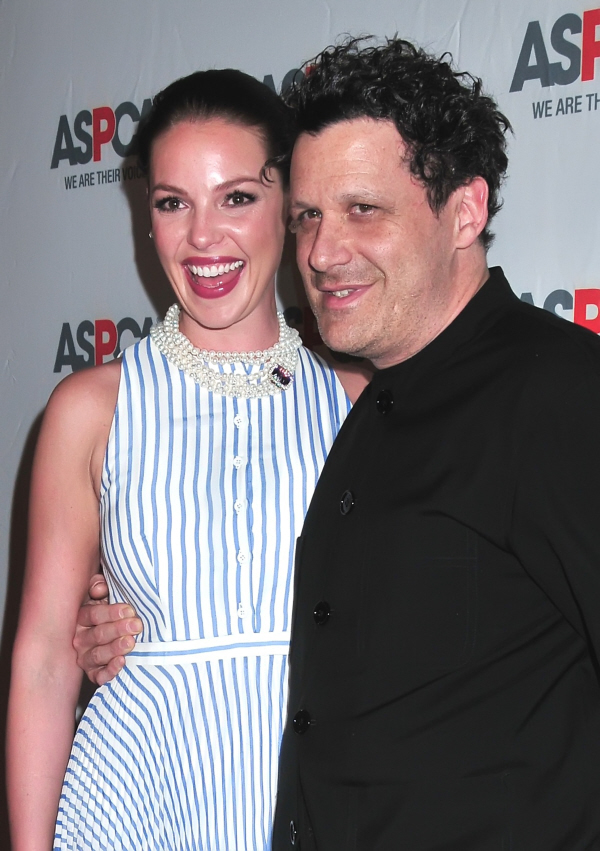 Katherine Heigl in New York on April 15, 2010. Credit: WENN.