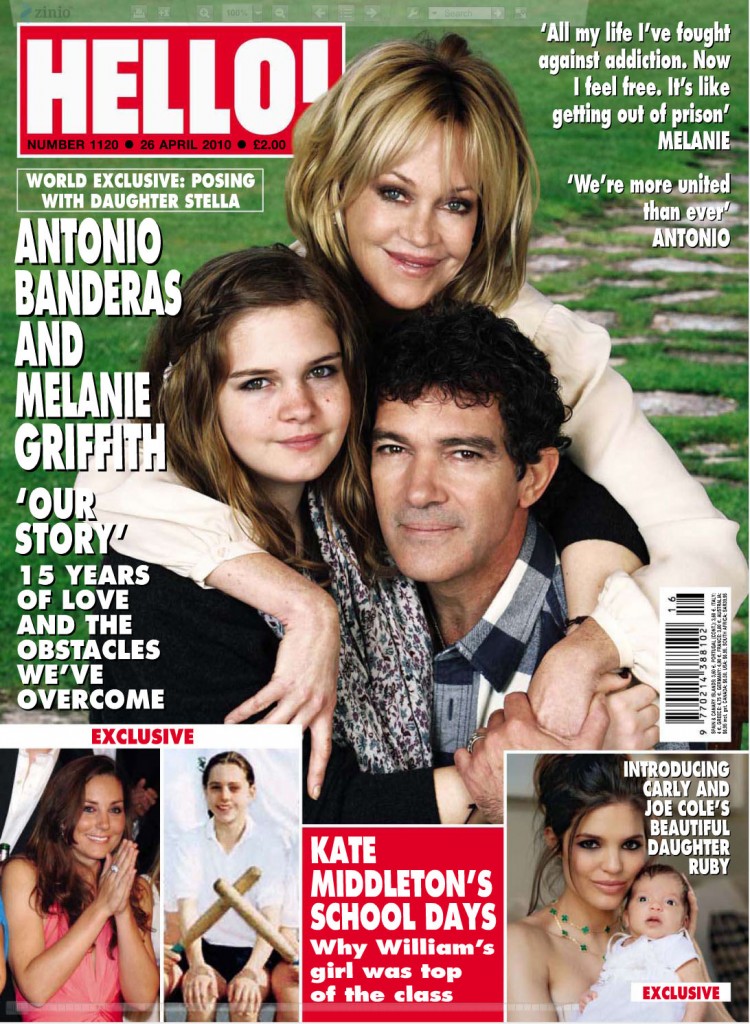 This week's Hello! Magazine has an exclusive and exhaustive interview with Spanish heartthrob Antonio Banderas. 49. The guy says so many positive, glowing things about his wife of 14 years, Melanie Griffith, 52, that I would think it was a put on if I didn't known anything about him. Antonio loves Melanie to bits and he'll tell you all about it. He also clears up rumors about Melanie's stint in rehab last year, and presents it as if it wasn't a crisis and she just made the independent decision to go after she necessarily used painkillers following knee surgery. I doubt it was as simple as all that, but Banderas is convincing me that he'll stick with his wife and their family no matter what. He also says some very insightful things about the way that love changes over the years. At first I was kind of swooning about how he talks about his love for Melanie, but then I saw that he sort-of admitted that they were both with other people when they first got together. Melanie was with Don Johnson, who she married twice and has one of her three children with, and Antonio was with his first wife, Ana Leza, to whom he was married for eight years at the time.
(We get the magazine digitally through Zinio.com and it's in flash format so we have to re-type segments if we want to quote them. I'm telling you all that because there's no way I could do this article justice unless I spent an hour typing it all in. There's a ton more in the print version and this is just a small segment.)
Let's talk about Melanie. You've been together for 15 years, which is a lifetime in Hollywood.
"And in our case there were people who literally didn't give us more than six months! But we love each other and above all we love our family. We've figured out how to get past obstacles – and some of them have been really tough ones – in our relationship; and if you get past those you only get stronger.

"If we'd given up – and I'm not the kind of person who does – we probably wouldn't be together anymore. We keep moving forward, and each day we become even more united. I still love my wife, and the concept of family is very important to us. It gives us strength…"

Even before you had a chance to personally meet Melanie, you'd already taken note of her. Do you remember the first time you saw her?
"It was at the Oscars, but I didn't know who she was. I was with the Spanish director Pedro Almodovar – we'd been nominated for Women on the Verge of a Nervous Breakdown and Melanie was nominated for Working Girl – and as soon as I got out of the car, I saw her.

"I didn't recognize her because at that time I hadn't seen the movie… I asked Pedro, 'Who is that beautiful woman?' She was gorgeous. She had on a cream coloured dress with pearls on it. I'll remember that my entire life."

Six years later you filmed Two Much Together.
"That's when I finally met her…"

Admiring a movie star from afar and then ending up marrying her – it sounds like a plot from a Hollywood film.
"I was lucky from the very beginning, from the day we met. At the time we were having problems with our respective partners, and those relationships were pretty much over. We were both in very similar situations."

On Melanie's stint in rehab last year
"That has a very simple explanation. She hasn't touched alcohol for years. As far as prescription pills go, she had a skiing accident in Aspen – I was there, we were skiing together – and she tore all the ligaments in her knee. She had an operation two hours after the accident, and had two operations over the next year. They had to give her painkillers. For someone who has been an addict, it was like falling into the same hole again, and Melanie was the one who decided to get treatment…"

It was reported that you'd given her an ultimatum [to go to rehab]
"I can't give Melanie ultimatums. First, because I'm not like that. And second, because she wouldn't let me.

It was also reported that you had divorce papers read. Did you ever discuss that?
"No, no. In 15 years we've never discussed that. We've had rough times like anyone has, and we've had fights. We're a normal couple with ups and downs. But we've never gotten to that point. I'm happy with Melanie."

So the last 15 years have been mostly positive?
"Despite our problems, we've had 15 years of emotional stability, and a big part of that is because of Melanie…"

Like energy, does love transform with the passing of time?
"It absolutely transforms into other things, and some things that you discover along the way are better than the first. Much better.

You once told me that it was wonderful to keep falling in love with your wife. How many times have you fallen in love with Melanie?
"I wouldn't be able to count, but it's a lot. There are days that I've fallen in love with her many times over, because of things that she's done. For example, we have a real laugh taking photos. There have been times with our daughter that we couldn't even take the picture because Melanie was cracking up. I'd look at her, so happy, so beautiful, so healthy, and for me it was a reaffirmation."
[From Hello! Magazine, print edition, April 26, 2010]
A little later in the interview, like three pages later, Melanie comes in and echoes a lot of her husband's statements about how great a love they have for each other and how much she admires him. She also talks about her kids (she has son Alexander, 24, with first husband Steven Bauer, daughter Dakota Johnson, 20, with second/third husband Don Johnson, and daughter Stella Banderas, 13, with Antonio), her mom Tippi Hedren, 80, (of classic horror movie The Birds), and rehab. When asked if she still feels the same about Antonio as when she first met him, she says "Yes, all that and much more. But I still feel the same passion I did at the start." She adds that "Being with him has taught me a lot about passion for life."
There have been some mild rumors of Banderas stepping out on Griffith, but if that was true they seem to have worked it out and to be going stronger than ever. It's rare that a Hollywood couple speaks so candidly about their life and love, and I like how they admit they have problems that they've had to work out. It sounds like they're happy and still in love after all this time.
Hello! has a whole photospread with Melanie, Antonio and their 13 year-old daughter, Stella. Antonio is looking hot and beardless – which begs the question: did he do the photoshoot before growing out that beard or did he finally shave it off? He did make a reference to the beard in the interview, and said "it isn't that big a deal for me to grow an awful white beard for the role [in Zorba.]" So it sounds like the beard was grown post-interview and that it's still there. Oh well.