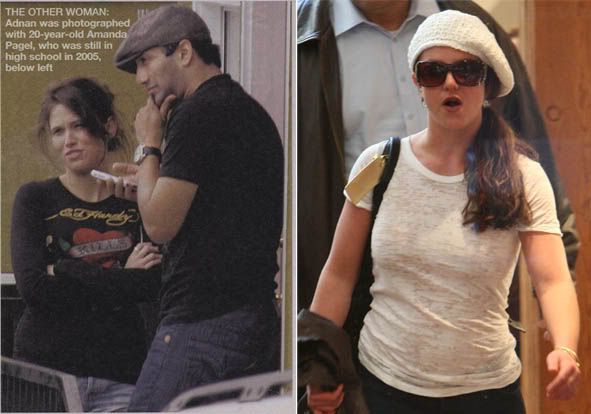 When I first read a blurb about this yesterday on OK! Magazine I was so confused by the details I didn't report it. Britney's boyfriend Adnan, who she maybe broke up with after reading sexy texts on his phone from another woman, (although he was seen at her house a couple of days ago) supposedly had an affair. He was said to be cheating on Britney with the girlfriend of a guy who is a contestant on the Bravo Reality show "Make Me a Supermodel." The news came out after he was photographed with the 20 year-old woman, who was suspiciously wearing one of the black "Ed Hardy" t-shirts that Adnan favors.
If that's not bizarre enough, Adnan's new squeeze called her boyfriend to tell him that there's false media reports about her that are about to blow up, and their exchange was caught on tape for that "Make Me a Supermodel" show. It supposedly aired last night, so let me know if you saw it and if Adnan was specifically mentioned.
Britney's dad Jamie is the first one to learn about the pictures of Adnan with this other woman. He was just starting to trust the guy and really blew up when he saw the photos, showing them to Britney. They just show Adnan smiling and standing with this woman, there's no touching or kissing or anything from what's in the Enquirer. Adnan looks like the cat who ate the canary, but he often looks like that. He is said to have slept over at this woman's house five nights in a row, and that's the damning part, not the photos:
Adnan – who has recently separated from his wife of four years – had just gained the trust of Britney's father Jamie. But it was Jamie who heard about the cheating photos and instructed a personal assistant to track them down.

"Jamie told the assistant to tell Britney about Adnan. When Britney saw the pictures, she was furious," said the insider. "She called calling Adnan 'that cheating f-!'"

Amanda has been dating Perry Ullman, who's in NY City competing in the Bravo TV reality show "Make Me a Supermodel."

But Adnan slept at her house for five consecutive nights, according to an insider, who added: "They were hold up inside except for when he came outside for smoking breaks."
[From The National Enquirer, print edition, March 17, 2008]
On Tuesday we ran a story about Adnan's past as the doorman at a strip club in 2001. He used to take kickbacks and sexual favors from the strippers regularly, according to someone who worked with him at the time.
K-Fed's then-girlfriend Shar Jackson was pregnant when Britney hooked up with him, so it's not like she has halfway decent taste in men. Still, I thought Adnan was a cad but he seemed like he did care about Britney in his way. Maybe I was blinded by my attraction to him. He has this magnetism about him.
Fingers crossed that Britney is just gaining weight from having her medication and condition stabilized and that she's not pregnant with this guy's baby. She does have a suspicious-looking stomach, but it's only from some angles. It seems like it's from too much fast food and not a new life she's bringing into the world.
Britney is shown shopping on 3/5/08. Adnan is shown with the other woman in a scan from The National Enquirer.