When I first read an excerpt of this story over at Jezebel, I emailed it to CB it was so deliciously funny. The chance of it being true? Zero to "meh". But still, funny. So… remember Jennifer Aniston's big spread in Architectural Digest a few months ago? CB asked if Jennifer's seemingly 1970s-Ron-Burgandy-inspired home was "depressing or fabulous". While the dark, heavy furniture wasn't my style or CB's, some of you liked it and that's fine. Different strokes. But some of us asked a different set of questions about Aniston's appearance in the magazine – why? Her house wasn't some huge architectural coup, she never really seemed that interested in architecture in general, and Architectural Digest is the premier magazine for architecture fanboys and fangirls. Why not Home & Garden? Why not Elle Décor?
Well, Us Weekly has an answer, sort of. According to a "source" close to Brad Pitt (the "source" rhymes with "ferbil"), Brad thinks Jennifer did AD because she was "trying to get his attention" because she knows that he reads AD. To make matters even worse, Brad thinks the whole "ploy" was "pathetic" and "desperate". Ouch.
Brad Pitt couldn't help but notice a recent press clipping featuring his ex-wife Jennifer Aniston in Architectural Digest — and he was none too pleased, a Pitt pal says in the new Us Weekly.

A source claims that Brad Pitt thinks Jennifer Aniston is "pathetic" for having her home in Architectural Digest, and says: "She was never that into architecture when they were married. It was his hobby, and she used to make fun of him for it."

"Brad thinks she is pathetic," the source tells Us of a recent Aniston interview, adding that the 46-year-old actor was "disgusted" with his former spouse (the pair divorced in 2005).

"Brad thinks that Jennifer was trying to get his attention because she knows he reads the magazine. Brad feels this is all so desperate," adds the insider. "It was a ploy to get his attention."
[From Us Weekly & Jezebel's Tabloid Round-Up]
It's an interesting story just because usually the mysterious "sources" never put those words in Brad's mouth, they put them in Angelina's mouth. So does that mean there could be a morsel of truth to this story? Eh, I doubt it. If Brad is still reading AD (probably), he probably looked through Jennifer's spread and thought, "Ew, needs more industrial fixtures, cement and steel." And that was it. None of this "Oh my God, how pathetic." Because at the end of the day, Brad doesn't own the subject of architecture. Yes, it's his passion, his love, one of his more enduring hobbies, but can't Aniston just celebrate her Ron Burgundy styles without it being an uncool triangle situation?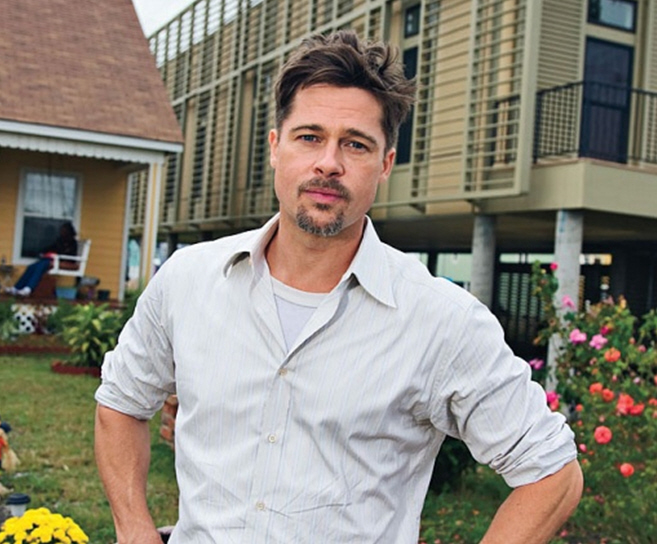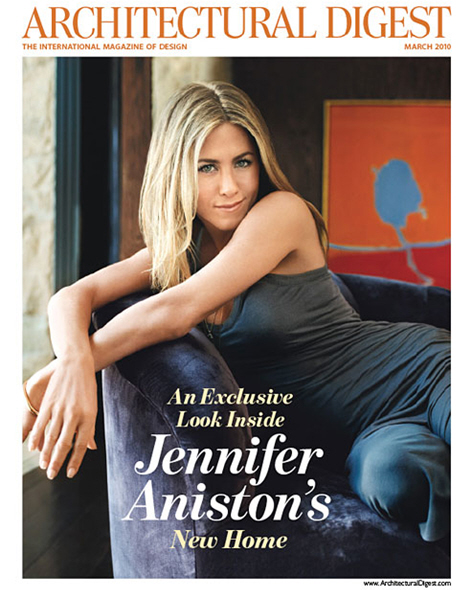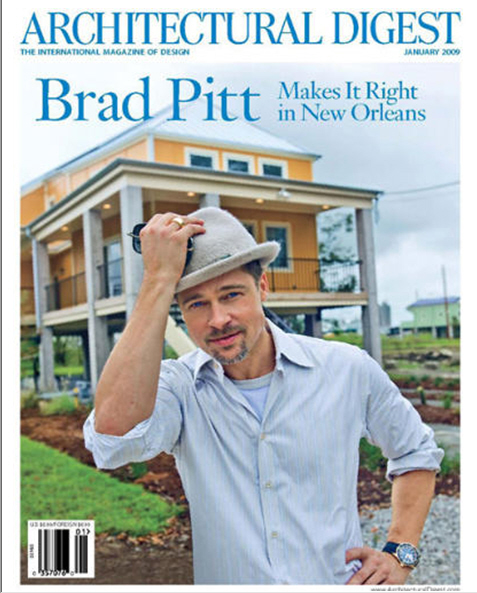 AD covers & additional pics courtesy of AD online.