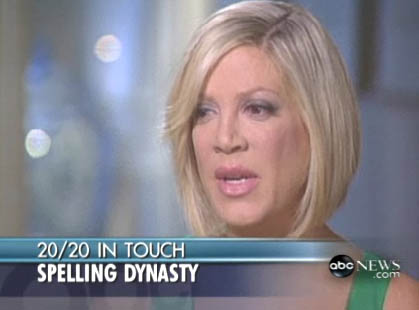 In a 20/20 interview aired last week, Tori Spelling revealed that she had hundreds of thousands of dollars in credit card debt after 90210 went off the air and she was living on her own without her super-rich father's support. Tori's dad Aaron Spelling is the most prolific television producer ever, according to Wikipedia, and had 218 producer credits up until his death in June, 2006. He was worth nearly 1/2 a billion at the time of his death. Tori said she was close to bankruptcy due to "bad shopping habits" after she was on her own financially. She said she never had a conversation with her father asking him to bail her out, and that she didn't want to do that because she didn't want people to think she was living off her daddy's money:
"I had a hit TV series, so I didn't really need [my parents] for anything," she said. All that changed when "90210″ went off the air. Spelling says that at one point she owed hundreds of thousands of dollars on her credit card and that she came close to bankruptcy, all because of her "bad shopping habits."

"Bad shopping habits die hard," she explained. "In all honesty, I grew up a certain way. I never had to worry about money … that was my reality."

She says she was too proud to go to her father for help. "That means, in my mind, [that] I was what everyone thought I was, taking money from my dad, the rich little girl that he paid for everything. And I just refused to be that. [I would] rather be bankrupt."
[From abcnews.go.com]
Tori was left less than a million from her father, which represents about 1/5 of one percent of his net worth. She said that she had lunch with her dad before he died, and that he told her "You're gonna be OK. I made sure. You're getting just under a million." I guess we know where most of that money went if she had hundreds of thousands of dollars in credit card debt.
She's doing these interviews to help promote her new memoir, "sTORI Telling
," which is getting positive reviews on Amazon. I skimmed through the excerpt available on ABCNews' website, and it's well written and interesting. Tori tells about all the excesses she experienced as a child, like her father having snow made in California for Christmas, and over-the-top birthday and graduation parties including the USC marching band showing up for her 6th grade graduation party. Tori's favorite memories with her family are simple things like scooping dog poop with her dad and looking for seashells with her mom. She was dismayed to read in a magazine years later that her mom planted exotic seashells ahead of time for her to find on the beach.
Tori Spelling is still managing to make ends meet without her dad's money. She has a reality show on the Oxygen Network with her husband called Tori & Dean: Inn Love, and a jewelry line available through the Home Shopping Network. You can't say the girl isn't trying.
Tori is due to give birth to her second child in July, and has a son, Liam, who turns one later this week.