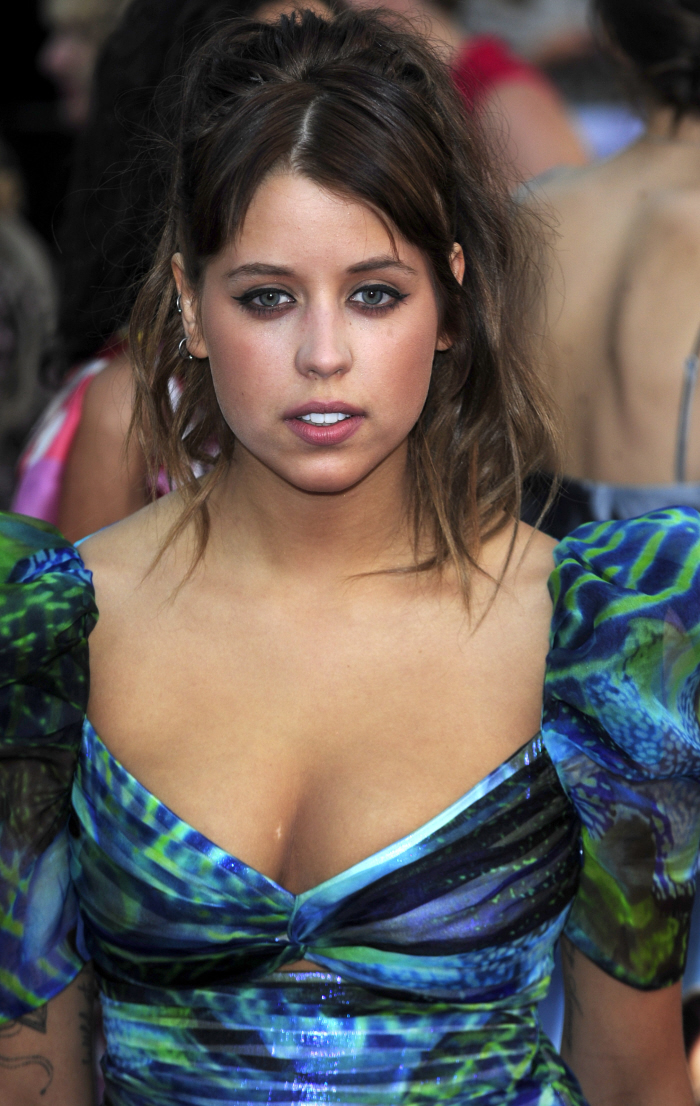 Peaches Geldof is going for the full Hollywood makeover now that she's dating American director Eli Roth. She's invested in a series of sketchy fashions, a bright orange tan, a stars-and-stripes bikini, and now, new teeth. Perhaps no one would have noticed a huge change if Peaches' new veneers weren't SO much bigger than her old teeth. The Daily Mail has closeups of her new teeth, and even more about Peaches' appearances this week in London:
When she hit the London party circuit earlier this week, the most remarkable thing about Peaches Geldof's return was her bright white teeth. But last night she kept her mouth firmly closed and instead drew attention to her cleavage at the Sex And The City 2 premiere.

The 21-year-old socialite wore a skintight green, turquoise and blue satin minidress with puffed sleeves and a bikini-style neckline which drew eyes to her upper torso. Showing off her Los Angeles tan, Sir Bob's daughter made sure all eyes were on her figure rather than her face.

Teaming the look with studded sandals and a clutch, Peaches rubbed shoulders with the film's stars – Sarah Jessica Parker, Kristin Davis, Kim Cattrall and Cynthia Nixon – as well as British celebrities such as Tess Daly, Daisy Lowe, Rachel Stevens, Emma Bunton and Alexandra Burke.

Peaches dazzked photographers and fellow party goers on Wednesday night with a set of blindingly white teeth – Hollywood style. She debuted her dazzling new gnashers in London, rather fittingly, at a launch for Ray-Ban sunglasses.

A dental expert said it appeared she was using veneers, where a thin layer of porcelain is placed over the existing teeth. These can cost around £9,000 and last for up to ten years.

Peaches has been staying in Los Angeles where she is trying to launch her career and is dating American actor and director Eli Roth.
[From The Daily Mail]
I don't really begrudge Peaches her transformation, or her attempts to clean herself up and become more "Hollywood". I do wonder if it's something Eli Roth is encouraging? Is he trying to re-make her, Pygmalion/My Fair Lady style? Is this a Professor Higgins situation? If Eli is the one behind it, I feel for Peaches. It probably would have been easier for Eli to just date some young American girl who already had the veneers, the orange tan and the breast-revealing bad fashions. That pretty much covers Young Hollywood, so why did he have to go across the pond? I'll never know.
Peaches last night:

Peaches in February:

Peaches Geldof at the London SATC premiere on May 27, 2010. Credit: WENN.