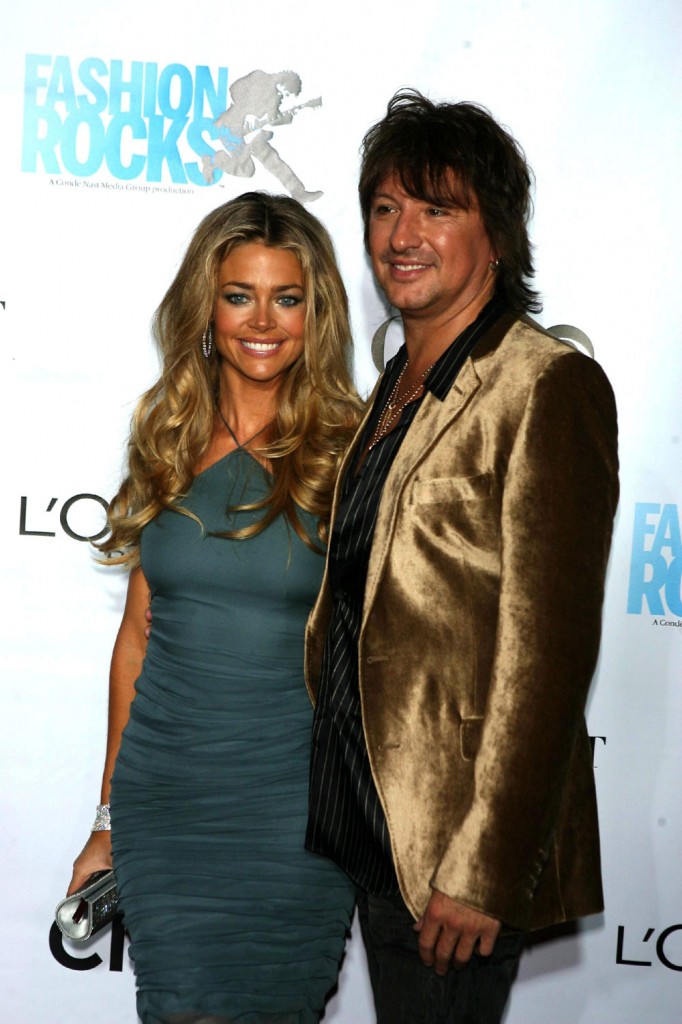 Denise and Richie in 2006
Remember back in 2006 when there was all that controversy about Denise Richards dating Richie Sambora, who just happened to be the very recent ex of her neighbor and former BFF, Heather Locklear? There were no homewrecking allegations against Richards at the time, as Sambora and Locklear had already split up after 11 years of marriage for other reasons. (Locklear is said to have surprised Sambora with divorce papers after finding nude photos in his e-mail of one of his assistants. Richards had recently broken up with Charlie Sheen for more compelling reasons like threatening to kill her and an online porn and gambling addiction.)
Richards and Sambora eventually broke up after about a year, shortly before Sambora went to rehab for alcoholism. (He got a DUI the following year, in March, 2008, with his 10 year-old daughter in the car. He got off with probation and a fine.)
Now The National Enquirer is claiming that these two are back together, and they're trying to keep it quiet.
Romance between Denise Richards and Richie Sambora is rockin' once again.

The actress and the Bon Jovi guitarist have been secretly dating for weeks, sources tell The Enquirer – and they're trying to keep their rekindled relationship on the down-low because of the troubes of their high-profile former spouses.

Denise, 39, and Richie, 50, began dating in 2006 after their marriages crumbled…

Although things fizzled after a year, "Denise and Richie never really stopped loving each other, a close friend told The Enquirer.

The two recently shared a quiet date at home, cuddling up with DVDs and popcorn, deliberately staying out of the public eye because they didn't want to become part of the media hoopla surrounding their ex-spouses….

Richie had worked hard to stay on the straight and narrow [after his DUI], say those close to him.

Added the friend: "Denise was impressed enough to give him a second chance."
[From The National Enquirer, print edition, June 14, 2010]
I'm guessing this "friend"/source is Denise, who can't stand it that Richie won't go out with her for a "quiet" date at the Ivy or a shopping trip to Kitson. You know that Denise would love to make it known that she's back with Richie so she's telling the Enquirer and hoping it looks like people still care. We do, I guess, I mean we're reporting on it. I just wish that Denise would figure out that she can do so much better than Richie, but maybe she doesn't want to. She seems to have a thing for addicts with serious baggage, although Richie is definitely a step up from Charlie Sheen.
Richie Sambora is shown at a photocall for Bon Jovi in Madrid today, 6/4/10, Denise is shown at a pet adoption event on 5/23/10 and a QVC pre Oscar party on 3/4/10. These two are shown together in older pictures, on 4/20/07 outside their hotel in NY City and on 9/7/06 at an event. All photos credit: WENN.com.