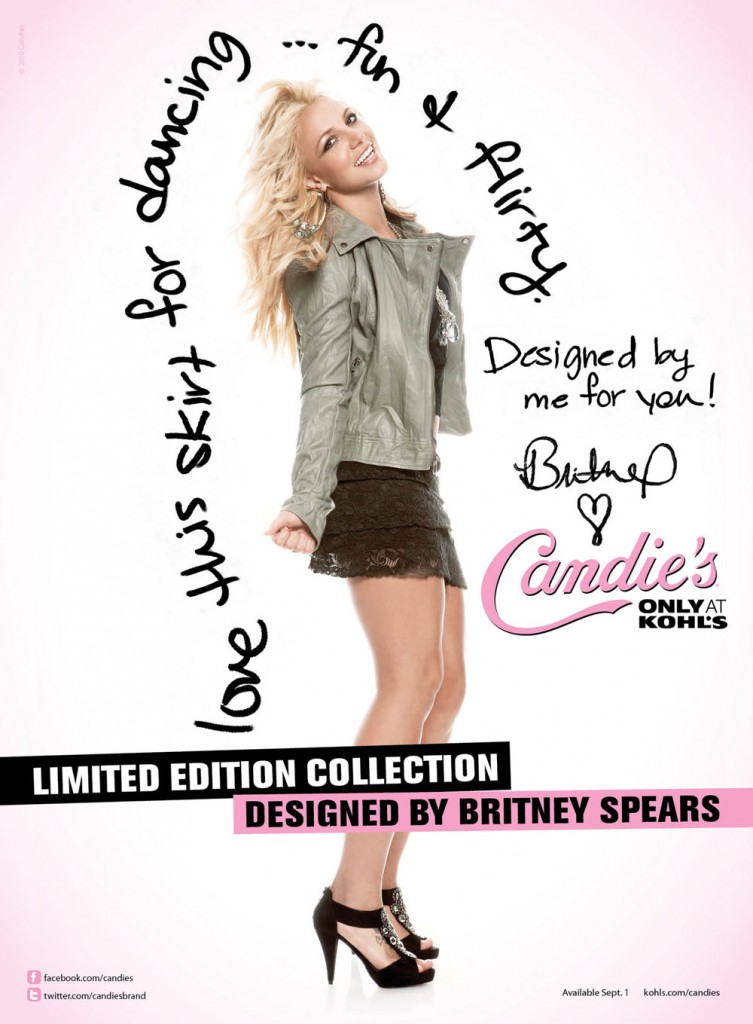 Quick – if you could buy clothing based on any celebrity's casual day look, who would you chose? The first person that comes to mind for me is Jennifer Aniston, because I like the simple, solid separates she wears. Her look is comfortable without being sloppy and seems easy and uncomplicated. Aniston occasionally embraces trends without chasing after them and manages to look consistently put together without trying too hard. (I'm not always a fan of her red carpet fashion, but that's a different matter.) I'm not saying I would want to look like her all the time, but it seems like she would design highly wearable separates.
You all know we're going to talk about Britney Spears. She always looks like a hot mess and has to be reminded to wear a bra and panties before she leaves the house. Even when she looks her best she's still tragic. It's doubtful she has a clue about how to put together an outfit. Still, Britney is famous and her perfume is a best seller so someone had the wise idea to give her a fashion line. Britney's teen clothing line for Candies will hit Kohl's department stores on July 1.
The "Britney for Candie's" limited edition collection will be supported with a national marketing campaign including a television commercial, print ad, outdoor, online as well as being integrated into Kohl's back-to-school marketing initiatives.

Britney Spears said, "I was so excited when Candie's asked me to design my very own clothing collection. Designing was a really fun, new way for me to express my creativity and I really wanted to create something by me for my fans. I hope you guys love it."

This marks the pop star's first foray into fashion designing. Spears' is best known for her chart-topping multi-platinum albums and is now moving into the fashion realm. "Britney for Candie's" is a mixture of day and evening looks, from the best jean to the must have LBD (Little Black Dress). The collection was inspired by Spears' favorite music and movies and personally designed by the star.

The marketing campaign shows Spears wearing her limited edition collection along with her personal handwritten notes such as, "You'll love these jeans!" and "Love this skirt for dancing…fun & flirty." The campaign features the tagline, "Designed by me for you!" The collection of apparel, handbags and jewelry will range from $14.00-$78.00.

Dari Marder, chief marketing officer, Iconix Brand Group, stated, "This was a great opportunity to offer Britney fans a 'piece of her', through this limited edition collection that has been designed by Britney for them. It was a natural extension of Britney's long-standing partnership with Candie's and we were excited to offer her this new creative outlet, as she has always been extremely involved in the fashion process on set. Our Candie's customer will be thrilled to own exclusive clothing and accessories created by Britney."
[From Press Release PDF]
The Kohls PR people sent us some images and videos of Britney and while she looks good the clothing does not. It's predictably very short and trashy-looking, although considering that Britney was involved it could be much worse. It's also kind of on par with the punk-lite crap that Avril Lavigne designed for Kohl's. So will young girls and teens buy up Britney's designs? Probably. A lot of people want to smell like her and I'm sure a lot of impressionable girls want to look like her, too.
Here's a video featuring some of the clothing:


And here are "soundbites" from Britney talking about the line and showing it off. She looks uncomfortable and in one scene with her best friend/assistant her top falls down to reveal that she's wearing a purple bra – under a cream-colored top. That's at 1:00 in. The skirts are so ridiculously short

Photos and videos thanks to Magic Bullet Media