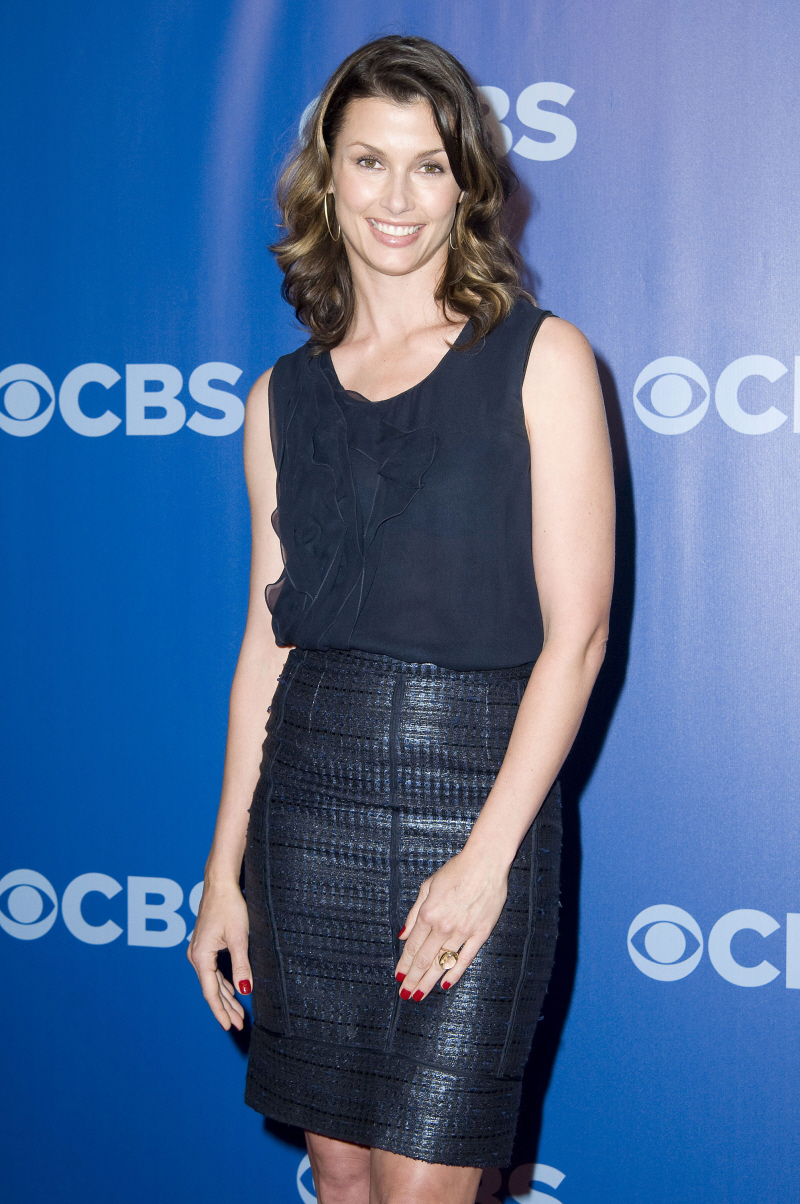 Bridget Moynahan has a new interview in Self Magazine, and she is still sniping, of course. But Bridget keeps it oblique, and that's why we love her. Some are interpreting Bridget's interview as rather pointed comments about Gisele's happy-happy talk about childbirth and motherhood, like when Gisele talked about how easy natural childbirth was, or how quickly she lost her baby weight because she didn't "turn into a garbage disposal" like most pregnant women. Boston.com draws out Bridget's inner bitch:
Talking to the media is not Bridget Moynahan's favorite activity. Invariably, the actress is asked about her 3-year-old son, John, with former boyfriend Tom Brady, and, of course, the QB's subsequent marriage to statuesque supermodel Gisele Bundchen. If she can help it, Moynahan usually remains mum. But because the 39-year-old Longmeadow lass has a couple of new projects to promote — the movie "Ramona and Beezus,'' due out July 23, and next fall's TV show "Blue Bloods'' — she's opening up a little more. In the new issue of Self magazine, Moynahan talks about life after No. 12 and even takes a few swipes at Brady's bride.

"Being a mom, whether single or not, is not easy! Certain individuals and the press present motherhood as if it's easy or painless, and that's irresponsible,'' Moynahan says, perhaps referring to Bundchen's drug-free water birth. "Girls see pictures in magazines of mothers with fancy baby bags and think it looks glamorous, and that's not necessarily the case. I'm not complaining about anything in my life — it's fantastic. My son is so well adjusted. He has two parents who live in different homes, and that's what he knows. Having a child didn't hold me back from a career or a love life or traveling; it has enhanced my life.''

That said, it's clear Moynahan would prefer not to be the subject of so much tabloid attention. She implies that perhaps Brady and Bundchen don't share her low opinion of the pesky paparazzi.

"The paparazzi are intrusive, offensive, and aggressive. It's not something that I respect or, quite frankly, deserve,'' she says. "I don't search it out. I lead a quiet life. I don't go out as much as I'd like because I don't want my son to be involved in that. We do things privately, like reading Dr. Seuss, playing games, and listening to music. That's why you haven't seen many photos of us. I don't need to parade him around. I want to raise him with a strong sense of self and integrity. He'll learn from his mistakes. I'm not a believer in encouraging bad behavior or sweeping it under the rug. It better be out on the table.''

So how does she cope?

"No matter what's been thrown at me in the past couple of years, I try to find the positive. There are a thousand magazines that like the negative. It's easy to [complain] and to listen to your people [complain], so if someone going through a divorce asks me for advice, I say, 'All the he said/she said stuff doesn't matter. And your kid will pick up on that energy. Keep your kids the focus,' '' she says. "When [my life] was in the news or when challenging things arose while trying to work things out with another person, my attitude was to take the high road. My drama isn't different from anybody else's, except people get to see it.''

Bridget said a career and motherhood have not diminished her desire for a satisfying romantic life, but her priorities have changed.

"I do look at men differently now,'' she says. "There's a whole category that isn't in the running: somebody who doesn't want a family. And, while I'd love to have more children, I'm not sure I want another on my own. One is portable; two are not. Anyone I date is going to have an open heart.''

Going forward? Moynahan says she is ready for anything.

"I'm in the same shape now I was prior to having a baby. I mean, there are little scars, battle wounds from giving birth, for sure, but I'm back to my fighting weight,'' she says. "It was a combination of wanting to be strong, fit, and healthy and enjoying the stress release. If you are physically well, it feeds your mental and emotional state, and your child senses it. My son eats whatever I'm eating, so it's a sit-down dinner with protein and vegetables. I don't want him to snack between meals, so I don't. I do indulge sometimes. I'm a salty girl — potato chips or truffle fries and a martini. But for the most part, I live a very healthy life. I'm not going to sit and eat fried Twinkies!''
I see her point, and I like her restraint in not naming names, even though we pretty much know who she's talking about. And yet – what does it say about Bridget that she's still concerned about what Gisele is and is not doing or saying about motherhood?
Anyway, these are photos of Tom, Gisele and baby Ben going out for a doctor's check-up yesterday. Ben is a little cutie – either his face has a lot of character, or he's just gassy. What am I saying? If Ben had to use the potty, I'm sure he would have already told his mother and walked over to the toilet and gone. And what's up with Tom's hair? This isn't the first time I've seen Tom Brady's new hair style, but this is seriously that longest I've ever seen it. It seems like Tom is taking style tips from Justin Bieber, right? Long bangs, side-swept, dare I say, some girlish fringe. Some men can pull that hair off – I'm thinking Daniel Craig in Munich. Tom Brady and Justin Bieber? Not so much. Get a haircut, hippie.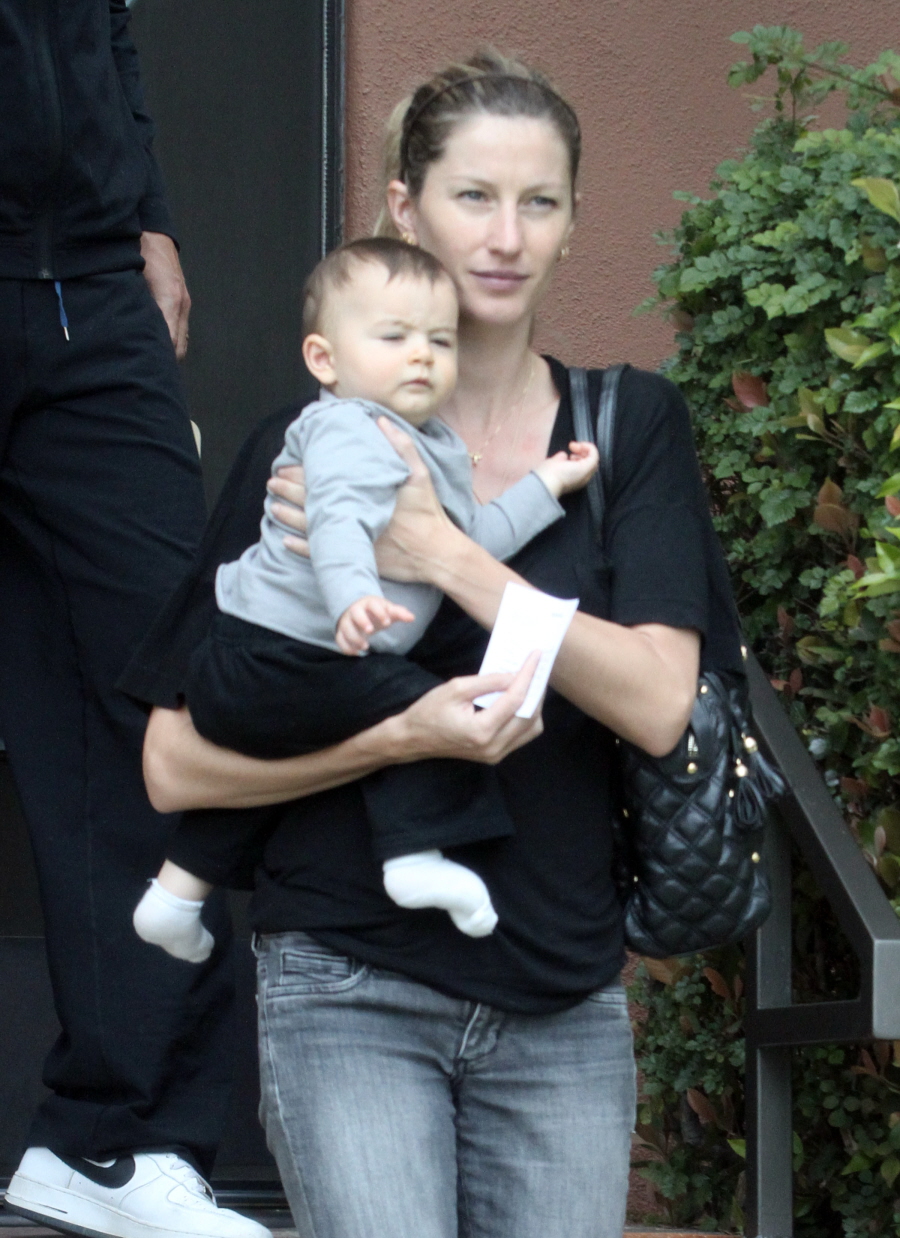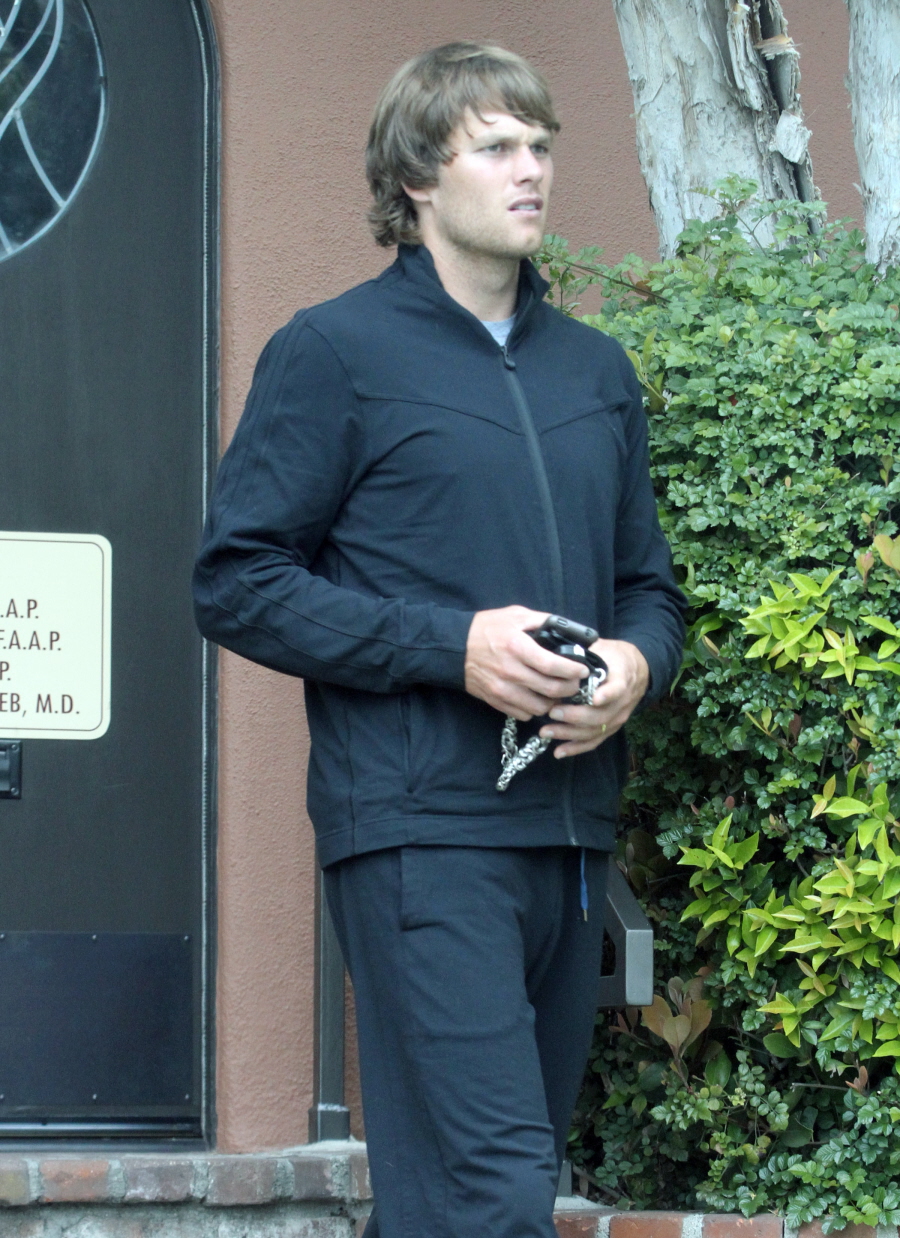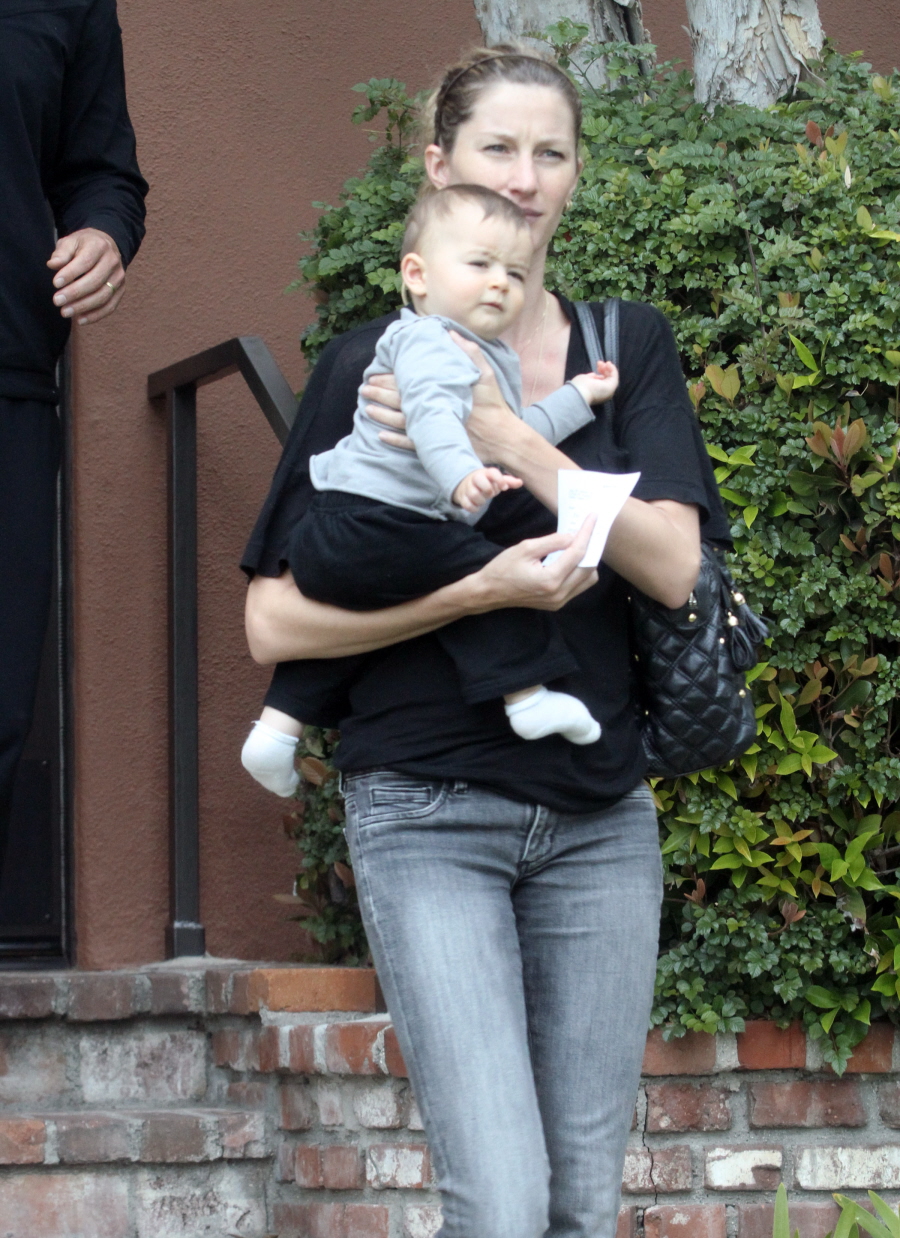 Tom, Gisele and baby Ben on July 12, 2010. Credit: Fame. Bridget on May 19, 2010. Credit: WENN.