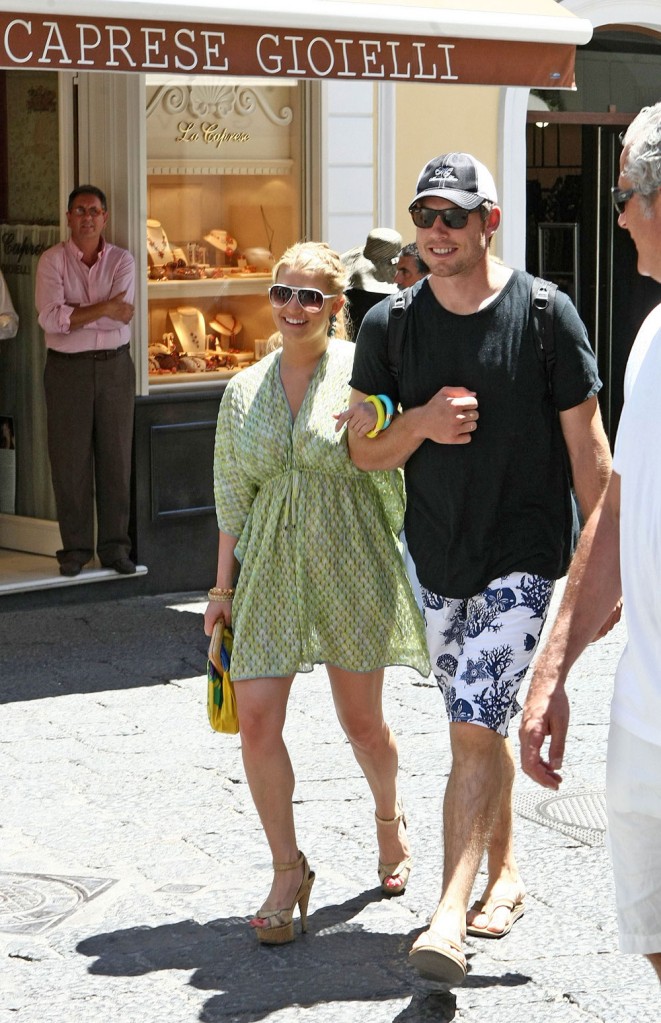 Earlier this month, we saw paparazzi photos of Jessica Simpson making out in Capri, Italy with her still married but legally separated new boyfriend, former 49ers tight end Eric Johnson. It was suspicious considering that the two had been dating just over a month, were more than happy to pose for photographers and more than likely tipped them off, considering their location.
This month's Star Magazine outlines Johnson's probable motivations for hooking up with Jessica "I fart in bed and never brush my teeth" Simpson. There's the fame aspect and the urge to find an eager woman to control aspect, as evidenced by the fact that Johnson (allegedly) put Simpson on that cleansing diet she was tweeting about. Now money is coming into the picture too. In that Johnson, a free agent and unemployed former NFL star, needs some and is staying with Jessica rent free, letting Simpson pay for everything and buy him clothes. Could Jessica Simpson be so dumb? I guess we already know the answer to that.
Here's part of Star's report, which is full of so many details that it sounds pretty legit. (It's always hard to tell with Star, although they've been hitting the mark much more lately):
One insider tells Star. "She's been paying for everything in their relationship, and it doesn't seem like Eric intends to stop that anytime soon."

In just two short months together, Jessica has already done countless favors for Eric and splashed out tons of cash on him. And that suits him just fine. The still-married former NFL tight end hasn't held down a steady gig since he was dropped by the New Orleans Saints in 2008 – the 30-year-old has even admitted that he isn't cut out for a tough job. "I saw how many hours my mom worked and didn't want to get caught in that cycle," he has said about his mother, Mary Jo, a Boston-based attorney.

Now Eric's even weasled his way into crashing rent-free at Jessica's Beverly Hills mansion! According to a divorce court filing, he once owned a home with his wife, Keri, in Richmond City, CA, that had to be sold, leaving Eric without a permanent place to live. "He isn't making money, and he'll lose half of what he does have when his divorce is final," dishes the insider. "He's pinching pennies wherever he can."

But he doesn't mind if Jessica spends big bucks! To celebrate her birthday, Eric joined Jessica on a luxury trip to Italy, where she treated him to the good life, including staying at a $3,000-a-night suit at the Hotel Hassler in Rome, lounging on the Mediterranean aboard her $5,000-a-day chartered yacht. Nafisa, and eating and drinking at only the finest restaurants…

Once back in L.A., Eric's money train just kept chugging along. On July 15, Jessica made a pricey pit stop in the men's department of Bloomingdale's, where she stocked up on Khakis and other clothing for Eric. She then hit Foot Locker and snapped up men's sneakers.
[From Star Magazine, print edition, August 2, 2010]
Is it sexist to report it this way? Like if this was George Clooney outfitting his latest cocktail waitress/aspiring actress and paying for everything no one would say that he was an idiot getting used, because it's traditional for men to pay and Clooney uses women in his way too. I don't fully believe this, but I'll play devil's advocate here and say that Jessica is using this guy Eric just as much as he's using her for money. She arranged those makeout pictures to give the tabloids the impression that she has a loving boyfriend on her 30th birthday. That's using the guy even if he was a willing participant. If he's game I think she'll marry him and try to attain another superficially "happy" marriage if possible, but that doesn't mean she's still not using him. Is she into him as a person or is she just looking for some kind of stability and a family life? It's like men are a means to an end for her and she'll do whatever it takes.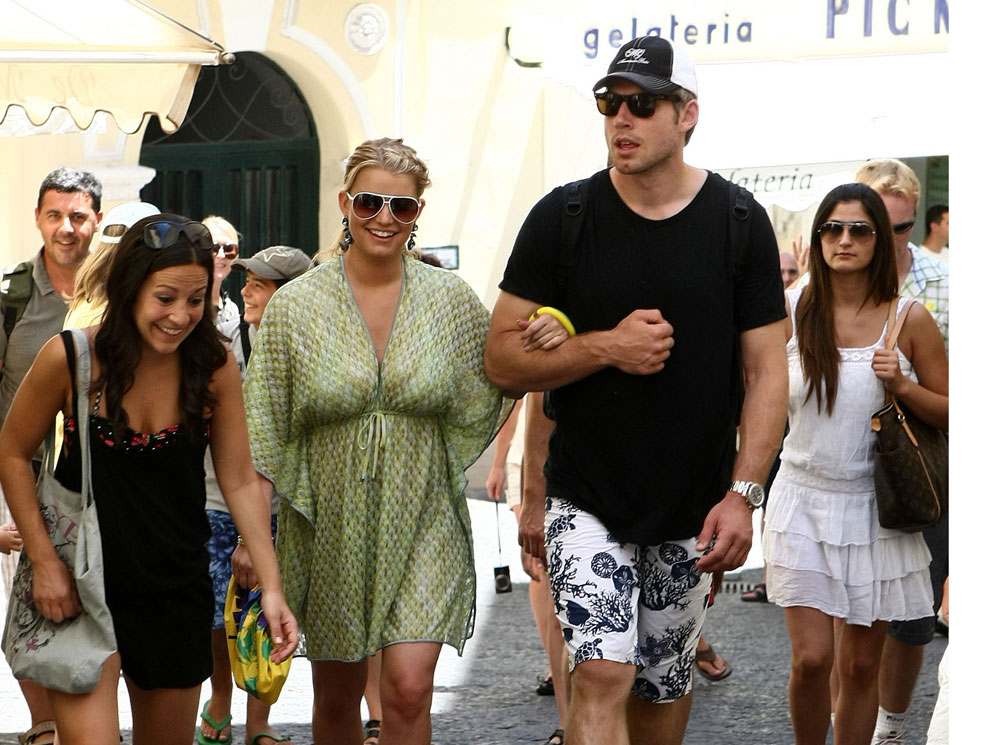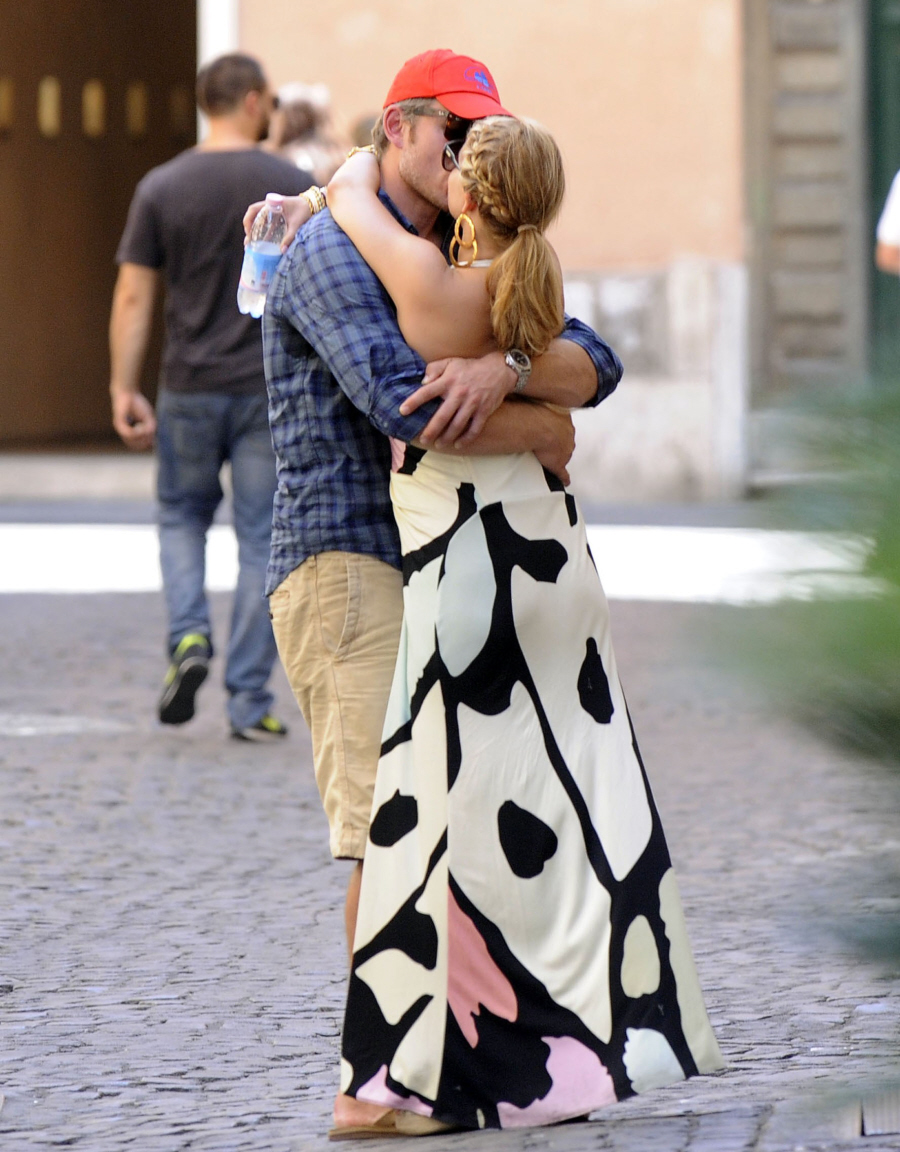 Photos are from July 11 & 14, 2010. Credit: Bauergriffinonline.