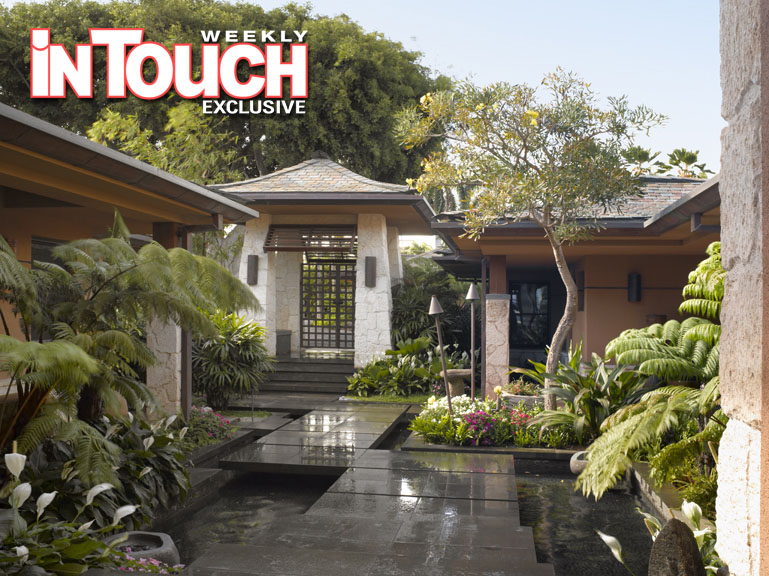 The people at In Touch sent us these gorgeous pictures of the amazing mansion in Oahu, Hawaii where Johnny Depp and his family are staying for the summer. It rents for $5,000 a night and you can see why. The property has a gym, infinity pool, game room and I'm sure much more. Super rich Johnny is probably not even footing the bill. He's in Hawaii to film Pirates of The Caribbean 4, and was recently spotted working alongside his new costar, Penelope Cruz. Here's more on the home from In Touch:
Johnny Depp says he's happiest with his family — whether at their home in the south of France, on their yacht or frolicking on their private Caribbean island. But this summer, while Johnny, 47, films the next installment of Pirates of the Caribbean in Hawaii, the Depps are spending the summer in a newly renovated mansion that is best described as heaven on earth. Located on the most coveted strip of coastline in the Pacific, the seven-bedroom mansion is located in the center of the most prestigious neighborhood on Oahu's South Shore and rents for a whopping $5,000 a night. Johnny has been living in the house since late June with his longtime partner, actress/singer Vanessa Paradis, 37, and their children, Lily Rose, 11, and Jack, 8. Complete with an infinity pool, hot tub, game room, theater and gym, the very private family has no reason to leave the property — but they do occasionally escape to Jet-Ski, paddleboard and shop for souvenirs.
[From In Touch Weekly]
Can you imagine lounging around that gorgeous house with Johnny or walking hand in hand over the water on the slate in that Asian courtyard? Oh swoon. I'm sure he's busy working and isn't around much, though. (At least that's what I'm telling myself as I mentally give Vanessa the side eye.) He was seen on the beach in Hawaii and on a nearby boat filming scenes with Penelope Cruz dressed as a sexy lady pirate. I'm giving Penelope the mental side eye too, but it's not that harsh. She's just too damn normal and nice despite how gorgeous and equally lucky she is in the partner department.
Johnny may live like a king, but he doesn't have the attitude that often accompanies that level of privilege and that's why we love him. I remember him calling his 45 acre private island "a little place in the Bahamas" and explaining on Letterman "It's the one place we can take the kiddies to the beach without a bunch of lenses coming out."
Johnny and Vanessa Paradis are shown on 5/18/10 at Cannes. Credit: Fame Pictures. Photos of Johnny's new digs thanks to In Touch Weekly