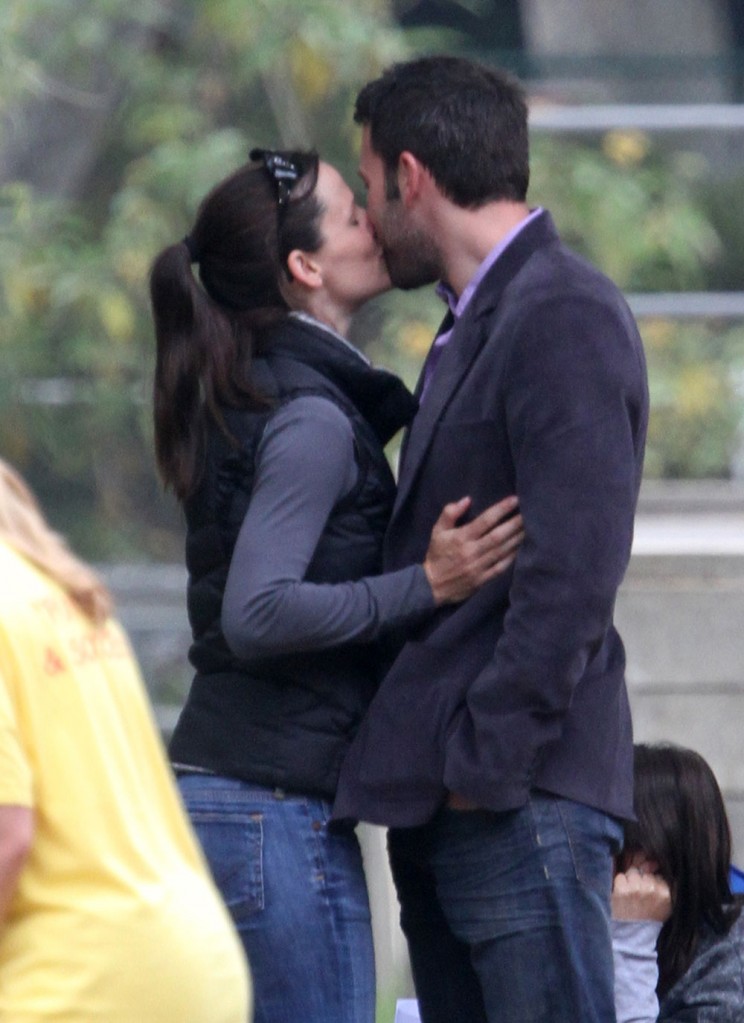 Ben Affleck and Jennifer Garner had a couple of well photographed outings recently that looked staged, in my opinion. They take pains not to be photographed together on the red carpet, and in these park outing photos they were smiling, playing with their kids and kissing. (They also went out to eat at Nobu recently.) It's possible they were just followed by the paparazzi who stalk them daily and decided to make the best of it. They were at the park to attend their older daughter Violet's soccer game so it's not like they could leave. Even if they did set up the photos I can't really blame them. They're damned if they do, damned if they don't, as evidenced by this story in In Touch that their marriage is allegedly in trouble but they're working on it. Given all we know about Ben, it sounds likely even if it's completely made up, and that's likely to be the case too. Here's what In Touch says, and they note that the two have been necessarily apart due to work arrangements.
Just hours after filming on the NYC set of Arthur, in which she co-stars with Russell Brand, Jennifer garner packed up her daughters… and bounded a flight back to LA and her husband…

It had been weeks since Jennifer, 38, had been in LA with Ben, 38, and it appeared she couldn't get home fast enough…

"Ben was so happy to have them home, he took Jen out for a romantic date to Malibu's Nobu restaurant that weekend," says a friend.

But it hasn't been all smooth sailing for the couple, who recently celebrated their five-year anniversary. They've been in counseling since last year to work through some of their issues. "Ben was never the marrying type," says the friend. "He is still a playboy at heart, and now that he's getting closer to 40, he seems to be going through a midlife crisis." But the therapy sessions seem to be working -for now. "Ben battles demons, but does his best to keep the marriage going. He loves Jen and adores his daughters, so he's making it work."
[From In Touch, print edition, August 16, 2010]
The thing that made me think these two might be having problems is a giant 7 carat diamond ring that Garner has been wearing occasionally. Many of you noted that it looks like a guilt gift from Affleck. He may have done it just to be sweet though and it's a damn nice piece of jewelry! Who are we to knock a guy for giving his wife a ginormous ring?
Ben looks kind of annoyed in these photos but maybe we can chalk that up to the fact that there are several paparazzi bothering him while he's trying to have a day out with his family. A lot of stories claim couples are having problems based on the fact that someone looks pissed off in photos. Imagine the things these guys shout while they're taking the pictures and it's easy to see why the celebrities are mad.
The Town is coming out on September 10 and marks Ben's second film as a writer/director. He's going to star in this one too, and it looks damn good. I hope that it does well at the box office and helps herald Affleck's comeback. He's had some minor successes but nothing big yet.
Photos are from 7/31/10. credit: Fame Pictures.