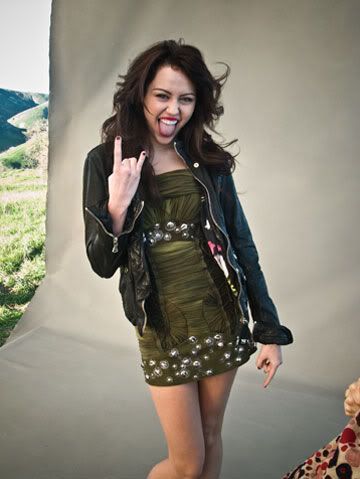 Everyone seems to have an opinion on the vulnerable sexy photo of Miley Cyrus posed with just a sheet and a bare back that's set to hit newstands today in the June issue of Vanity Fair. Miley's reps claim that famed photographer Annie Leibovitz tricked the 15 year-old superstar into removing her top for what would be an "artistic" photo once her parents left the photo shoot and she was more easily influenced. Miley's father Billy Ray is said to be outraged and Disney claims she was manipulated into posing for the photo that potentially threatens her billion dollar wholesome brand.
The Huffington Post has compiled a list of celebrity quotes, and many people think that this controversy is overblown and that it's not that big of a deal. A few blame Miley's parents for leaving early, not watching out for her, and not insisting on final approval for all photos. Hillary Duff, who is now a pop singer after a similar career on Disney television, seems to understand why Miley's photo is causing such a stir and while she's supportive she says it's not a choice she would have made:
Sally Field: "I love Miley Cyrus. My granddaughters are completely and utterly over the moon. I watch Hannah Montana….I think, 'Let it go for God's sake'…It's a beautiful picture."

Hilary Duff: "It's a lot of pressure. I don't know how I would even begin to give her advice because I feel she has a huge career and she'll learn how to deal with it. Everyone goes through things and takes their own path. Who am I to judge decisions that she made? It's not what I would choose to do, but if she did then that's fine. That's her choice."

Lauren Conrad [The Hills]: "I found it a bit silly. I thought she looked beautiful in the pictures. I didn't find it that inappropriate. I think it's difficult. It s a lot of pressure on her since she is a role model, but I think she's doing a good job."

Heidi Montag [The Hills]: I think she's a young girl in Hollywood and she's just having fun. Exploring herself."

Spencer Pratt [The Hills]: "I didn't think it was that bad. Supposedly, she's wearing a top underneath. It's artistic."

Tila Tequila [VH1's A Shot of Love with Tila Tequila]: "I think it's hot. When I was 15, I was doing the same thing except I bared it all….She's just showing her back. She's growing up. I don't think she's doing anything harmful. If the media keeps pushing her, pressuring her, she might end up messed up. But right now, I think everyone should just let her have fun. She's not doing anything scandalous. I think she's hot!"

Emmy Rossum: "I think she's a role model for kids, but I think she looks beautiful."

Rosie O'Donnell spoke out about the so-called scandal on her blog saying, "I had two photo shoots with her [Annie Leibovitz]. It's intimidating. Annie Leibovitz. I also didn't think it was a pornographic photo in any capacity. I thought it was kind of a beautiful portrait, you know. I like the one of her and her dad too. It's Annie Leibovitz people. Leave Miley alone!"

Jamie Lee Curtis: "She is a young girl. She shouldn't have to deal with any of this. I don't feel that she was duped. I know the integrity of Ms. Liebovitz and the magazine and I know there were people present at the shoot that should have been looking out to make sure that this didn't happen."

Bill O'Reilly: "[Billy Ray Cyrus] puts her into a situation where she becomes, at 15, a sex symbol. Middle America… they don't like this. Miley is a nice girl," she made "a bad decision.
"She should do Oprah and say, 'We made a mistake, here's why and it won't happen again."

Bonnie Fuller [Star Magazine editor]: "Is it OK to sexualize a fifteen-year-old if it is in the pages of a high falutin' magazine and her parents seem OK with it? Or is this really not much different from parents in a cult acquiescing to having their teen daughters wedded and bedded?

I'm not sure that it is all that different."
[Quotes compiled by The Huffington Post, except where linked]
As someone who sees a lot of sexy images of celebrities it's hard for me to understand all the hoopla over this photo, but I'm starting to get it. I was reading an article in Star this week about how to get Miley's style and it features really cutesy star-print clothes, sneakers, and polka dot purses. That really brought it home to me that she's only 15. She's a kid who makes videos about how she loves Jesus and is going to stay pure until marriage. On the other hand she's had very suggestive photos leaked that are meant to be private but suggest that she's exploring her sexuality, and she was maybe half-coerced into a back-baring picture that makes her seem older and more experienced than you hope she is.
In a way Miley is bringing to light the very important issue of kids growing up and what's too much too soon. When you're a media darling, it seems inevitable that you'll be pushed into some of the sex-filled sensationalism that helps keep the public interested and talking.