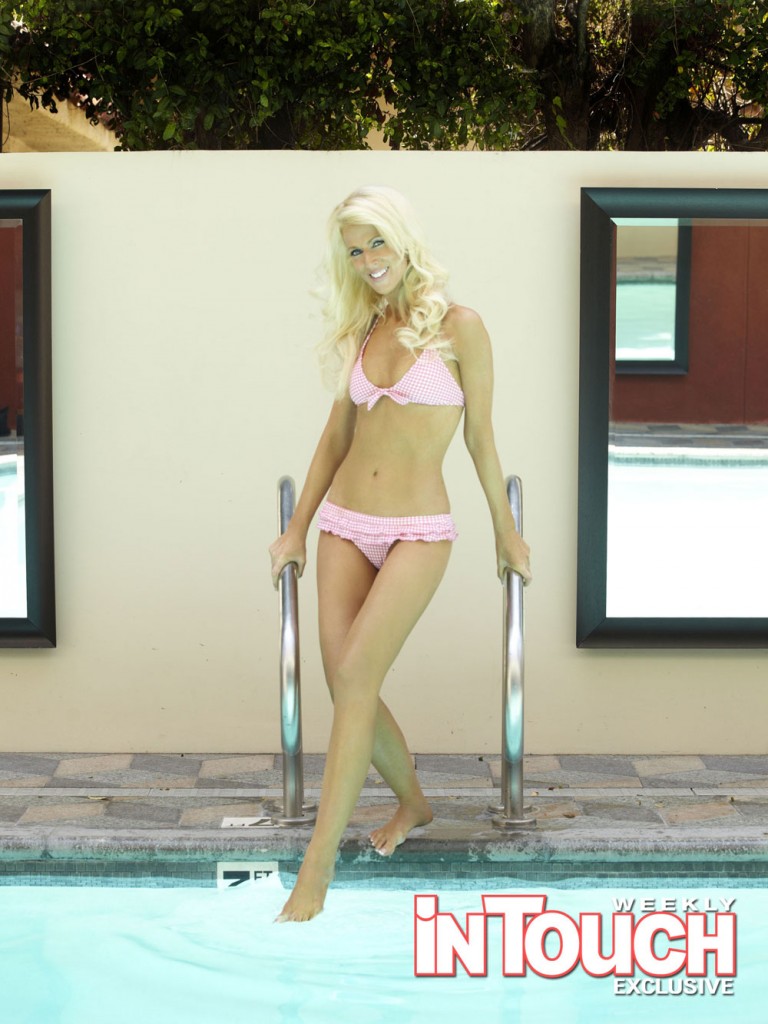 White House party crasher, scam artist and all-around trouble maker, Michaele Salahi, may not have a hell of lot going for her character or personality-wise, but she's thin. Salahi is starring in the upcoming Real Housewives of Washington, DC, much to the chagrin of the other "real housewives" who have found themselves overshadowed in the media by the multiple scandals Salahi and her grifter husband are involved in. Instead of bothering with any of that, she's showing us how cute she is at 44 in a bikini. Like many other reality stars and Real Housewives in particular, she doesn't seem to have much more to offer.
Salahi denied that she's anorexic, as she claimed another housewife, Lynda Erkiletian, taunted her with at a cast party. (Which lead her husband, Tareq, to throw a glass of wine in Lynda's face, which Linda countered with some Scotch.) Salahi claims she eats, but the daily diet she details wouldn't get a lot of people through the afternoon, not to mention the entire day. She has a bowl of sugar cereal for breakfast, nothing for lunch, then a salad with chicken for dinner. That probably doesn't exceed 850 calories even if she adds dressing. Michaele also says she's pro-plastic surgery and injectables and wants to get her boobs done.
Other women on the show have scrutinized your weight.
I'm a skinny girl. I always was. I've never had an eating disorder in my life. And it hurts to be called anorexic.

How do you defend yourself?
Honestly, I can't believe those women have so much time to devote to my weight. If they get out there and move, they will look like me and be thin, and it'll all be good.

What's your diet like?
I start the day with a hot chocolate and cereal — I love Lucky Charms or Kashi GoLean — then some fruit. I don't really eat a lot in the middle of the day. I have an early dinner, which is always a salad, with plain chicken, grilled or broiled.

What about plastic surgery — would you ever do it?
Definitely. I would love to do a whole lot of Botox and maybe get collagen, too. I also think it would be great to have boobs. I'm a B [cup], so I'd get a C. I'm all for anything you can do to make yourself look and feel better.

When would you do it?
Hopefully, within the next six months. But my husband doesn't want me to do my boobs!
[From In Touch via Huffington Post]
Salahi sounds like a real bitch, but it's nothing new from her. She said "If [women criticizing me] get out there and move, they will look like me and be thin," but it's clear from her diet that she's losing weight by not eating, not by exercising, which she probably does too. Dieticians recommend 1200 calories a day minimum for most people. I'm not going to get into all that, but it's worth noting that Salahi is thin but not emaciated looking and she probably eats more than she admits. (I hope, but it's not like I care. I just hate to see celebrities or anyone quoted in the press touting extremely low calorie diets.)
In related "Real Housewives in bikinis spouting diet advice" news, new mom Bettheny Frankel has some advice for those of us wanting to lose weight, "taste everything, eat nothing." I'm sure outlets will take out that first part of her quote and make it sound like she's advocating anorexia.
Life & Style has exclusively obtained the first photos of Bethenny Frankel in a teeny turquoise two-piece– the newlywed's first time in a bikini since giving birth to daughter Bryn on May 8th! Bethenny looked amazing," an onlooker, who spotted Bethenny (pictured above) on August 11th in Montauk, N.Y., tells Life & Style. "She looked like she'd lost all the baby weight, and she was toned too. Even her tush was remarkable."
How has the best-selling author of Naturally Thin and Skinnygirl Dish bounced back so soon? "There's been no real drastic any thing," Bethenny, who weighs a healthy 118 lbs, tells Life & Style. "I've really been eating, just not like a crazy person." The 5-foot-6 natu­ral-food chef has a new mantra, "Taste everything, eat nothing."

Lately, she's been combining out door activities with routines from her yoga DVD, Body by Bethenny. "Some times it'll take me the whole day to get through it," the busy mom tells Life & Style. "I do what I can when I can a cou ple of times a week."
[From Life & Style via The Huffington Post]
These ladies are thin with Photoshopping that isn't that obvious. You can only see some minor errors to the left of Frankel's torso where they cut some flesh out and didn't smooth her out properly. Life & Style claims this photo of Bethenny is "unretouched" though, which probably means "not rendered unrecognizable and alien-like."
Bethenny's advice is somewhat better than Michaele's when taken as a whole, but the "eat nothing" part sticks out. It's not consistent with the rest of her statement, which kind of balances it out with the claim that she does eat. Of course you have to diet to lose weight, but it doesn't have to be extreme and you can actually eat stuff. It's too bad that we're bombarded with such bad advice from whichever minor celebrity wants to promote herself by starving and stripping down to a bikini.
Photos credit In Touch and Life & Style, on newsstands nationwide Friday.