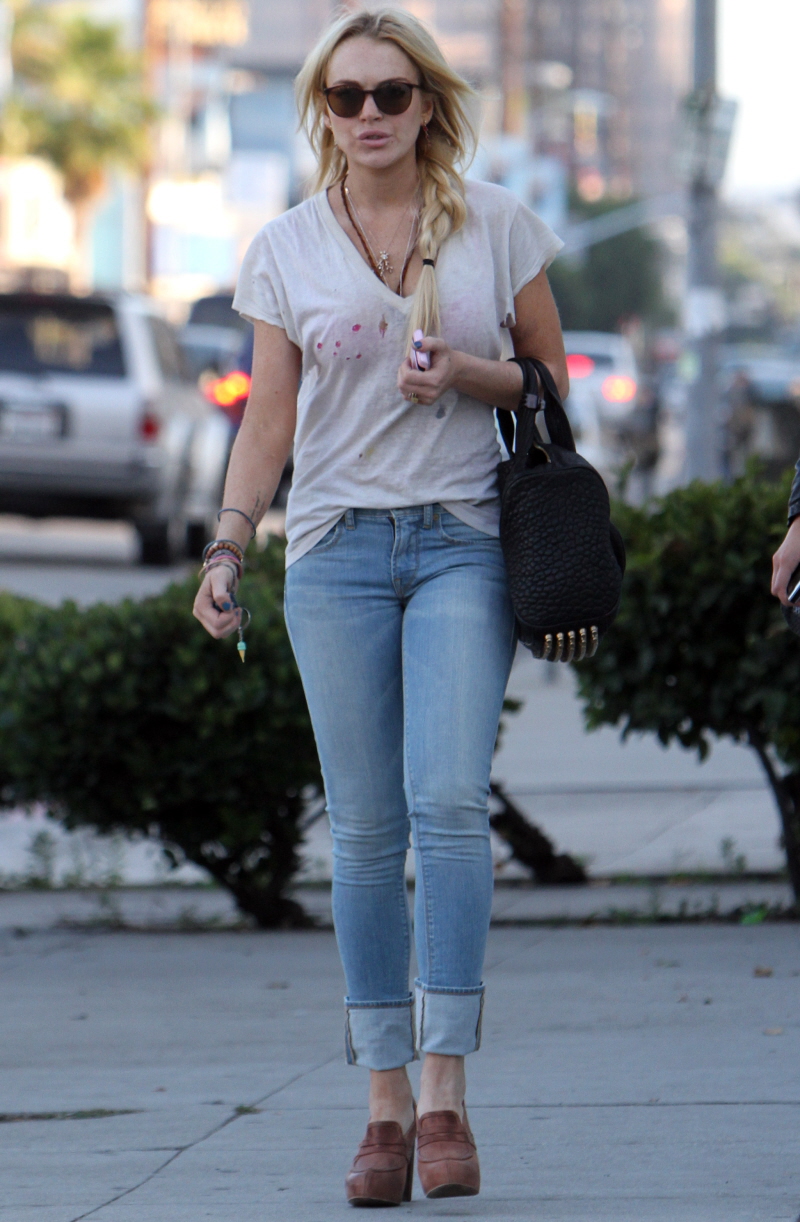 I almost feel sorry for Lindsay Lohan. By all accounts, she should still be the top news story, right? She got out of jail, got out of rehab, the judge ordered her to adhere to some hardcore out-patient treatment and if she doesn't comply, her ass is going back to jail. She hasn't even had her tabloid stories come out yet – you know, all of those interviews and Crackhead Diaries that she sold for six or seven figures. But everyone has moved on already – they're paying attention to Paris Hilton's coked-up ass and all of the Emmys stuff today. So what does Lindsay do? She puts on her best pair of light-wash camel-toe-revealing skinny jeans and goes for a very public walk with her rumored girlfriend, Eliat Anschel (the Israeli chick). Interested yet? Nope?
Well, Lindsay also did some cracked-out driving on Saturday night, as I updated yesterday. As she was doing some cracked-out driving in her new $150,000 Maserati Gran Turismo, she got pulled over by a cop, as she made her way to the Chateau Marmont. Allegedly, it was because she didn't stop for a stop sign. And the cop let her go with a warning!
Out of jail and out of rehab, Lindsay Lohan sought out familiar territory Saturday night. Lindsay was going to the Chateau Marmont Friday night at 11:00 PM when she got pulled over — according to one account she may have rolled through a stop sign. The newly rehabbed Lindsay got off with a warning and was on her merry way.

It's gotta be a reminder — one bad move and she's in big trouble. Lindsay is counting on shooting "Inferno" in mid-November in Louisiana — if she runs afoul of the law, the judge almost certainly will not let her leave the state

The Chateau Marmont in West Hollywood was where she landed, RadarOnline.com has learned.

The famed hotel has long been a favorite Lohan hang-out. At one point, she actually lived in one of their suites for nearly a year.

Lindsay drove to hotel in a brand new $150,000 Maserati Gran Turismo, with her friend Eilat Anschel arriving there at about 11 pm. They stayed for just over two hours, hanging out in the lounge with other friends.

Lindsay is required to take two random drug tests and attend five AA classes each week. She also has to meet with a mental health professional for several sessions each week. Any failed test or missed class will sent her back to jail.
In one more piece of crackhead news, Lindsay's old Freaky Friday costar Jamie Lee Curtis has some thoughts about Lindsay. JLC says: "I just have compassion. I don't know anything about the facts of any of the cases. What I have is compassion that a young child is thrown into the public eye and then has the media onslaught attached to it. Now, she's made choices, I've made choices. We all have to live with our choices. But I feel empathy…These young people are thrust into a 24-7 camera and the thing that makes the press is the most exaggerated behaviors. So then they're thrown out there in this media circus – and I can never judge one of them because I don't know them, but I feel tremendous empathy for this overwhelming set of circumstances. I couldn't handle having a camera on me 24 hours a day."
Eh. I mean, yes, the 24-hour media cycle has changed everything, and yes, Lindsay can't fart without it appearing on TMZ. On the other side, Lindsay, and many other young stars, totally play into the tabloid media because they want attention and exposure. Lindsay lives for this sh-t. Honestly. Case in point: she's wandering around West Hollywood in a ripped up t-shirt and a bright pink bra.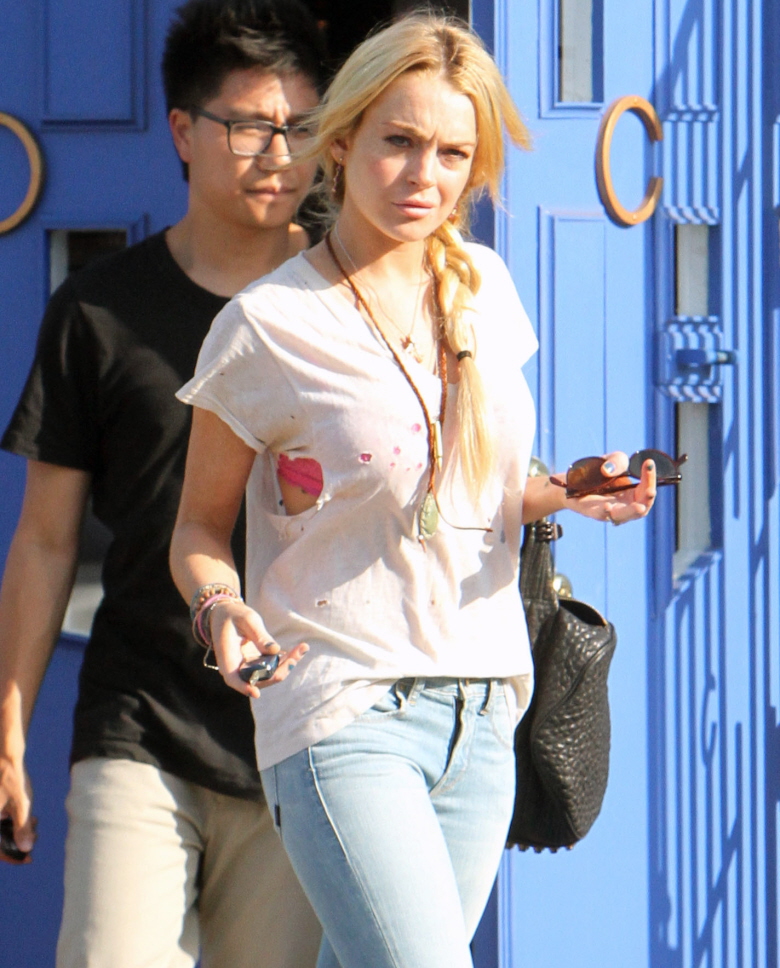 Lindsay Lohan on August 29, 2010. Credit: Fame.