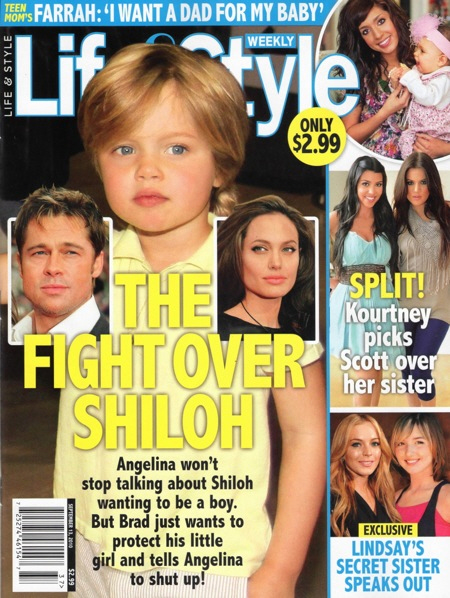 Life & Style Magazine hasn't released any excerpts from the cover story yet, which basically means that they know that the issue is going to be controversial and they're going to take a lot of heat for it, so they don't want to give away any additional grist for the mill. For what I can see of the cover, L&S is continuing their theme of insinuating that Angelina Jolie is a horrible mother whose sh-tty parenting is turning Shiloh into a tomboy lesbian. The new twist seems to be that Brad is very, very upset that Angelina doesn't seem to feel any shame about turning their four-year-old into a lesbian, and he wants Angelina to stop talking about Shiloh as if she's an adorable 4-year-old tomboy going through a phase. Brad wants Angelina to acknowledge that she's doing irreparable damage to Shiloh for letting Shiloh wear pants, it seems.
L&S is probably pulling lots of quotes from Angelina from her Salt press, in which Jolie talked a lot about how she thought it was "bad parenting" to force your kids to wear certain clothes, and how Shiloh "begged" to have short hair and how Shiloh loves to wear a tie: "that's her thing." All of which sound like funny little stories that a mom would tell about her kid, in my opinion. Of course, I did think Angelina should stop talking about Shiloh in general, just because she seemed to give interview after interview about Shi's tomboy ways, and it was just getting tedious (check out our Shiloh archives for a refresher). Anyway… whatever. I thought the tabloid were past questioning Shiloh's gender identification, but it seems like they're going to push this story until Shiloh goes through a girly phase, I guess.
In other Brangelina news, Radar had a funny story yesterday – they interviewed a NOLA local named Melba Leggett Barnes, who is apparently pretty tight with Brad and Angelina after the Make It Right Foundation gave her a house. Melba claims that she was the one to introduce Brad to New Orleans' Saint Reggie Bush, and she has lots of nice to say about Brad and Make It Right NOLA. The funny part was when she was talking about hanging out with Brad and Angelina, and this happened:
Melba says: "Brad loves New Orleans and he is a cool guy. He has given me a house that I will be in until I die and I will be forever grateful for that. More people are coming back all the time and the residents here are actively involved in the process too. After Katrina people were getting ripped-off all the time by corrupt contractors but now we advise them to go through The Make It Right Foundation if they need work done."

"We had a lot of fun at our event and Brad took time to talk with a lot of people and that was really appreciated. Angelina was not with him this time but, hopefully, we will get to see her over the holidays with her kids. They have visited our home before, and I like her she is really down-to-earth and their kids are very happy and fun-loving too. Brad really likes my 'corn-porn' [her special corn recipe] which I make with green onions and I want to give her the recipe."
[From Radar]
Okay, I'll believe that this lady truly adores Brad and that she's met Angelina and everything. What I don't buy is that Angelina would ever be like, "Oooh, I need that corn porn recipe!" Angelina has stated time and time again that she only does cereal. She's not going to make Brad a special corn porn dish, although I would pay good money to see her try.
L&S cover courtesy of CoverAwards.