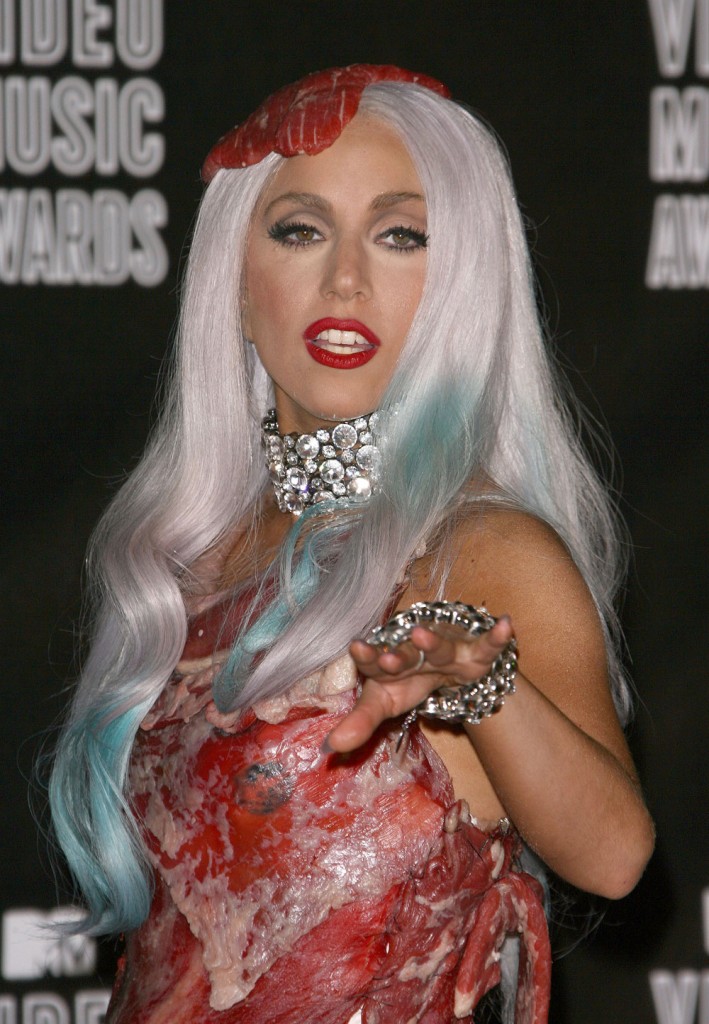 I was kind of ignoring Lady Gaga for a long time. She seemed predictable to me in her outlandish antics. Her music is ok for that type of pop genre, and I've enjoyed it occasionally when it comes on the radio. I'm not a fan and before last weekend I hadn't even watched any of her videos all the way through. I kept meaning to do it, but never bothered. Then she wore that outlandish meat dress to the VMAs. After she pulled that stunt, I looked up her videos (they were just as out there as I expected) and started questioning her sanity along with the lengths she'll go for fame. She seems like she will stop at nothing.
All the pressure to be "on" all the time seems to be getting to Gaga. We've heard that she's been hospitalized multiple times in the past year due to the stress from touring and crash dieting, and it's affecting her performances. Vogue editor Anna Wintour, herself no stranger to diva behavior, is said to have found Anna unprofessional and diva-like in her performance this spring at the annual Costume Institute Gala. We heard stories about Gaga refusing to play that night and needing to be coaxed out by Oprah, and now there's news that Anna hates her for it!
According to Maureen Callahan, author of the much-anticipated biography Poker Face: The Rise and Rise of Lady Gaga, the eight-time VMA winner performed in May at Wintour's Metropolitan Museum Costume Institute Gala, and the two did not get along.

"She [Gaga] sort of had a meltdown before she went on and as it was described to me, Anna was really none too pleased with her," Callahan told RadarOnline.com in an exclusive interview.

"Anna wasn't impressed. She thought that she was just sort of behaving like a childish diva and not the professional who was about to perform for her peers; these incredibly famous designers and celebrities," Callahan continued.

"She sequestered herself in the back room for a good hour. She was an hour late to perform and I also heard that she had been demanding things. She went to Anna at the last minute and was saying, 'I'd like it to be this way.'

"And Anna just said no. I don't think she's used to hearing that very often. When you're dealing with two egos like that, it gets interesting."

Wintour made an appearance on Late Night with Jimmy Fallon in September and addressed the incident saying, "We had Lady Gaga this year.

"She was communing with God and she was praying in the back, waiting for God to tell her it was alright to go actually onstage."

The Gaga biography hits bookstores Tuesday, September 14, and Callahan promises to give readers a sense of who the pop star icon is as a fully flushed out human being.

"Lady Gaga is everything she claims to be but also is nothing she claims to be. She is the biggest contradiction ever. She is the incredibly ballsy and bad ass girl who's also so lonely and hungry for affection that she'll employ someone to take naps with her and go to the tanning booth with her," Callahan said.
[From Radar]
We've already heard some details from this upcoming biography, and I think that even if there are potentially embarrassing stories in there, Gaga won't mind. She wore raw meat for God's sake, she wants people to talk about her at any cost.
Last week, there was a disturbing story from a mother of a young singer and former Lady Gaga collaborator named Lina Morgana who died of an apparent suicide at the age of 19. I'm not going to recount all the details (which you can read here), but the gist is that Morgana's mom is accusing Gaga of copying her late daughter's persona and performance style. Morgana and Gaga were both mentored by the same producer, Rob Fusari, and recorded over a dozen songs together. Morgana's mom claims that her daughter's dark personality and flamboyant style were uniquely hers and were nothing like Gaga's, then Stefani Germanotta, at the time. The article claims that a mere month after Morgana's suicide in October, 2008 "Germanotta became Lady Gaga [and] took the music industry by storm."
Gaga is definitely an opportunist and I could see her appropriating this late singer's style. Initially I thought it may have had more to do with their mutual manager's plan to spawn an eccentric star than any nefarious plot on Gaga's part. Fusari sued Gaga for $30 million, claiming that he created her entire image and name and that she cut him off right before she hit it big. According to the lawsuit, Gaga stopped answering Fusari's calls in May, 2007, well before this other woman died, however. It may just be a sad coincidence that the poor girl died and the timeline might not be as damning as the article makes it out to be. Gaga has since settled that lawsuit with Fusari for an undisclosed sum.
Over the weekend, Gaga successfully passed through airport security clad in underwear, a bra, a gold lame open jacket, and a giant metal belt with handcuffs hanging off it. It all seemed so lame and try-hard, as do most of her moves lately.
In case you think Gaga might go away now that she's maybe reached the tipping point by draping herself in steak, she's set to cash in with a perfume, put out by Coty. What will it smell like – rotten meat, burnt out sparklers and wig glue?
Lady Gaga is shown on 9/12/10 and 7/2/10. Anna Wintour is shown on 2/16/10. Credit: Fame Pictures