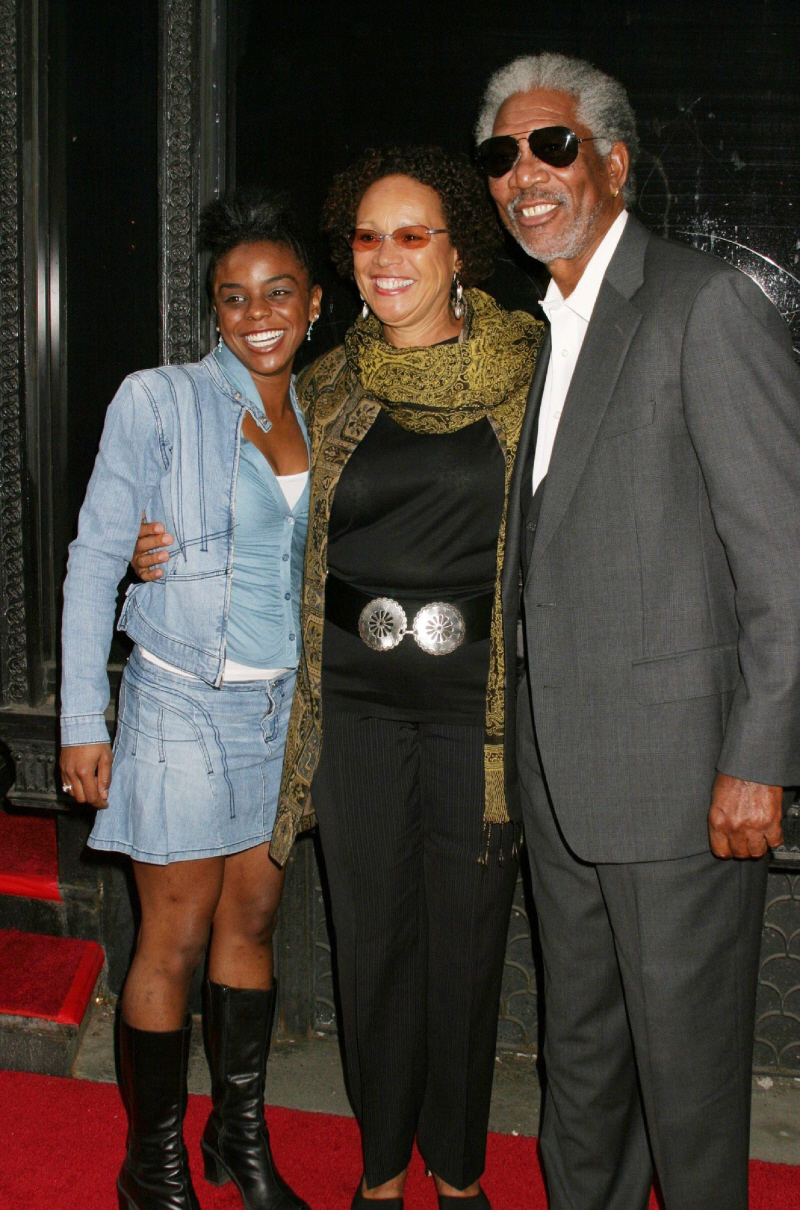 **From left to right: E'Dena Hines (Morgan's step-granddaughter), Myrna Colley-Lee (his ex-wife), and Morgan.
Where to start? Okay, The National Enquirer has long been the only media outlet to closely follow every single little detail of Morgan Freeman's two-year-long divorce proceeding. His now ex-wife, Myrna, filed for divorce back in 2008. In the two years it took for the divorce to be finalized, the Enquirer ran a series of unflattering and just gross stories about Morgan. The most notable were the stories about Morgan's alleged decade-long affair with his step-granddaughter, E'Dena Hines. By some accounts, Morgan and E'Dena (now 28 years old, I believe) are still together in some sense, and the Enquirer even claimed that Morgan was planning to marry her and start a family with her.
So some of this week's Enquirer story seems like a rehash. Now that Morgan and Myrna's divorce in finalized, sources allege that Myrna is planning a tell-all book on her marriage. Of course, I don't know why she would – sources also claim that she got an amazing $400 million divorce settlement. Four. Hundred. Million. Did you know that Morgan had that kind of money? I didn't. I still kind of don't. I think the claims made about her divorce deal and about the book are rather bullsh-tty, but I will give this to the Enquirer: they've been able to dig up a lot of dirt about Morgan, and I really do think they have some sources deep within Team Myrna, so who knows?
Morgan Freeman is on the wrong end of one of the worst divorce deals in Hollywood history! Not only was the 73-year-old star ordered to fork over some $400 million in cash and real estate to his angry ex-wife Myrna, sources say that he'll soon be the subject of a scathing tell-all book in which she'll detail his cheating.

In July 2008, The Enquirer exclusively reported that Myrna, 69, had discovered Morgan was having an affair with former schoolteacher Mary Joyce Hays. Soon afterward, the veteran actor's attorney confirmed he was splitting from Myrna, whom he married in 1984.

Later that year, the scandal further exploded when we revealed that Morgan had also been carrying on a decade-long relationship with his step-granddaughter, E'Dena Hines, then 27. E'Dena is the granddaughter of Morgan's first wife, Jeanette Adair Bradshaw. Making the affair with E'Dena even more scandalous is the fact that Morgan and Myrna had raised her as their own child.

Morgan's divorce from Myrna was finalized in Mississippi on Sept. 15, although the details were sealed from the public by a Tallahatchie County judge.

It was originally speculated that Myrna would receive a $170 million settlement, but the source says she got much more – a whopping $400 million. That would be the fifth-largest divorce payout EVER. Morgan is the seventh-highest grossing actor of all time. His films have brought in an estimated $2.79 billion worldwide.

According to the source, under the terms of the settlement, Morgan will keep his two planes. He and Myrna will continue to share the farm they own in Mississippi.

Myrna is getting a $7 million house in the British Virgin Islands, a home in LA, and an apartment beside NYC's Central Park. Surprisingly, Myrna showed she showed she carried no bitterness toward E'Dena by agreeing to bequeath the NYC property to E'Dena in her will, the source added.

There is no gag order in the settlement, which means Myrna is free to write her book about Morgan's many infidelities, said the source.

"Morgan is going to be embarrassed by what Myrna shares in the book," the source said. "But she is a very honest person and feels it's best to set the record straight about their lives."
[From The National Enquirer, print edition]
See? There's something suspicious about the book story. I think that if Morgan gave Myrna all that money in the settlement, he would basically be paying for silence, and why wouldn't he have included some kind of confidentiality agreement? I think there is one in place – the Mississippi judge's order was probably extended. Just my theory. Then again, Morgan is old and he might figure "F-ck it, I'll be dead soon." Maybe this is all part of his Bucket List? We'll see.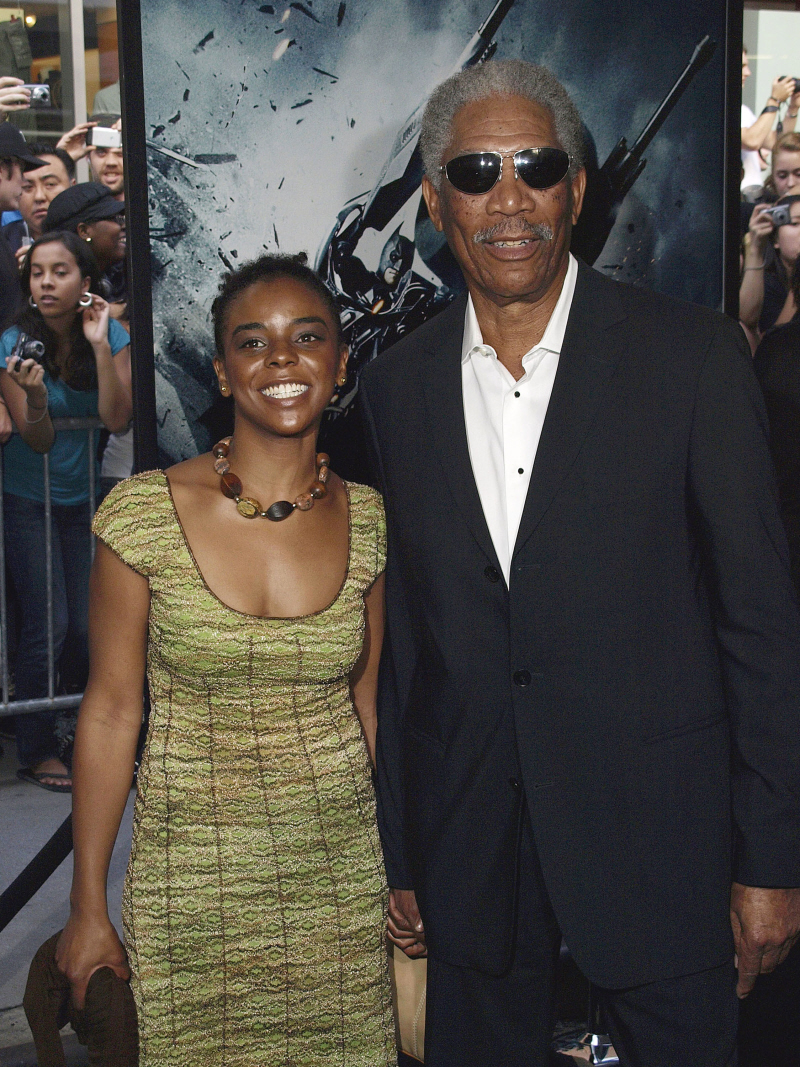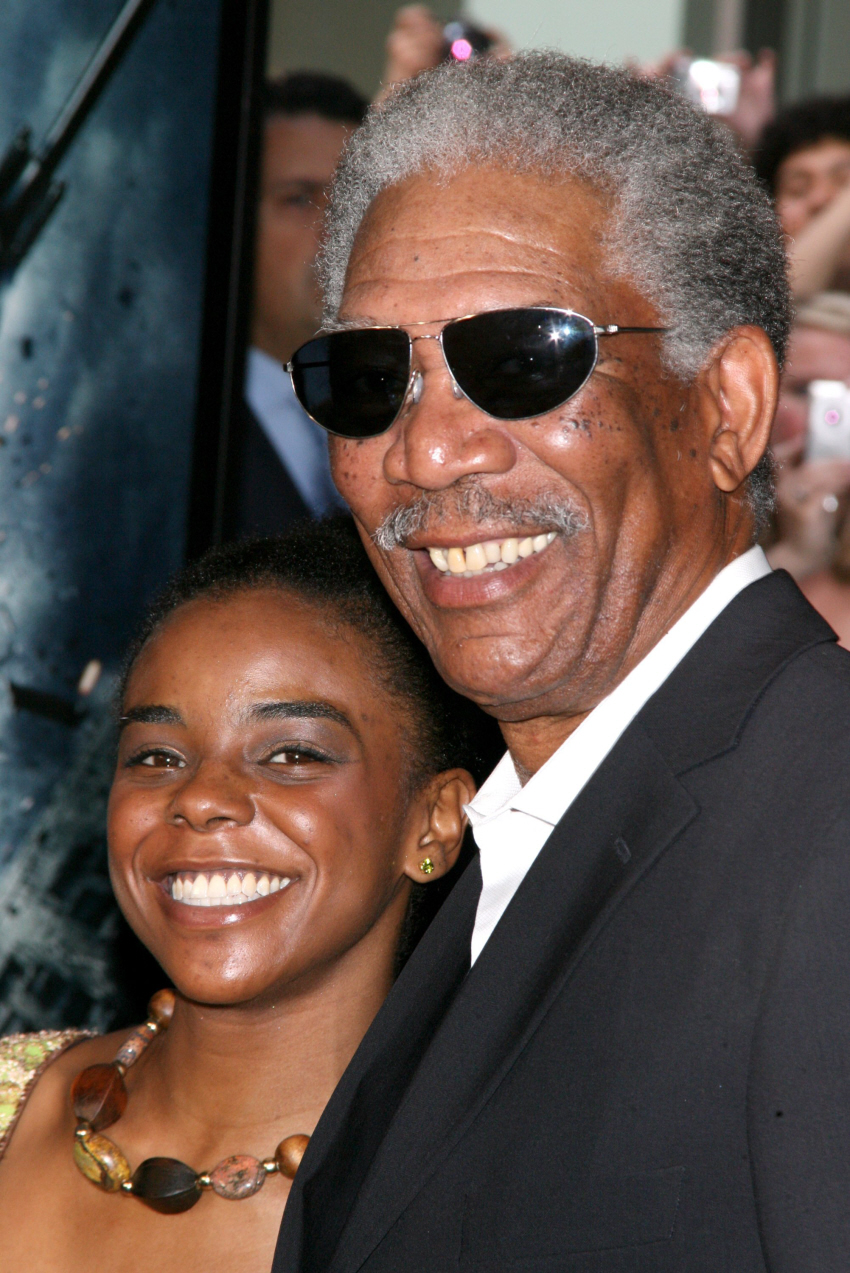 Morgan & E'Dena in 2008. Morgan with E'Dena and Myrna in 2005. Credit: WENN