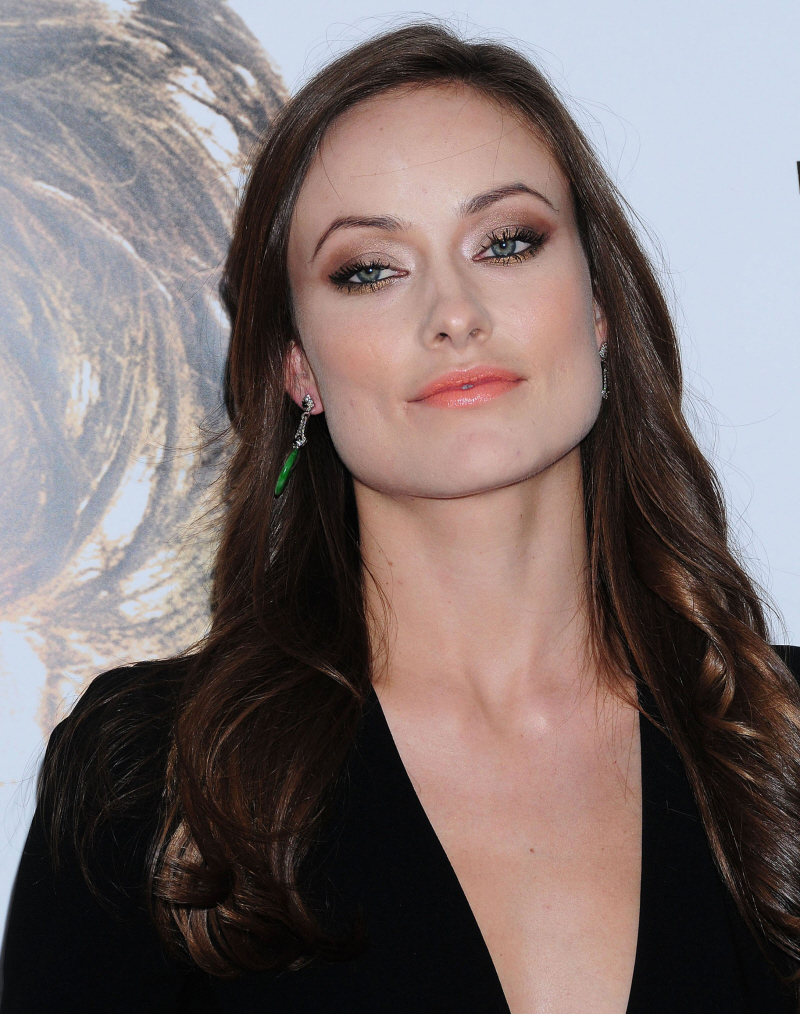 Olivia Wilde is gearing up to start promotion on Tron, where she is the female lead. I don't really know how to describe her role – and I don't really care, either. Whatever. Anyway, Olivia scored herself a Playboy interview, and Blast Magazine has some excerpts. Hey, did you know that OLIVIA IS A PRINCESS?!?!? She only talks about it in every single interview she's ever done. Sorry, I mean Olivia talks about how BEING A PRINCESS isn't that big of a deal and she doesn't know why people bring it up so much and did she mention that SHE'S A PRINCESS?? Yeah. Otherwise, the interview is slightly boring.
"The great thing about doing movies with lots of stunts is that it feels as if I'm having the athletic experience I never had in high school," says Olivia Wilde when asked about filming action scenes for her upcoming film "TRON: Legacy" in Playboy's December 20Q. The brunette beauty goes on to explain, "I was a theater nerd, and I always envied my friends on the field hockey and soccer teams. They had a relationship with their coach that was so supportive…working with these movie stunt teams, I'm finally able to experience that. You can show up weak and scrawny for a movie, with 80 percent body fat, and they'll say, 'You can do these stunts!' For actors who weren't athletes in high school that's an amazing feeling."

Wilde, oft deemed one of the sexiest women in Hollywood, sat down with Playboy Contributor Eric Spitznagel to discuss her upcoming movies — "TRON: Legacy," which opens on December 17, and "Cowboys & Aliens," which comes out in July 2011; being married to an Italian prince; her opinion of blondes; Jeff Bridges; Hillary Clinton; and Megan Fox. Following are selected quotes from the interview:

On the skintight suit she wears in TRON: Legacy: "My costume is actually the toughest, most bada*s thing I've ever seen…It would be difficult to be a stripper in that suit because it's almost impossible to get it off. It would be a three-hour striptease and you'd need at least five assistants onstage with you."

On her TRON: Legacy co-star Jeff Bridges: "The thing about Jeff is, in a lot of ways he really is the Dude [from The Big Lebowski]. He has an inner peace I tried to learn from and this easy-going, come-what-may, go-with-the-flow attitude that's such a joy to be around. Nothing really fazes him. With Jeff it's all going to be okay."

On Megan Fox's declaration that Olivia is so sexy it makes her "want to strangle a mountain ox": "I thought it was a witty, clever choice of words. There are a lot more boring ways to compliment someone, and it's rare when actors in this business compliment each other…Shortly after Megan said that, a writer on House who's also one of my best friends drew a mountain ox on my dressing room mirror and underneath it wrote SAVE ME, OLIVIA! PLEASE MAKE OUT WITH MEGAN!"

On how she's made her onscreen lesbian kisses believable: "Acting is acting. It's not as if I play myself most of the time and kissing a woman is one time I depart from that. It's fun to play things that are different from you."

On her wedding, which took place on a school bus: "The bus was the only place we could be completely alone. The wedding was a secret, and we wanted to do it someplace where we could hide with our best friends. It was all about the intimacy of the promise we were making. When I go to weddings it's usually all about the party and the place settings and the dress and the flower arrangements. Our wedding wasn't about any of that. I mean, come on, we got engaged at Burning Man. We were hippies. We lived on that bus for months."

On being an Italian princess through marriage: "I never call myself [a princess]. I occasionally get mail that says 'Principessa.' It's all part of being this lucky person who has been welcomed into an interesting family with a long history…How many people get to say 'This castle has been in our family since the 1400s'?"

On her parents, both of whom are journalists who travel to war-torn countries: "They still travel to some amazing places. In fact, my mom's getting ready to go to Yemen for 60 Minutes. It's actually kind of adorable; they try to pretend my job is more interesting than theirs. We'll have conversations and they'll act as though fighting fake aliens in a movie is more exciting than my mom going to Yemen."

On changing her last name from Cockburn to Wilde when she was a teenager: "I always thought having a pen name was so romantic. I honestly didn't foresee that people would look at it as a sexy name, like 'She's wiiiild!' Anytime a story is written about me, the title is usually some pun on my last name – 'Born to Be Wilde' or 'Take a Walk on the Wilde Side.' (laughs) I don't mind it; it's just not something I ever considered when I picked the name."

On whether or not blondes have more fun: "No, that's bullsh*t. It's not true at all. But I have to give credit to blondes. Having been raised by one and being one, it's great to surprise people when they have low expectations. Often stupid people expect nothing from a blonde, and then the blonde can shock them by being Hillary Clinton. I'm pretty sure she has fun. I mean, she gets to travel everywhere, eat amazing food in all these different countries – you know she's having a great time. And she probably enjoys being underestimated just so she can blow people away."

On winning a pancake-eating contest in Australia by eating 33 pancakes: "I entered the contest only because they said a woman could never win, and that's a surefire way to get me to do something. I've always had a huge appetite and don't get full easily, so I guess I was meant to be a competitive eater, the way some people are born to be long-distance runners. But I'd never do it again."

On her dream car: "I think I own it – a 1958 Chevy Biscayne. It's cool because I grew up wanting the 1954 Bel Air, but that car is almost too perfect. There's something about the Biscayne that's a little funkier…The great thing about driving one of these cars is that it makes other drivers happy. People smile at you and let you cut in. It's as if they're grateful you're still driving it. But the cars are not exactly discreet. My life has changed so that I try to blend in more…Now the last thing I want to do is drive down the street and call attention to myself. That's what driving my Biscayne does."
[From Playboy via Blast Magazine]
Olivia has those same qualities that annoy me about people like Jessica Biel, Megan Fox and Jessica Alba, and even Katherine Heigl. Basically, I get the impression that Olivia thinks she's God's gift, and while having a healthy ego is fine and dandy, it helps if you've proven yourself and your talents in some substantial way. Olivia hasn't, in my opinion (neither have Alba, Biel, Fox or Heigl, although Heigl has more "wins" than anyone else). Olivia comes across as mostly hype, and like she believes her own hype. It's not enough to make he dislike her, but she does annoy me significantly. Is she pretty? Sure. But is she more than just a chick on House, famous for making out with chicks?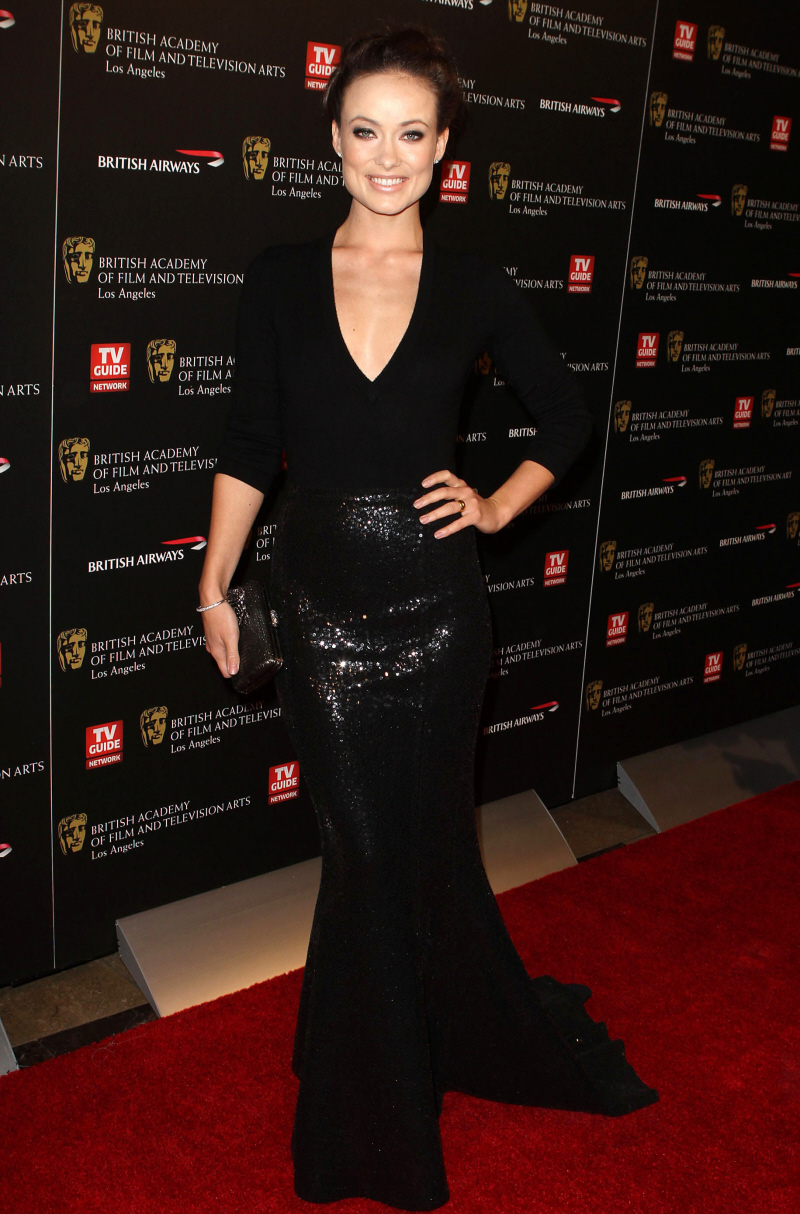 Photos courtesy of WENN.