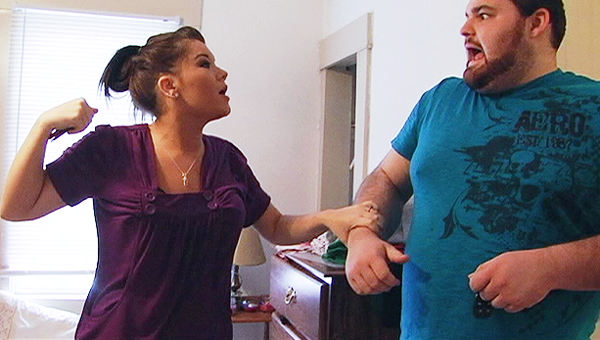 Hollywood Life has an exclusive that Teen Mom's Amber, who was shown attacking her daughter's dad Gary at least twice on the show, has been officially charged with two felonies and a misdemeanor for three separate abusive incidents against Gary. Two of the incidents were shown on MTV, and the other is from MTV's footage that never aired. The two attacks that aired on MTV are shown in the videos below.
Amber Portwood is finally facing consequences for her violent actions against baby daddy Gary Shirley. Amber, 20, was officially charged Nov. 18 with two felony counts and one misdemeanor for domestic violence and battery. Under Indiana law, an incident of domestic abuse is considered a felony if a child is present for the abuse — which baby Leah was in both cases. Interestingly, one of the two felonies is based on footage never aired by MTV. As HollywoodLife.com told you first, the court subpoenaed MTV for all raw footage from Teen Mom.

The two incidents related to the felony charges occurred Aug. 14, 2009, and July 18, 2010, while the misdemeanor incident (in which Leah was not present) occurred June 14, 2010. Official documents state that Amber choked, slapped, punched and kicked Gary, 24, in their home.

Public Information Offer, Detective Mitch Carroll, tells us Amber will likely be issued a warrant through the Madison County Prosecutor's Office. According to a press release, "the affidavit has been submitted to the prosecutor for formal charges. If convicted, Portwood faces up to three years in jail and fines of up to $10,000."
[From Hollywood Life]
Amber probably won't go to jail, but hopefully she'll get fined and have to do a ton of community service, along with parenting and anger management classes. The last we heard from her she was sort-of sharing custody with Gary after having abandoned their daughter Leah to his care for nearly two weeks at the end of October. OK! had a very sympathetic cover story of her a couple of weeks ago, and I'll ask again what I wrote at the time – imagine if it was Gary who beat Amber twice on camera. Do you think that MTV would dare not to step in or that they would even show that footage? Hopefully she'll face some serious consequences and get the help she so obviously needs. She also needs supervision when she's with her daughter.
Update: Amber denies this, in her way. She told Hollywood Life "I didn't hit Gary in front of Leah so there are no felony charges. None of this is true, there's nothing against me. They can't charge me if they don't have proof." What does she call all that footage of her doing it then?
Life & Style reports that Amber has given up Leah in the face of these charges and that she's "not in any rush to get Leah back."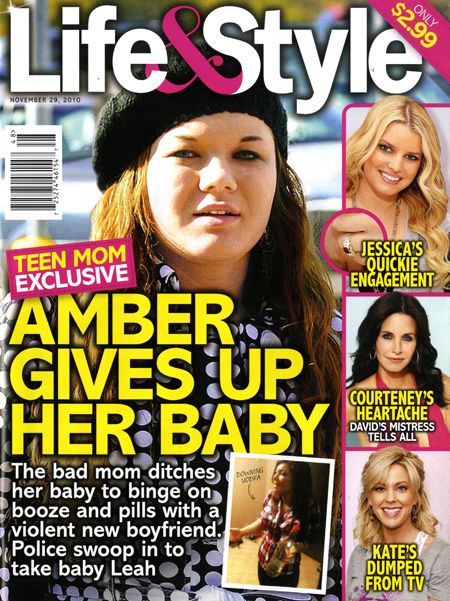 L&S cover via CoverAwards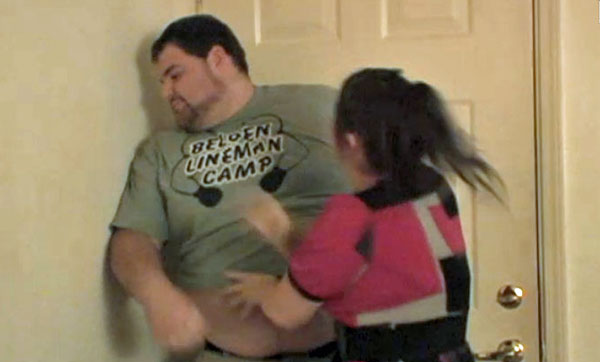 This is from this season of Teen Mom. (There's a slightly better version here, I can't embed it – and the fight starts at 3:30, with the hitting at 4:10.)

The video below is from Teen Mom Season 1 the first season on "16 and Pregnant" I think, as I didn't see it on Teen Mom.