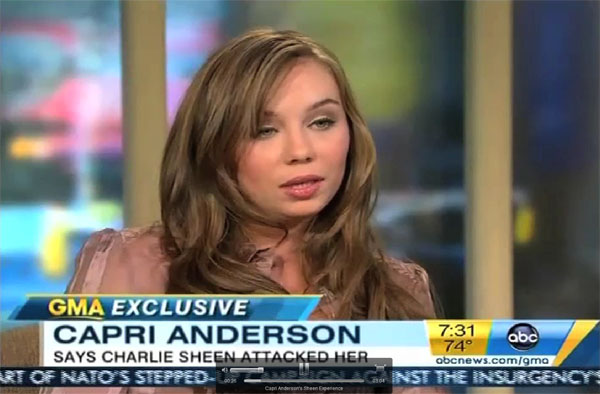 Capri Anderson, the porn star/escort who locked herself in the bathroom while Charlie Sheen went on a drug-fueled rampage at the Plaza Hotel in New York City last month, has granted an interview to ABC that will air on Nightline tonight. She also was interviewed on Good Morning America by George Stephanopoulos this morning, accompanied by her lawyer. ABC has some advance details and they're in no way favorable to Charlie. Anderson comes across as genuinely upset in the clips I've seen of her interview. She says that Sheen choked her, that she locked herself in the bathroom for her own safety, and that she feared for her life. Anderson admits that she was hired to escort Sheen to dinner (which contradicts earlier reports on TMZ that she wasn't a hooker) and breaks down crying at one point. It seems convincing and will hopefully go far to derail the career of an abuser who has consistently escaped facing consequences for his actions. Here's part of ABC's report with advance details. We'll cover her GMA interview in a moment.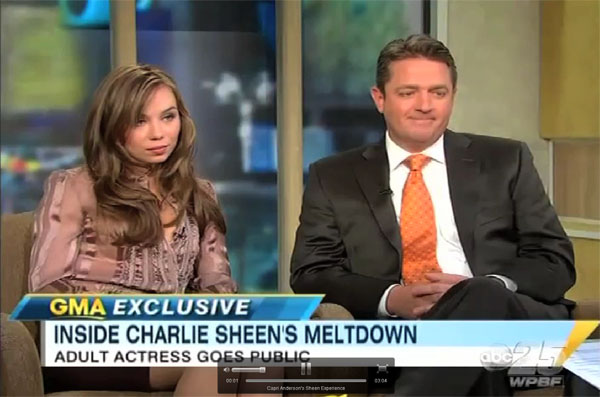 In the ABC News exclusive interviews, Anderson will explain how she was hired to escort Sheen to dinner that night and how the night progressed to a violent end behind the Plaza's closed doors.

"He was, from the beginning of the night, very loud and he had no hesitations when it came to using derogatory language or cuss words," she says in the "Nightline" interview, adding that "towards the latter half of the night, it got really bad. He started yelling racial slurs.

"But it wasn't until he put his hands around my neck that I really thought to myself, you have gotten yourself in a bad, bad situation."

Anderson goes on to say that she was locked in the bathroom, fearing for her life, describing her reactions to press reports about Sheen's children staying on the same hotel floor.

"I'm not going to stand down and be completely walked over, mistreated. My whole life has been changed." she said.

"I think that this story and this treatment sends a message in itself and this is clearly something that's not right. It's not right to hurt people. It's not right to scare people. It's not right to carry on with such disregard for the people around you."

Charlie Sheen's lawyer Yale Galanter released a statement in response to Anderson's allegations.

"Ms. Capri never made any allegation of wrongful conduct on the part of Mr. Sheen the night of the incident. She has posted on her website that she was 'fine' after the incident but if you wanted to see more of her enter the web site for money," Galanter said. "We will defend this lawsuit vigorously and will never pay her a dime. These allegations against Mr. Sheen are completely false, and are an blatant attempt to cash in on his celebrity."

Tune in Monday morning to Good Morning America" (7:00-9:00 a.m., ET) or Monday night to "Nightline" (11:35pm ET/ PT) to hear Anderson's full account.
[From ABC News]
This sounds exactly like the earlier incident where Charlie choked and threatened to kill his estranged wife. I love how Anderson confirms the story that Charlie was spewing racial slurs for no reason whatsoever. He also has a prior instance of using the "N" word in a very confusing context in a voicemail that he left for Denise Richards in 2005.
Charlie issued an earlier response to the media coverage of this incident, and said "If a guy has one bad night, everybody goes insane & panics." He also told Radar "The story is totally overblown and overplayed as far as the reality of the scenario." Now that we know that the reality is as bad if not worse than the media made it out to be, what is he going to do? He's going to smear Anderson's reputation, just like he did with his ex, Brooke Mueller. You can bet on it.
ABC has aired Capri's interview, (you can watch part of it on Radar Online) and she describes how the night unfolded and how Charlie did lines of something before taking off her dress. She said that Charlie "put his hands around her neck" and as soon as she started to resist he went after her and trashed the room. He picked something up that she describes as an "envelope opener" or a "knife" and at that point she fled to the bathroom with her cellphone. Charlie was supposed to pay her $3,500 just for dinner, not sex, and he never paid her according to Capri. She plans to file a criminal complaint against him today and will sue him in civil court. Anderson alleges that Charlie offered her $20,000 to keep quiet after the incident, which she refused.