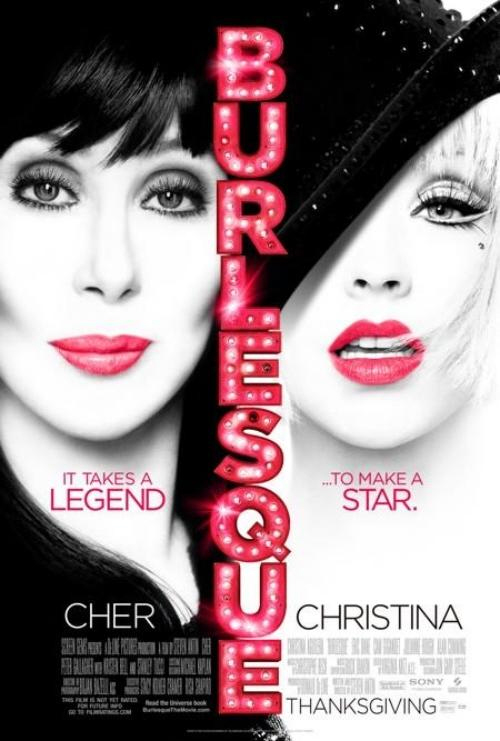 Am I one of the few people that has never seen Showgirls? I just couldn't, not even for the sake of "camp". Which brings me to a side note – I don't think I have the "camp" gene, honestly. Like, I've never seen what the big deal is about Rocky Horror Picture Show. I've never thought "You know what would be fun? Showgirls!" I'm not saying this in a snobby "I enjoy real art" kind of way – I like fun, silly stuff that I don't have to think about. But the "camp" niche is not something that has ever appealed to me. So, with that in mind, I have absolutely no desire to see Burlesque, even though it looks "campy" especially with The High Priestess of Camp, Cher. I'm just… ugh. I think it looks absolutely horrible. Critics think so too – currently, the film has a 33% at Rotten Tomatoes. Bad, bad, bad.
The Daily Beast has a compare-and-contrast between Burlesque and Showgirls, considering their story lines are very similar. But here's something I didn't realize until I read Roger Ebert's review – Burlesque is PG-13, and there is no sex or nudity or anything sexy. Showgirls was supposed to be very filthy, right? Like, lots of nipples and… pool sex, maybe? I seem to remember something about pool sex and a lesbian motif between Gina Gershon and Elizabeth Berkley.
Anyway, if you want to read something more amusing than the actual Burlesque film, you should read Roger Ebert's take. Turns out, he has very found memories of Chicago burlesque houses, and he knows good burlesque when he sees it.
One last thing – Christina Aguilera has officially gone public with her new boyfriend, whom she met on Burlesque. A photo of the two of them is here. BUT HIS MOM SAID IT WASN'T HAPPENING!!!!