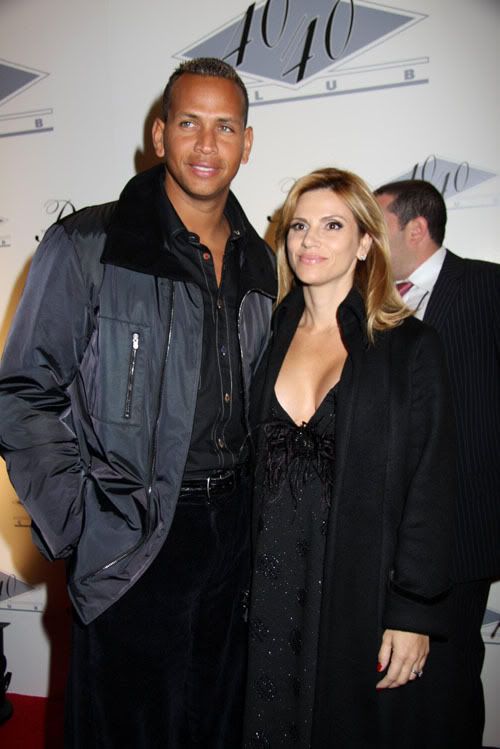 Alex Rodriguez's annoyed wife Cynthia did jet off to Paris, but maybe it had more to do with spending her estranged husband's money than meeting with her rumored lover, rocker Lenny Kravitz. The NY Daily News reports that she took off to the French city, paying for first class tickets for herself, two friends and their daughter. Once there she had spa treatments, ate at exclusive restaurants, and had a grand time all on her husband's credit card. She's also hired four different lawyers and Alex's legal team claims she's deliberately keeping him from his two daughters, Natasha, 3, and Ella, 11 weeks.
Spurned spouse Cynthia Rodriguez used the Yankee slugger's credit card to the tune of $100,000 to punish him for a dalliance with Madonna that both he and the Material Girl deny, an A-Rod pal said.

"She's been spending wildly," the friend said. "She spent close to $100,000 on her jaunt to Paris."

Cynthia flew the godparents of her daughters, Dodd and Sabina Romero, and their older daughter, first-class to the City of Light, the friend said.

There, Cynthia "had spa treatments, she went to the best restaurants," the A-Rod friend said. "She originally was going to head to Spain, where Lenny Kravitz was touring."

In addition to embarrassing Rodriguez and feeding false rumors that she and the rocker were an item, Cynthia gave A-Rod a taste of the gouging to come, the friend said.

"She needs four lawyers in two different states?" asked the friend. "That's not the dream team, it's the greed team."

Also, the pal said, Cynthia has deliberately kept A-Rod from his daughters while tarring him as an absentee father.

"Alex desperately wanted to see his children while she was in Paris," the friend said. "She blocked him. She said, 'You cannot see them.'"
[From NY Daily News]
The News notes that A-Rod's legal team is releasing this information in response to the many stories from Cynthia's side about his questionable relationship with pop star Madonna. Yesterday her lawyer clarified an earlier statement and Alex's alledged infidelity, calling his dalliance with Madonna" an affair of the heart" and not "sexual infidelity." It sounds like A-Rod was doing some late night Kabbalah study at Madonna's place. His former trainer called Rodriguez "brainwashed" by the singer, and said that he got all wistful and faraway whenever her songs were playing.
The Daily News had another story yesterday that revealed the lengths to which Madonna and Rodriguez went to keep their "friendship" secret. They claim that he frequently took the back service elevator at Madonna's apartment complex – which led straight to her bedroom. Madonna has denied an affair with Rodriguez, and blamed the media and its gullible consumers for believing the reports about their affair. TMZ claims that she has timed the stories about the trouble in her seven year marriage and is postponing her divorce for maximum press coverage in advance of her European tour later this summer.
In light of Cynthia Rodriguez's shopping spree, here's Blu Cantrell doing "Hit 'Em Up Style" from 2001. (There might be a commercial ahead of the video. Sorry but this is only embeddable version I could find:)

Photo Credit: Alex and Cynthia Rodriguez are shown at the "Grand opening of The 40/40 Club, a new sports bar and lounge located inside The Palazzo Hotel" in Las Vegas on 12/30/07, thanks to Chris Connor for WENN. They are shown below with daughter Natasha Rodriguez at FAO Schwarz as Alex reads from his book 'Out of the Ballpark' on 7/20/07, thanks to PNP for WENN.