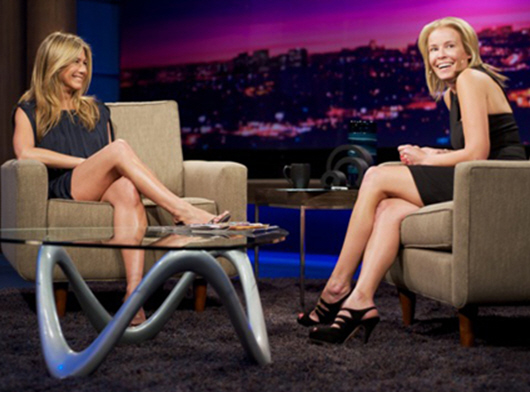 PopEater's gossip guy is at it again, this time theorizing what went down at Jennifer Aniston's asstastic Cabo vacation over the Thanksgiving holiday. We already know that Aniston invited several of her friends to spend the holiday at Joe Francis's mansion, and that one of those friends was Chelsea Handler. Well, Rob Shuter claims that Chelsea got her invite because she doesn't molly-coddle Aniston – allegedly, Chelsea encourages Aniston to "meet new men" and stop with the "quiet nights" with Courteney Cox. And in return, Aniston supplied Chelsea with the motherload of vodka (my guess: those weren't the only party supplies). Also: Chelsea wants Aniston to cut her hair. NOO! How would Aniston be able to survive?!?
Call them the new odd couple. America's sweetheart Jennifer Aniston and sassy-pants comedienne Chelsea Handler are new best friends!

"Jennifer wanted to get away for Thanksgiving and hired two private planes to bring a bunch of friends to celebrate with her at a private home in Cabo San Lucas," an insider tells me. "Jen has more money than she will ever be able to spend in her lifetime, so she decided Thanksgiving was the perfect time to splurge on the most important people in her life."

And showing just how caring and thoughtful she can be, my source reveals that Jen "made sure Chelsea had plenty of vodka."

Chelsea and Jennifer are not an obvious fit, but that's what makes this friendship so exciting. Sources tell me that unlike Jennifer's old pals, Chelsea isn't afraid of telling Jen she needs to get out more and meet new people, especially new men.

"Many of Jen's closest friends were with her when Brad broke her heart and have discouraged her from spreading her wings too quickly for fear she will get hurt again," a source close to the actress tells me. "Chelsea is the opposite. She believes Jen is fabulous in her 40s and needs to paint the town red. No more sitting at home alone with her dogs. No more quiet dinners out with Courteney Cox and the girls."

It looks like Jen is being encouraged to let her hair down, a bit of advice that Chelsea is taking literally. "She's trying to convince Jen it's finally time to cut off all that hair and start over."
[From PopEater]
Even though I can't stand Chelsea, if she's giving Aniston that advice, it's not bad. Of course, now I have an image of Aniston and Handler trolling Mexico for lithe young whippersnappers to pleasure their cougar needs. Also – who buys that Chelsea is six years younger than Aniston? Right?