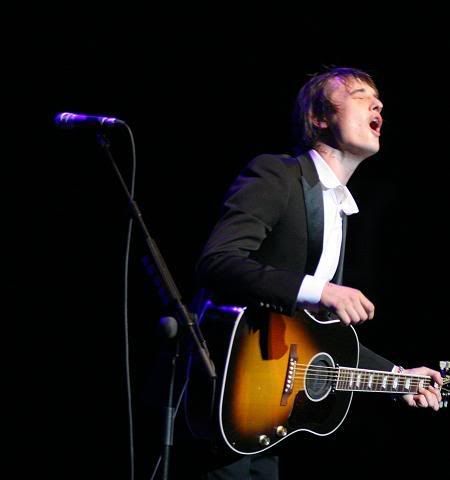 It's widely been reported that Pete Doherty wants to win back Kate Moss. Because their relationship obviously worked out so well the first time. Instead of showing up at her doorstep with a bouquet of flowers, Pete has decided to go the nontraditional – albeit just as romantic – route of having Kate's favorite deceased cat formed into a ring. How could this possibly go wrong?
Pete Doherty is planning to have the ashes of his cat Shelley made into a diamond ring.

The singer has commissioned the piece from US company LifeGem and insiders claims Pete, 29, is planning to give the sparkler to ex Kate Moss, 34.

Shelley was her favourite pet when they dated last year, reports the Daily Star, and he's hoping the gift will help win her back now she's split from Jamie Hince, 39.

Kate is reported to have dumped The Kills star because he was spending too much time with bandmate Alison Mosshart.

'Kate was upset with Jamie because he often doesn't pick up his phone when he's with her,' a source tells the News Of The World.

'Kate shouted at him that he has a closeness with her that they don't have.'
[From NOW Magazine]
So, to sum up: Kate Moss: jealous of ex-boyfriend's bandmate; Pete Doherty making cat Shelly into diamond ring. Essentially, everything is status quo in the lives of these two.
This is one of those stories you'd assume is a crazy internet rumor, except that because it's Pete Doherty it is entirely possible. In fact I think the odds are much greater that Pete plans on turning Shelly into a diamond (I'm assuming that's how it works; I'm way too afraid to look at the company's website to find out) than him writing a love poem or something. Unless he wrote it in his own blood. To go with the blood artwork that he did. I'm not even trying to be outlandish here. Pete did do that. Hopefully he has no more pets in his possession, or I'm afraid Pete might come up with the materials for a matching pendant.
Here's Pete looking not quite as scary as expected performing live in concert at the Royal Albert Hall in London on Saturday. Images thanks to WENN.