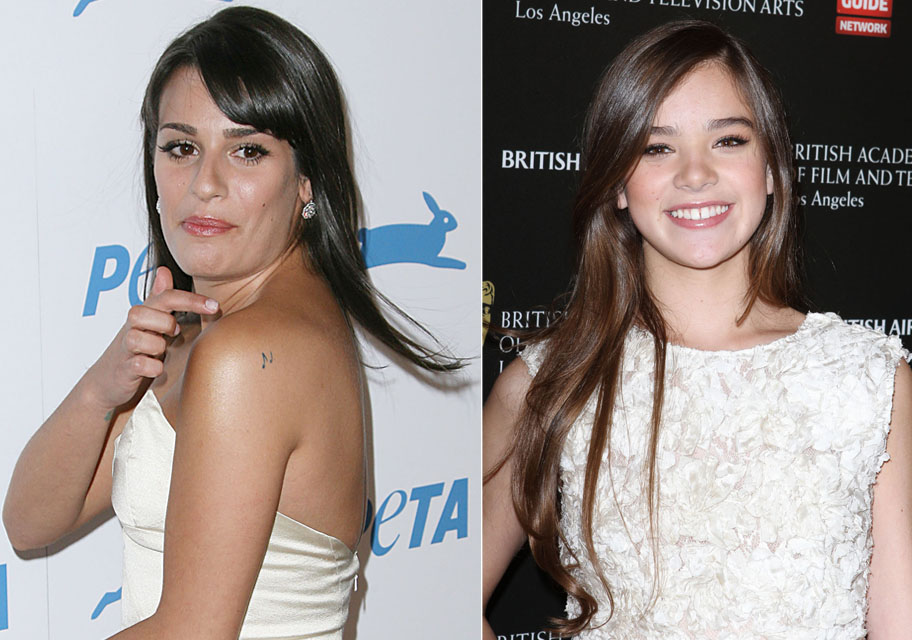 It looks like Lea Michele's bad reputation is catching up to her. We've heard that Glee's ranking diva is a real piece of work in person, with stories that she acts like she's better than the rest of the cast and is snotty even on the red carpet. In case you think we might be confusing her with her character on "Glee," Lea has made comments that show just how full of herself she is. She recently told Marie Claire that her teachers in school "were threatened by the fact that [she] had worked before" and didn't bother to teach her anything. Maybe they just couldn't deal with her attitude.
Now Leah has crossed a young girl who is sure to score an Oscar nomination for her performance in box office hit True Grit. Hailee Steinfeld, 14, told the press that Lea snubbed her on the Fox lot and left her close to tears. Hailey tried to get an autograph from Leah, but Leah couldn't be bothered. It sounds like Leah just totally ignored her. I love how Hailey told this story in a matter-of-fact way without any commentary about what a bitch Leah was. Hailey even complimented Leah's talent. The circumstances speak for themselves.
s Hailee Steinfeld celebrates her sudden Hollywood success, the young "True Grit" star admits she had a less-than-successful run-in with an acting peer – "Glee's" Lea Michele.

"When I was auditioning for 'True Grit,' I was on the Paramount lot," the 14-year-old said in a recent interview with J-14 magazine. "I was wearing clothes from the 1800s that were big and uncomfortable. 'Glee' also films on the lot and I love the show.

"I saw Lea Michele just walking to her trailer and I was like, 'That's the girl from 'Glee.' I've got to go ask for her autograph!' So I walked up to her and asked for her autograph, but she walked by and a guy came and said, "Sorry, now's not a good time!" Hailee continued.

Though the embarrassing snub left the SAG Award nominee deflated, Hailee still counts herself a "Gleek."

"I had to walk all the way back to the car wearing what I was wearing. I was practically crying on the way home. I was so sad!" she told the mag. "But she's beautiful and she has an amazing voice."

In addition to her obvious acting chops – the ingenue held her own in the Coen Brothers' western opposite veteran Oscar winners Jeff Bridges and Matt Damon – Hailee enjoys spending her free time helping those in need.

"My mom and I are involved in the Mother/Daughter Organization — national charity work," Hailee told the mag. "Whenever I get free time, we volunteer. It's an organization so mothers and daughters can spend time together while volunteering."

As previously reported on AccessHollywood.com, Hailee is earning rave reviews from critics all over town for her portrayal of Mattie Ross in "True Grit" opposite Matt Damon, Josh Brolin and Jeff Bridges. The young actress has been nominated for a Critic's Choice Award and a Broadcast Film Critics Award, as well as a SAG Award for Outstanding Performance By A Female Actress in a Supporting Role.

The Thousand Oaks, California native beat out 15,000 other girls to land the role of Mattie.
[From Access Hollywood, link has automatic music]
She sounds like such a nice kid. I can't wait to see True Grit, but it's not out here in Germany until February 10. I understand that dubbing takes time, but why can't movies come out in their original language (English primarily) at the same time around the world? There are surely complicated distribution and promotion issues but we end up getting decent films about two months after everyone else, at which point I've read all the spoilers. Usually I can wait for films, but this one has me chomping at the bit.
True Grit was top at the box office this weekend, making it the first western since the 1990s to top the $100 million mark.
In related news about Lea Michele, she's fronting a campaign for PETA to outlaw horse drawn carriages in New York city. It maybe wasn't the best idea for her to pose right next to a horse like this. I'll say something nice – the horse emphasizes her huge eyes, and I'm sure PETA wanted us to see horses as people too. Mission accomplished.
Photo Credit: WENN.com. True Grit photos via AllMoviePhoto