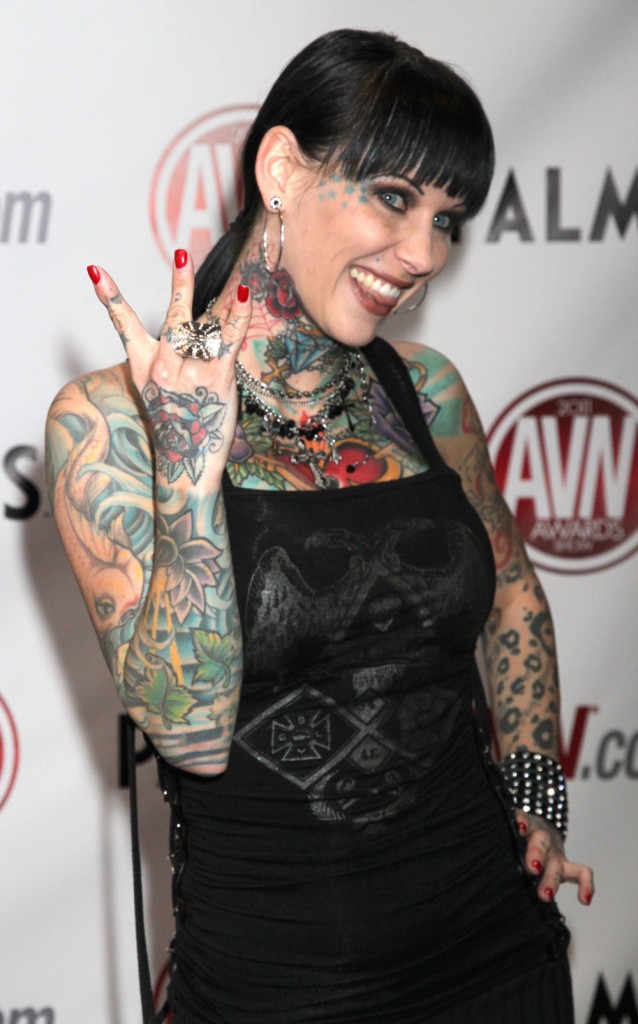 Here's an interesting random detail about Charlie Sheen's latest blowout in Vegas with hookers 'n blow. One of the many porn stars that Charlie is said to have convinced (threw enough cash at) to join him in his room for an orgy is supposedly none other than the woman who kicked off the Jesse James cheating scandal, Michelle "Bombshell" McGee. At first this didn't seem right to me, like Michelle is in no way Charlie's type. He likes them young, nubile, sleazy and impressionable and she's an old tatted up 'ho. The story has it that another porn star invited Michelle up, and Charlie was already well on his way toward oblivion when she showed up. It's not like he was going to kick her out.
Bombshell McGee was the number two chick in Charlie Sheen's Las Vegas porntourage … TMZ has learned.

We're told Bombshell and Bree befriended each other hours before their on-stage makeout session for Pauly Shore's comedy show at The Palms on Sunday.

After the kiss, we're told Bree invited Bombshell to come back to Charlie Sheen's penthouse later that night … and lo and behold, she did.

Around 2 AM, we're told Bombshell and a friend rolled over to Charlie's room — only to discover a "trainwreck inside" … consisting of Charlie, booze, and a whole lotta women.

We're told Bombshell — Jesse James' former mistress — hung out for a couple of hours … but it's unclear what happened behind closed doors.
[From TMZ]
So wait – Sheen was with more than just three porn stars that night? Color me shocked. He was probably so out of it when McGee walked in that she looked like a swatch of colorful vomit.
Charlie of course made it to work on the set of Two and a Half Men the next day and walked in all nonchalant-like as if nothing happened. That's what he's always done, and as long as people continue to pay him obscene amounts of money to play himself on television, he'll continue to do it. Until something really serious happens to him he'll continue to live like this, as if it's his life's ambition to screw professionals and get wasted.
Images of McGee and Bree Olson are from 1/8/11. Charlie Sheen is shown on 4/18/09. Credit: WENN.com.