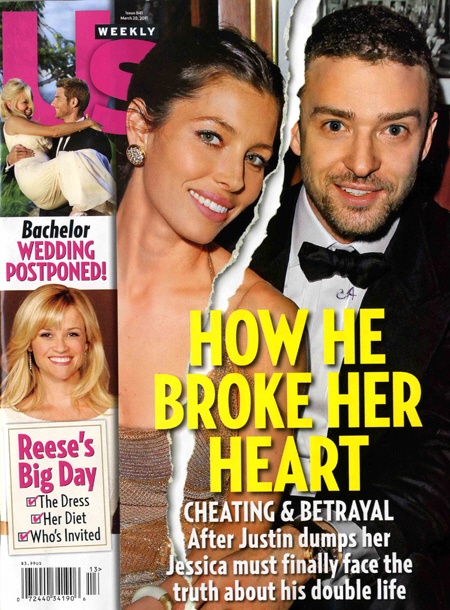 Oh, joy! Us Weekly has put the Justin Timberlake-Jessica Biel drama on their cover this week. It makes sense, because Us Weekly was the publication with all of the big scoops on Justin's wandering dong – they were the first to report the Olivia Munn affair, they were the first to report that JT was trying to get in Mila Kunis's pants, and Us Weekly even had a big "Jessica is a clingy superfreak and Justin tells everybody that he's single" story last year. Anyway, since Justin and Jessica confirmed their split last week, most of the rumors have been about Justin's wandering dong, and the potential for a jumpoff relationship with Mila Kunis, although sources say they aren't hooking up yet. Jessica Biel's publicity team tried to play offense yesterday, leaking to Page Six that Biel had done the dumping – and no one is buying. So… what is Us Weekly's cover story all about? How Justin was absolutely miserable with Jessica, and how he "had been aggressively trying to end things" for a long time. See, this is the kind of story that makes me have sympathy for him.
They just weren't in synch. In a statement to UsMagazine.com last Thursday, reps for Justin Timberlake and Jessica Biel said the pair "mutually have decided to part ways."

The harsh truth: Timberlake, 30, "had been aggressively trying to end things" with the actress, 29, since the Golden Globes Jan. 16, one source close to the singer tells the new Us Weekly, out Wednesday.

What's more, the pal adds, "he hasn't been happy with Jessica for close to two years." (The couple got together in January 2007, shortly after Timberlake's split from Cameron Diaz.)

"You'd be surprised at how soon the love was lost on this one," the friend continues. "Justin said he was miserable."

Timberlake finally fessed up to his feelings about the relationship shortly after his Jan. 31 birthday. "He just said he didn't want to marry her and it didn't feel right," another source says. Biel, the source says, was blindsided. "It just stung her in the heart."

But even in that final "talk," Timberlake didn't come clean about his rampant affairs with other women (including actress Olivia Munn, among others.) "He didn't admit the cheating, even though we all knew it," the insider says.

For much more on the big-time breakup — why Biel never "believed" stories of his cheating, how Timberlake partied the day of the split announcement and more — pick up the new Us Weekly, on stands now.
[From Us Weekly]
I buy this. I buy all of it. To make matters worse (or more hilarious), Us Weekly must have contacted Jessica's publicist about this cover story, and Biel decided to not even fight with that publication. Instead, Biel and her publicity team leaked this to People Magazine… and it was even published before Us Weekly released their story online! Like, it's Biel's pre-emptive strike. And I'm still not buying Biel's version:
Friends of Justin Timberlake and Jessica Biel have already shot down rumors that the couple's recent breakup was caused by cheating. Nor was it caused by a discussion of marriage, friends of the two tell PEOPLE.

"The topic of marriage wasn't the catalyst or final straw that broke up the relationship," says a Timberlake friend, responding to rumors that Biel, 29, pressured Timberlake, 30, to rush down the aisle.

Contrary to some reports, "there was no ring shopping," says a source close to Biel. "She wasn't even thinking about marriage. That didn't play a part in their breakup at all."

In the wake of the split, Timberlake "is upset," says his friend. "They always spent vacations together. They always spent down time together. He was invested in her, in her friends and family."

Continues the friend: "He was invested in their relationship on a lot of different levels. After four years it's just not easy to walk away from it."
[From People]
You know who the "friends" are, right? They're Jessica and her publicist! Worst. Pre-emptive. Strike. Ever. I don't buy that Justin's wandering dong wasn't a big factor in the breakup, because I think Justin did the dumping and I think he really wants a new girlfriend, rather than just some semi-private hookups. And Biel can tell herself that he was "invested" in the relationship, but at the end of the day, he doesn't give a crap. He really doesn't.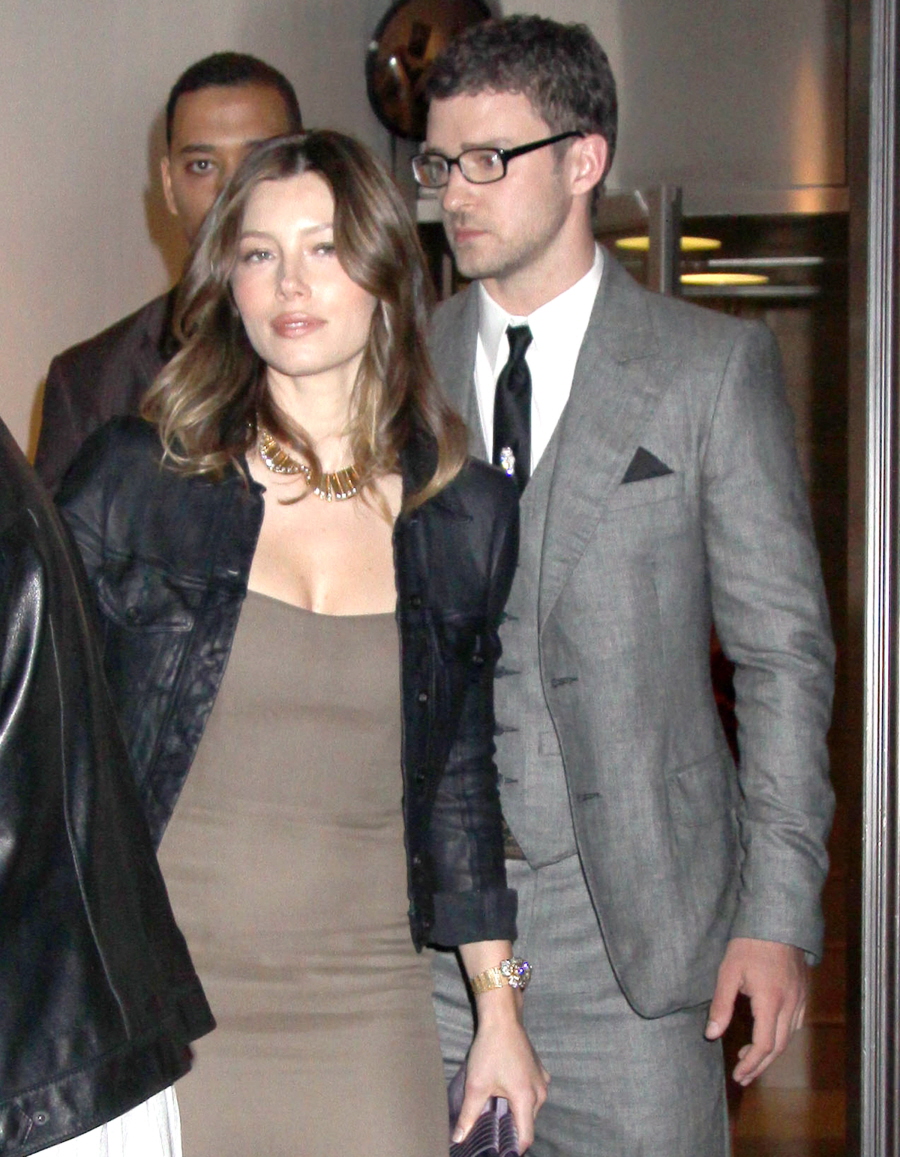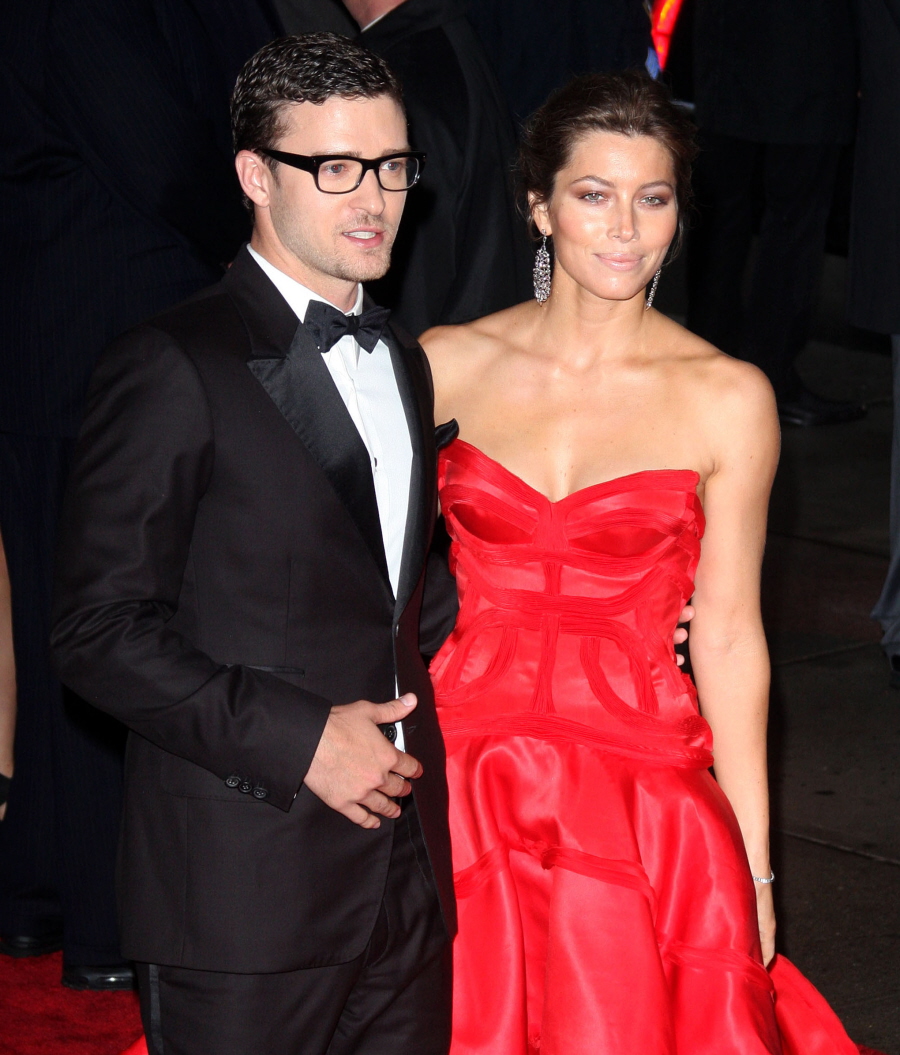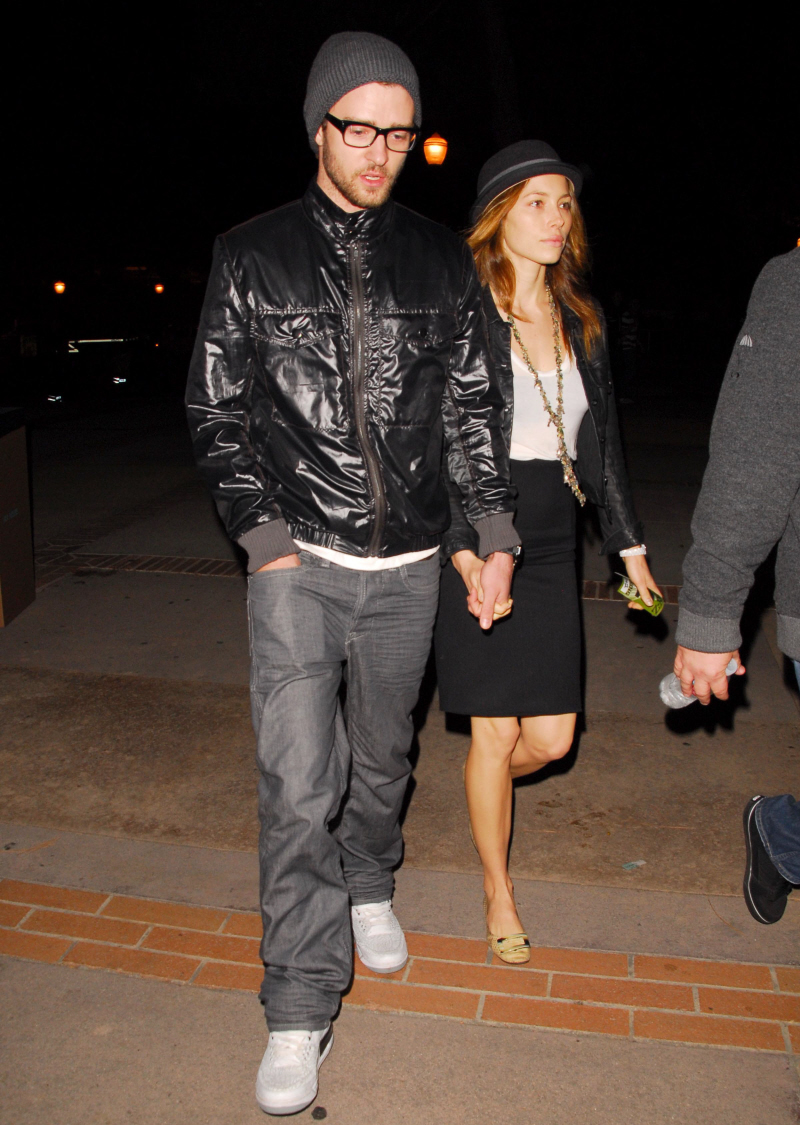 Photos courtesy of Fame, Us Weekly cover courtesy of CoverAwards.