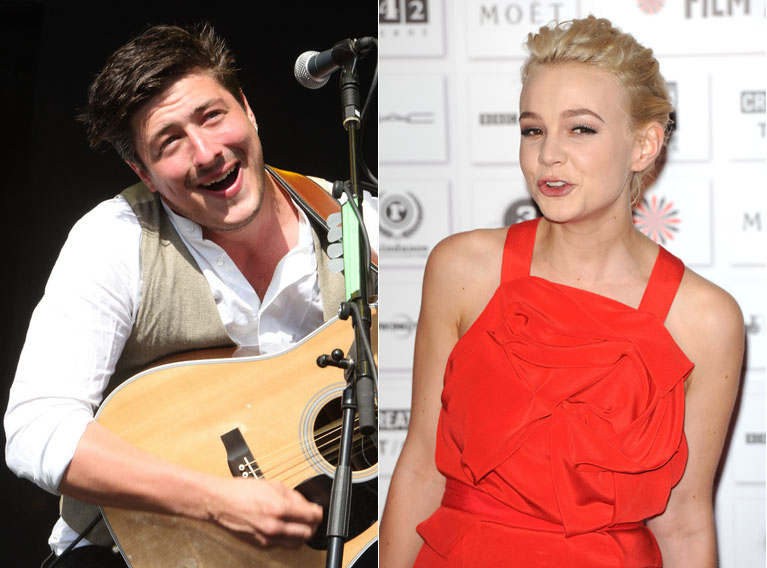 British actress Carey Mulligan, who was last linked with prettyboy actor Tom Sturridge after her split with Shia LaBeouf last fall, may have a new boyfriend. The Daily Mail reports that she's dating musician Marcus Mumford, 24, of the band Mumford and Sons. I saw this guy perform at the Grammys with his band and then with Bob Dylan. He's such a great musician, I remember being so impressed with him at the time, and I kind of love this story. I can't believe he's just 24 with that kind of talent.
British starlet Carey Mulligan is enjoying a whirlwind romance with Marcus Mumford, lead singer with folk rockers Mumford & Sons.

The 25-year-old An Education actress is said to be 'besotted' with the English singer and has flown to the UK from her base in New York to be with him.

She and Marcus, 24, are currently enjoying a romantic weekend together in Buckinghamshire after spending last week in the Orkney Islands.

'They've also been spending time at Marcus's London home in Shepherd's Bush,' says a close friend.

The pair first got together in Nashville, Tennessee, last month.

A spy says: 'Marcus invited Carey to watch him play a secret show in the basement of his friend Mike Harris's home in Nashville. She sat in the front row and while he was singing Marcus looked down at Carey and she blushed. It was clear they had chemistry.

'Afterwards they went to the City House restaurant and dined with friends but they sat together and acted like a couple.

'Carey's hoping they can spend more time together when Marcus flies back to America next month for a major tour with his band. He's hired a vintage train instead of a tour bus and has asked Carey to join him for the trip. It's early days but they seem to enjoy each other's company.'
[From The Daily Mail]
That all sounds so romantic – they're spending weekends together and he's asked her to go on tour with him on his special old timey train. I hope this works out for them. From what I know of Carey she's very down to earth (she stayed in a Best Western for a while) and doesn't seem to be letting her success get to her head. I don't know much about this guy except for what I've seen on stage. They look like they would make a very nice couple though.
Carey Mulligan is shown in the header on 12/5/10. Credit: WENN.com Marcus Mumford is shown on 3/7/10. Credit: PRPhotos. Other photos of Carey from 2/3/11 and Marcus with his band on 3/15/11. Credit: WENN